Adam Blade Books
Adam Blade is the house name for the Working Partners Ltd. ghostwriters who write the Beast Quest and Sea Quest series.Adam Blade is in his late twenties, and was born in Kent, England. His parents were both history teachers and amateur artists, and Adam grew up surrounded by his father's paintings of historic English battles – which left a lifelong mark on his imagination. He was also fascinated by the ancient sword and shield that hung in his father's office. Adam's father said they were a Blade family heirloom.As a boy, Adam would spend days imagining who could have first owned the sword and shield. Eventually, he created a character – Tom, the bravest boy warrior of them all. The idea for Beast Quest was born.When Adam grew up and decided that he wanted to be a writer, he was stuck for ideas – until he remembered the old sword and shield, and the imaginary boy he had created when he was young. Adam decided to bring Tom fully to life so that readers could go on the kind of adventures that he always wanted to when he was that age… And still does, even though he's grown up!When he's not writing Beast Quest books, Adam enjoys visiting museums and ancient battle sites. His main hobbies are fencing and football. He also spends a lot of time at home running around after his two exotic pets – a tarantula named Ziggy, and a capuchin monkey named Omar. These little rascals were the inspiration for two of the Beasts that Tom faces on his Quest – Arachnid and Claw.Sadly, Adam does not have his own Fire-Dragon or Horse-Man. But he really wishes he did!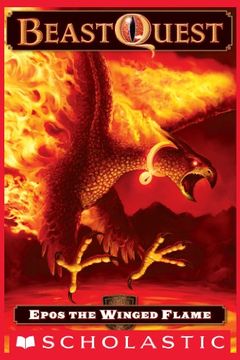 One boy's journey to save his village becomes a quest to save the Kingdom.Tom and Elenna must journey on to face the last of the Beasts enslaved by the evil wizard Malvel: the Winged Flame, a phoenix of terrible power. It has been been slowly awakening a long-dead volcano. If Tom and Elenna cannot stop the Beast in time, it could mean a deadly erup...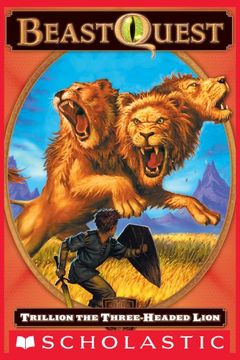 New Beasts. Old Magic. The peace of Avantia has been shattered by a fearsome new Beast--Trillion the Three-Headed Lion. If he is to save the kingdom, Tom must defeat Trillion and collect all the pieces of magical golden armor. Will he succeed?...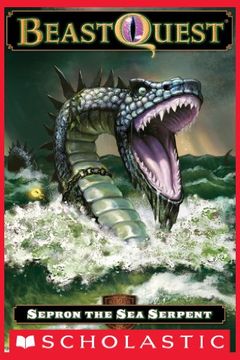 One boy's journey to help his village becomes a quest to save the kingdom. Features a fearsome new beast in every book! Floods. Starvation. Fear. This is what awaits the people of Avantia's coast if Tom and Elenna cannot stop Sepron the Sea Serpent. The huge and terrifying beast lurks in eerie waters. All the fish have fled and no boats dare to pas...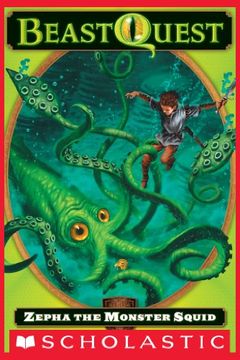 When Tom defeated Epos the Winged Flame, he thought his Beast Quest was over. He was wrong. The Dark Wizard Malvel has returned with new Beasts and a new plan to destroy the kingdom of Avantia. And this time, each beast hides a piece of the legendary Golden Armor - armor that once belonged to Tom's father Taladon. Desperate for knowledge about his ...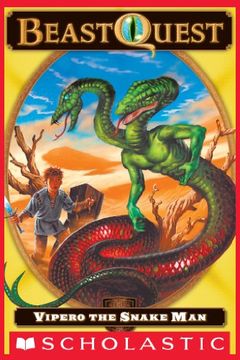 New Beasts. Old Magic. Setting out on the next stage of the Quest is harder than ever-it means leaving home. Tom successfully defended his village, but an even more sinister Beast waits on the horizon: Vipero. Tom has no choice but to leave his family once again, bound for the desert and its untold dangers....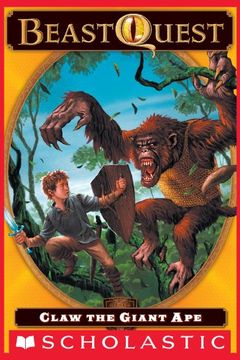 New Beasts. Old Magic. Everyone in Avantia knows the terrors of the jungle: creatures that pluck men from the ground and eat them whole; plants whose rich scents could overwhelm a person at twenty paces. Few dare to enter--and fewer still return. But Tom has no choice. The next stage of his journey lies at the very heart of the jungle, where a terr...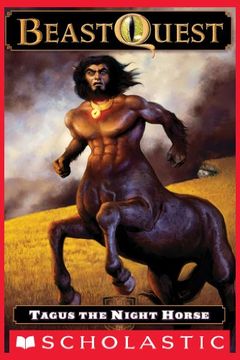 One boy's journey to help his village becomes a quest to save the kingdom. Features a fearsome new beast in every book! A mysterious force has been creeping over the plains of Avantia. The animals are stampeding, and brush fires sweep the prairie. The farmers are spooked--whispers of a mysterious horseman are spreading as fast as the stampedes. And...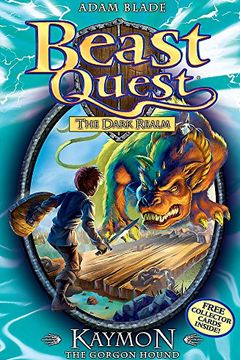 The Good Beasts of Avantia have been taken hostage by the Evil Wizard Malvel. Each is being guarded by a new evil Beast in the Dark Realm. In order to rescue Tartok, Tom must go against Kaymon the Gorgon Hound, a Beast unlike any he has faced so far on his Quest. Kaymon prowls the ruins of a forgotten castle. Will Tom be able to defeat this menace ...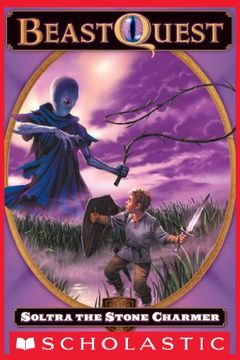 New Beasts. Old Magic. Tom is going home. Throughout his quest, he's imagined the day he'd finally get to return to Errinel, safe in the knowledge that he'd kept the kingdom safe. But Malvel has other ideas. Eager for revenge, the Dark Wizard has unleashed his latest Beast, Soltra the Stone Charmer, into the marshes that border Tom's own village. A...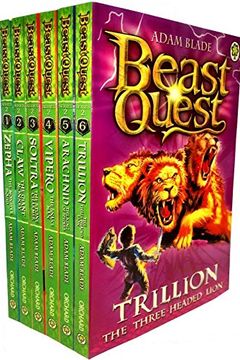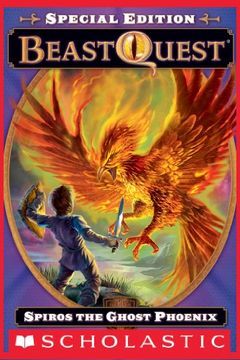 Blaze The Ice Dragon by Adam Blade
Sting the Scorpion Man by blade-adam
Tartok The Ice Beast by Adam Blade
Beast Quest Box Set Series 3 The Dark Realm 6 Books Collection Set (Books 13-18) by Adam Blade
Stealth the Ghost Panther by Adam Blade
Tusk the Mighty Mammoth by Adam Blade
Narga the Sea Monster by Adam Blade
Skor the Winged Stallion by Adam Blade
Luna the Moon Wolf by Adam Blade
Krabb Master of the Sea by Adam Blade
Cypher The Mountain Giant by Adam Blade
Rashouk the Cave Troll by Adam Blade
Tagus, Prinz der Steppe (Beast Quest Legend, #4) by Adam Blade
Nixa the Death Bringer by Adam Blade
Beast Quest Series 3 Collection by Adam Blade
Anoret the First Beast by Adam Blade
Vespick The Wasp Queen by Adam Blade
Torgor The Minotaur by Adam Blade
Vedra and Krimon by Adam Blade
Arachnid The Spider King by Adam Blade
Rokk the Walking Mountain by Adam Blade
Ferno vs Epos by Adam Blade
Beast Quest Slipcased Set, Books 1-18 by Adam Blade
Hellion The Fiery Foe by Adam Blade
Trema the Earth Lord by Adam Blade
Beast Quest by Adam Blade
Torpix the Twisting Serpent by Adam Blade
Convol the Cold-blooded Brute by Adam Blade
Beast Quest 6 by Adam Blade
Beast Quest Series 4 Collection by Adam Blade
Silver the Wild Terror by Adam Blade
Les Dragons Jumeaux by Adam Blade
Call to War by Adam Blade
Sepron vs Narga by Adam Blade
Krestor the Crushing Terror by Adam Blade
Koba, Ghoul of the Shadows by Adam Blade
Amictus The Bug Queen by Adam Blade
Madara the Midnight Warrior by Adam Blade
Hawkite Arrow of the Air by Adam Blade
Les Dragons Ennemis by Adam Blade
Komodo the Lizard King by Adam Blade
Ellik the Lightning Horror by Adam Blade
Balisk the Water Snake by Adam Blade
Torno the Hurricane Dragon by Adam Blade
Solak Scourge of the Sea by Adam Blade
Beast Quest Series 1 Collection by Adam Blade
Tecton the Armoured Giant by Adam Blade
Shamani the Raging Flame by Adam Blade
Falra the Snow Phoenix by Adam Blade
Kajin the Beast Catcher by Adam Blade
Ferrok the Iron Soldier by Adam Blade
Fire and Fury by Adam Blade
Carnivora the Winged Scavenger by Adam Blade
Koldo The Arctic Warrior by Adam Blade
Beast Quest by Adam Blade
Lustor The Acid Dart by Adam Blade
Noctila the Death Owl by Adam Blade
Vislak the Slithering Serpent by Adam Blade
Bloodboar the Buried Doom by Adam Blade
Styro the Snapping Brute by Adam Blade
Chasing Evil by Adam Blade
Tauron the Pounding Fury by Adam Blade
Korvax the Sea Dragon by Adam Blade
Vermok the Spiteful Scavenger by Adam Blade
Amictus Vs. Tagus by Adam Blade
Flaymar the Scorched Blaze by Adam Blade
Beast Quest The Hero Collection & The Battle Collection (Series 1 - 6) 36 Books Box Set by Adam Blade
Wardok the Sky Terror by Adam Blade
Kanis the Shadow Hound by Adam Blade
Tempra the Time Stealer by Adam Blade
Elko Lord of the Sea by Adam Blade
Voltrex the Two-Headed Octopus by Adam Blade
Koron, Jaws of Death by Adam Blade
Okko the Sand Monster by Adam Blade
Raffkor the Stampeding Brute by Adam Blade
Slivka the Cold-hearted Curse by Adam Blade
Krokol the Father of Fear by Adam Blade
Doomskull the King of Fear by Adam Blade
Ursus the Clawed Roar by Adam Blade
Jakara the Ghost Warrior by Adam Blade
Thoron the Living Storm by Adam Blade
Skurik the Forest Demon by Adam Blade
Scalamanx the Fiery Fury by Adam Blade
Plexor the Raging Reptile by Adam Blade
Querzol the Swamp Monster by Adam Blade
Murk the Swamp Man by Adam Blade
Hecton the Body Snatcher by Adam Blade
Quagos the Armoured Beetle by Adam Blade
Tikron the Jungle Master by Adam Blade
Koraka the Winged Assassin by Adam Blade
Shredder the Spider Droid by Adam Blade
Mirka the Ice Horse by Adam Blade
Kama the Faceless Beast by Adam Blade
Quarg the Stone Dragon by Adam Blade
Skrar the Night Scavenger by Adam Blade
Soara the Stinging Spectre by Adam Blade
Arax the Soul Stealer by Adam Blade
Serpio the Slithering Shadow by Adam Blade
Saurex the Silent Creeper by Adam Blade
Karixa the Diamond Warrior by Adam Blade
Linka the Sky Conqueror by Adam Blade
Xerkan the Shape Stealer by Adam Blade
Spikefin the Water King by Adam Blade
Vetrix the Poison Dragon by Adam Blade
Solix the Deadly Swarm by Adam Blade
Xerik the Bone Cruncher by Adam Blade
Mortaxe the Skeleton Warrior by Adam Blade
Viktor the Deadly Archer by Adam Blade
Skolo the Bladed Monster by Adam Blade
Brutus the Hound of Horror by Adam Blade
Beast Quest 59 - Tecton, der gepanzerte Gigant by Adam Blade
Creta The Winged Terror by Adam Blade
Gryph the Feathered Fiend by Adam Blade
Ronak the Toxic Terror by Adam Blade
Electro the Storm Bird by Adam Blade
Ravira Ruler of the Underworld by Adam Blade
Okawa the River Beast by Adam Blade
Krytor the Blood Bat by Adam Blade
Issrilla the Creeping Menace by Adam Blade
Beast Quest 60 - Calva, das Knochenbiest by Adam Blade
The Dagger of Doom. by Adam Blade
The Dark Wizard by Adam Blade
Mangler the Dark Menace by Adam Blade
Petorix the Winged Slicer by Adam Blade
Torka the Sky Snatcher by Adam Blade
Raksha the Mirror Demon by Adam Blade
Skalda the Soul Stealer (Sea Quest by Adam Blade
Rykar the Fire Hound by Adam Blade
Zulok the Winged Spirit by Adam Blade
Grymon the Biting Horror by Adam Blade
Drogan the Jungle Menace by Adam Blade
Lypida the Shadow Fiend by Adam Blade
Magror, Ogre of the Swamps by Adam Blade
Morax the Wrecking Menace by Adam Blade
Fang the Bat Fiend by Adam Blade
Nephro the Ice Lobster by Adam Blade
Beast Quest by Adam Blade
Kragos and Kildor the Two-Headed Demon by Adam Blade
Targro the Arctic Menace by Adam Blade
Tetrax the Swamp Crocodile by Adam Blade
Grashkor the Beast Guard by Adam Blade
Ospira the Savage Sorceress by Adam Blade
Beast Quest Series 8 Box Set Books 1 - 6 Collection (Balisk, Koron, Hecton, Torno, Kronus & Bloodboar) by Adam Blade
Stinger the Sea Phantom by Adam Blade
Kraya the Blood Shark by Adam Blade
Skalix the Snapping Horror by Adam Blade
The Pirate's Curse by Adam Blade
Kyrax the Metal Warrior by Adam Blade
Krotax the Tusked Destroyer by Adam Blade
Beast Quest by Adam Blade
Silda the Electric Eel by Adam Blade
The Skeleton Warrior (Team Hero Series 1 #4) by Adam Blade
Minos the Demon Bull by Adam Blade
Finaria the Savage Sea Snake by Adam Blade
Repta the Spiked Brute (Sea Quest #99) by Adam Blade
Falkor the Coiled Terror by Adam Blade
Kull the Cave Crawler (Sea Quest, #23) by Adam Blade
Beast Quest Series 9 & 10 Box Sets 12 Books Collection (Series 9 Books 1 -6, Series 10 Books 1 - 6) by Adam Blade
Tarantix the Bone Spider by Adam Blade
Beast Quest 28. Kryos, der Eiskrieger by Adam Blade
Veloth the Vampire Squid (Sea Quest #25) by Adam Blade
The Chronicles of Avantia 4 Book Collection by Adam Blade
Sea Quest Series 3 and 4 Collection Adam Blade 8 Books Set (Tetrax, Nephro, Finaria the Savage, Chakrol, Rekkar the Screeching Orca, Tragg the Ice Bear, Horvos the Horror Bird, Gubbix the Poison Fish) by Adam Blade
Menox the Sabre-Toothed Terror by Adam Blade
Larnak the Swarming Menace by Adam Blade
Kronus the Clawed Menace by Adam Blade
Gubbix the Poison Fish (Sea Quest #16) by Adam Blade
Reptile Reawakened (Team Hero Series 1 #3) by Adam Blade
Venor the Sea Scorpion (Sea Quest #19) by Adam Blade
Tengal the Savage Shark (Sea Quest #22) by Adam Blade
Stengor the Crab Monster by Adam Blade
Monoth the Spiked Destroyer (Sea Quest #20) by Adam Blade
Yakorix the Ice Bear by Adam Blade
Chakrol the Ocean Hammer by Adam Blade
Tragg the Ice Bear (Sea Quest, #14) by Adam Blade
Mirroc the Goblin Shark (Sea Quest #27) by Adam Blade
Rekkar the Screeching Orca (Sea Quest #13) by Adam Blade
Shelka the Mighty Fortress (Sea Quest #31) by Adam Blade
Okira the Crusher by Adam Blade
Horvos the Horror Bird (Sea Quest #15) by Adam Blade
Fliktor the Deadly Conqueror (Sea Quest, #21) by Adam Blade
Gort the Deadly Snatcher (Sea Quest #29) by Adam Blade
Beast Quest 61 - Elko, Tentakel des Untergangs by Adam Blade
Manak the Manta Ray by Adam Blade
Verak the Storm King by Adam Blade
Drakkos the Ocean King (Sea Quest by Adam Blade
Fluger the Sightless Slitherer by Adam Blade
Octor, Monster of the Deep (Sea Quest Special, #4) by Adam Blade
Jurog, Hammer of the Jungle by Adam Blade
Glendor the Stealthy Shadow (Sea Quest #26) by Adam Blade
Glaki, Spear of the Depths by Adam Blade
Jandor the Arctic Lizard (Sea Quest by Adam Blade
Hydror the Ocean Hunter (Sea Quest by Adam Blade
Attack of the Bat Army (Team Hero Series 1 #2) by Adam Blade
The Lost Tomb (Beast Quest by Adam Blade
Blistra the Sea Dragon (Sea Quest #28) by Adam Blade
Loosejaw the Nightmare Fish (Sea Quest #32) by Adam Blade
Lair of the Fire Lizard (Team Hero by Adam Blade
Lycaxa, Hunter of the Peaks by Adam Blade
The Complete Book of Beasts by Adam Blade
Battle for the Shadow Sword (Team Hero Series 1 #1) by Adam Blade
Gulak the Gulper Eel (Sea Quest, #24) by Adam Blade
Muro the Rat Monster by Adam Blade
The Ice Wolves by Adam Blade
Diprox the Buzzing Terror by Adam Blade
Vigrash the Clawed Eagle by Adam Blade
Mortaxe the Skeleton Warrior by Adam Blade
1001 Sticker Book by Adam Blade
The Ultimate Battle (Beast Quest by Adam Blade
Sea Quest Series 7 and 8 Collection Adam Blade 8 Books Box Set (Book 25-32) (Veloth the Vampire Squid, Glendor the Stealthy Shadow, Mirroc the Goblin Shark, Blistra the Sea Dragon, Gort the by Adam Blade
Falcon of Fury (Team Hero #7, Series 2 #3) by Adam Blade
Sythid the Spider Crab (Sea Quest #17) by Adam Blade
Scorpion Strike (Team Hero Series 2 #2) by Adam Blade
Rae the Rollercoaster Fairy by Daisy Meadows
Brux the Tusked Terror (Sea Quest #18) by Adam Blade
Helión, el enemigo ardiente by Adam Blade
Revenge of the Dragon by Adam Blade
Beast Quest by Adam Blade
Fangor the Crunching Giant (Sea Quest #30) by Adam Blade
The Secret Jungle by Adam Blade
An Army Awakens by Adam Blade
The Island of Doom by Adam Blade
Android Attack by Adam Blade
The Dark Realm by Adam Blade
Beast Quest Series (4-5) Collection 12 Books Set By Adam Blade by Adam Blade
Beast Quest Annual 2012 by Adam Blade
Rise of the Shadow Snakes by Adam Blade
Army of Darkness by Adam Blade
Beast Quest by Adam Blade
Sephir the Storm Monster by andy-stanton-adam-blade
Kragos & Kildor the Two-headed Demon by Adam Blade
Beast Quest Mega Pack by Adam Blade
Sea Quest Series 1-4 Adam Blade Collection 16 Books Set by Adam Blade
Nersepha the Cursed Siren by Adam Blade
Akorta the All-Seeing Ape by Adam Blade
Mallix the Silent Stalker by Adam Blade
The Night Thief by Adam Blade
Kyron, Lord of Fire by Adam Blade
Krestor, el terror aplastante by Adam Blade
Convol, la bestia de sangre fría by Adam Blade
Sea Quest Pack by Adam Blade
Juwel des Piratenkönigs (Beast Quest, Entscheidungsbuch #3) by Adam Blade
Sea Quest Series 5 and 6 Collection Adam Blade 8 Books Box Set (Book 17-24) by Adam Blade
The Shadow Stallion by Adam Blade
Beast Quest Series 18 Pack, 4 books, RRP £19.96 (Krytor the Blood Bat; Drogan the Jungle Menace; Karixa the Diamond Warrior; Soara the Stinging Spectre). by Adam Blade
Sea Quest Series 1-8 Adam Blade Collection 32 Books Set by Adam Blade
Beast Quest Complete Pack by Adam Blade
Team hero series 1 adam blade collection 4 books set (lair of the fire lizard, attack of the bat army, reptile reawakened, battle for the shadow sword) by Adam Blade
Ravira, Ruler of the Underworld (Beast Quest Early Reader) by Adam Blade
Beast Quest Annual 2011 by Adam Blade
Creta the Winged Terror by Adam Blade
Adam Blade Sea Quest Series 7 and 8 Collection 8 Books Set Pack (Veloth the Vampire Squid,Glendor the Stealthy Shadow,Mirroc the Goblin Shark,Blistra the Sea Dragon) by Adam Blade
Pack BF11 Aracnido+cartas by Adam Blade
Pack BF2 Sepron+cartas (Buscafieras) by Adam Blade
Cyfres Byd y Bwystfilod - Pecyn by
Mağara Trolü Raşuk by Adam Blade
Sea Quest Series Collection Adam Blade 4 Books Set (5 to 8) (Mangler - The Dark Menace, Crusher - The Creeping Terror, Stinger - The Sea Phantom, Shredder - The Spider Droid) by
King's Reign by Adam Blade
Fırtına Kuşu Havkit by Adam Blade
Toprağın Efendisi Trema by Adam Blade
Buzul Savaşçısı Koldo by Adam Blade
Saddle Club Series (#46-48, #63, #66, #6 Super Edition, #77) by Adam Blade
Canavar Pesinde 37 - Acimasiz Yaratik Konvol - Kayip Dünya by Adam Blade
Vedra & Krimon - Twin Beasts of Avantia by Adam Blade
Le cronache di Avantia by Adam Blade
Silexa the Stone Cat by Adam Blade
Beast Quest - Band 1-6 by Adam Blade
Beast Quest - Jättens kamp by Adam Blade
Beast Quest Ferno by Adam Blade
Beast Quest by Adam Blade
Tarrok the Blood Spike by Adam Blade
Arax the Soul Stealer by Adam Blade
Crusher the Creeping Terror by Adam Blade
Ferno the Fire Dragon by Adam Blade
Beast Quest Series 12 6 Books Collection Set by
The Dark Cauldron by Adam Blade
Fight for the Hidden City by Adam Blade
Cephalox the Cyber Squid by Adam Blade
Curse of the Robo-Dragon by
Teknos the Ocean Crawler by Adam Blade
Beast Quest by Adam Blade
Beast Quest by Adam Blade
Beast Quest Collector Cards by Adam Blade
Pack BF16 Kaymon+cartas by Adam Blade
Murk. El hombre del pantano by Adam Blade
BEAST QUEST SERIES 3 by ADAM BLADE
Beast Quest by Adam Blade
Stix - monsterapan (Beast Quest – Den gyllene rustningen Book 2) by Adam Blade
Beast Quest by Adam Blade
Beast Quest by Adam Blade
Beast Quest by Adam Blade
Narga - havsmonstret (Beast Quest, Mörkrets rike Book 3) by Adam Blade
Beast Quest Book three Cypher The Mountain Giant by Adam Blade
Beast Quest #7 by Adam Blade
Sting - Skorpionmannen (Beast Quest, Mörkrets rike Book 6) by Adam Blade