Adrian Alphona Books
Adrian Alphona is a Canadian comic book artist best known for his work on Marvel Comics' Runaways, which he co-created with writer Brian K. Vaughan.Slated to be pencilling the second volume of Spider-Man Loves Mary Jane when writer Terry Moore took over writing duties from Sean McKeever, Alphona instead chose to leave comics entirely, only supplying the covers for the new series, whilst art duties were handed over to Craig Rousseau. However, Alphona made a return to comics in June 2009, doing art for the Captain Britain and MI: 13 annual.[1] He later drew Uncanny X-Force alongside Ron Garney.In August 2013, Marvel Comics premiered the monthly series Ms. Marvel, with Alphona as artist and G. Willow Wilson as writer.Bio taken from Wikipedia in accordance with license CC BY-SA 2.0.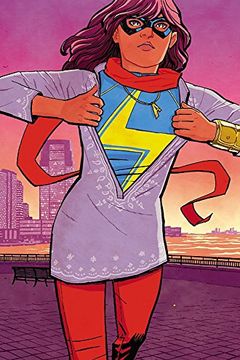 This graphic novel features Kamala Khan as she struggles to balance being an Avenger and a protector of Jersey City amidst a "renovation" project. When her face is co-opted to advertise by an evil development company, Kamala must fight back against gentrification without ruining her grades and personal life. With the addition of a new girl in Bruno's life and an army of automatons, the ride is about to get wild.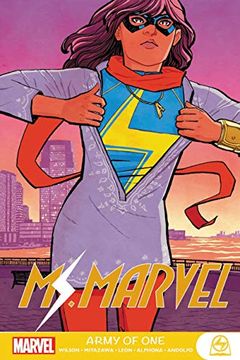 A superhero must balance saving the world with protecting her hometown from new foes who want to gentrify the city. They've even exploited her image for their cause! With challenges at school, a friend's relationship, and a new life as a member of the Avengers, can she handle it all? Find out in this action-packed graphic novel.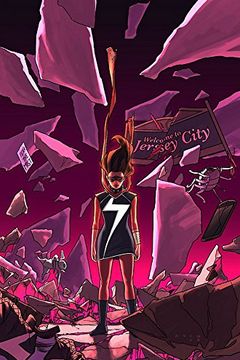 Join Kamala Khan, aka Ms. Marvel, and her personal hero, Captain Marvel, as they face their biggest challenge yet: the last days of the Marvel Universe. Kamala must juggle saving her city from chaos, rescuing her brother, and coming to terms with the literal end of the world. This gripping graphic novel showcases the power of courage and resilience in the face of impending doom.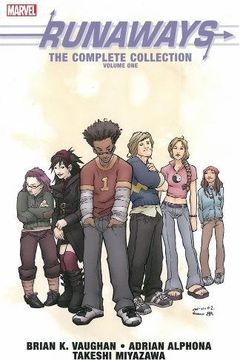 A group of wealthy teenagers discover their parents are actually part of a dangerous criminal organization, known as the Pride. Now on the run for their lives and with no one else to turn to, they must band together and take down their powerful parents before it's too late. This modern twist on a classic teen-team comic is sure to thrill and captivate readers. Collecting issues #1-18.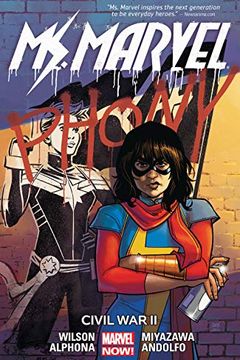 In Ms. Marvel, Vol. 6, Kamala and her team of next-generation Avengers have to put aside their rivalry with Spider-Man and Nova to compete in a tri-state academic competition. But when Kamala is called to the front lines of a real war during CIVIL WAR II, she learns a valuable lesson about meeting her idols. As war intensifies and tragedy strikes close to home, Kamala must choose between her heroes and her family, ultimately learning to find her place in the world. This volume collects issues #7-12 of the 2015 series.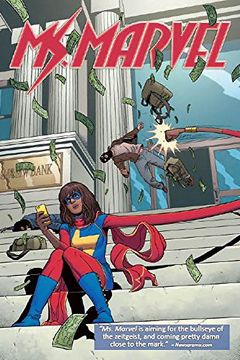 A new Ms. Marvel adventure unfolds as Kamala Khan faces off against the Inventor and his threats to her future. With the help of unlikely heroes like Wolverine and Lockjaw, Kamala discovers more about her past and her powers. Can she stop the villain before it's too late? Find out in this exciting collection of Ms. Marvel (2014) #6-11.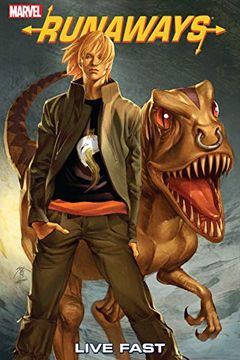 Teenage superheroes must make difficult decisions about their future as they say goodbye to their past. But even after the traumatic events of Civil War: Young Avengers/Runaways, they must band together to battle a terrifying enemy that could tear them apart. Collected in this volume are issues #19-24 of the gripping Runaways comic book series.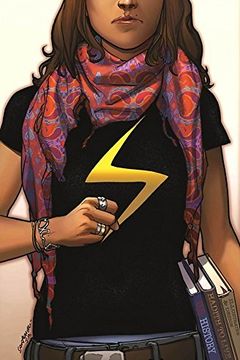 "Meet Ms. Marvel, the groundbreaking heroine taking the Marvel Universe by storm! Kamala Khan, a teenager from Jersey City, discovers she has extraordinary gifts and grapples with her newfound powers as a Muslim Inhuman. As she uncovers the secret behind her abilities, she must decide if she's ready to bear the weight of her legacy. With acclaimed writing by G. Willow Wilson and art by Adrian Alphona, this collection is unmissable. Collecting issues #1-5 and material from ALL-NEW MARVEL NOW! POINT ONE #1."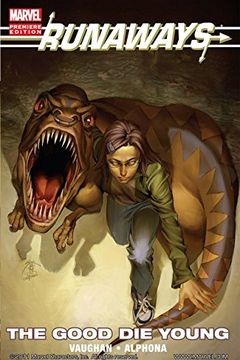 Teenage heroes are the last line of defense in preventing the end of the world. But to succeed against their villainous parents, the Runaways may have to become the very thing they're fighting against. In this epic battle, secrets are revealed, moles are exposed, and blood must be shed. Will the kids come out on top or will their parents reign supreme? This is the story that changes everything.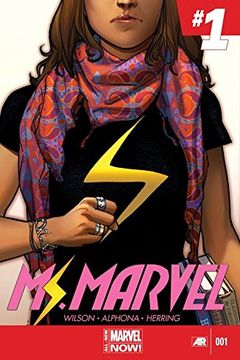 Discover a trailblazing superhero who has captured the world's attention in Marvel Comics' Ms. Marvel #1. Follow the adventures of Kamala Khan, a teenage girl from Jersey City who embarks on an amazing journey of self-discovery as she develops extraordinary powers. Marvel at Ms. Marvel's courage, ingenuity, and heart as she grapples with her new responsibilities and the challenges of being a superhero. Who is this incredible heroine? Find out in Ms. Marvel #1!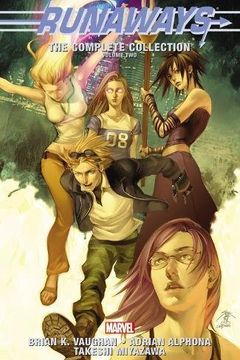 Runaways by Brian K. Vaughan
Ms. Marvel (2014-2015) #3 by G. Willow Wilson
Ms. Marvel (2014-2015) #2 by G. Willow Wilson
Runaways Deluxe, Vol. 3 by Brian K. Vaughan, Adrian Alphona, Mike Norton
Runaways, Vol. 5 by Brian K. Vaughan
Ms. Marvel (2014-2015) #4 by G. Willow Wilson
Runaways, Vol. 6 by Brian K. Vaughan
Ms. Marvel (2014-2015) #8 by G. Willow Wilson
Ms. Marvel (2014-2015) #10 by G. Willow Wilson
Ms. Marvel (2014-2015) #5 by G. Willow Wilson
Ms. Marvel by G. Willow Wilson Vol. 2 by
Ms. Marvel (2015-2019) #1 by G. Willow Wilson
Ms. Marvel (2014-2015) #9 by G. Willow Wilson
Ms. Marvel Omnibus, Vol. 1 by
Ms. Marvel (2014-2015) #18 by G. Willow Wilson
Runaways, Vol. 4 by Brian K. Vaughan
Ms. Marvel (2014-2015) #19 by G. Willow Wilson
Ms. Marvel (2014-2015) #17 by G. Willow Wilson
Ms. Marvel (2014-2015) #16 by G. Willow Wilson
Ms. Marvel (2014-2015) #11 by G. Willow Wilson
Runaways, Vol. 2 by Brian K. Vaughan
Ms. Marvel by G. Willow Wilson Vol. 3 by
Runaways (2003-2004) #1 by Brian K. Vaughan
Ms. Marvel (2015-2019) #11 by G. Willow Wilson
Ms. Marvel (2015-2019) #10 by G. Willow Wilson
Ms. Marvel (2015-2019) #9 by G. Willow Wilson
Ms. Marvel (2015-2019) #7 by G. Willow Wilson
Ms. Marvel (2015-2019) #8 by G. Willow Wilson
Runaways (2003-2004) #18 by Brian K. Vaughan
Runaways (2003-2004) #16 by Brian K. Vaughan
Runaways (2003-2004) #17 by Brian K. Vaughan
Runaways (2003-2004) #6 by Brian K. Vaughan
Runaways (2003-2004) #15 by Brian K. Vaughan
Runaways (2003-2004) #7 by Brian K. Vaughan
Runaways (2003-2004) #5 by Brian K. Vaughan
Runaways (2003-2004) #3 by Brian K. Vaughan
Runaways (2003-2004) #8 by Brian K. Vaughan
Runaways (2003-2004) #4 by Brian K. Vaughan
Runaways (2005-2008) #11 by Brian K. Vaughan
Runaways (2005-2008) #9 by Brian K. Vaughan
Runaways (2003-2004) #10 by Brian K. Vaughan
Runaways (2005-2008) #10 by Brian K. Vaughan
Runaways (2003-2004) #2 by Brian K. Vaughan
Runaways (2003-2004) #14 by Brian K. Vaughan
Runaways (2003-2004) #9 by Brian K. Vaughan
Runaways (2005-2008) #1 by Brian K. Vaughan
Runaways (2005-2008) #3 by Brian K. Vaughan
Runaways (2005-2008) #6 by Brian K. Vaughan
Runaways (2005-2008) #12 by Brian K. Vaughan
Runaways (2005-2008) #2 by Brian K. Vaughan
Runaways (2005-2008) #5 by Brian K. Vaughan
Runaways (2005-2008) #14 by Brian K. Vaughan
Runaways (2005-2008) #4 by Brian K. Vaughan
Runaways (2005-2008) #17 by Adrian Alphona
Runaways (2003-2004) #13 by Brian K. Vaughan
Runaways Volume 1 by Brian K. Vaughan
True Patriot by Jack Briglio, Faith Erin Hicks, Andy Belanger, Howard Wong, Ramon Perez, J. Torres, Scott Chantler, J. Bone, Fred Kennedy, Agnes Garbowska
Ms. Marvel Meets the Marvel Universe by G. Willow Wilson, Mark Waid, Amy Reeder, Brandon Montclare, Dan Slott, Christos N. Gage
A-Force Presents Vol. 1 by
A-Force Presents Vol. 4 by
A-Force Presents Vol. 3 by
A-Force Presents Vol. 5 by
A-Force Presents Vol. 2 by
Cloak and Dagger by Brian K. Vaughan, Stuart Moore, Nick Spencer, Dan Slott
All-New Marvel Now! Point One #1 by Various
Uncanny X-Force, Volume 1 by Sam Humphries
Uncanny X-Force, Volume 2 by Sam Humphries