Andy Hillstrand Books
Andy Hillstrand is a crab boat captain that is most popularly known from the Discovery Channel series "Deadliest Catch" Andy trades command duties with John between seasons; he is the captain of the Time Bandit during opilio crab season.He is talkative and considers himself the most levelheaded of the family. He runs the business side but always includes his brothers on the final decisions. Andy is also married (25 years), with two grown daughters, and one grandson. At his ranch in Indiana, Andy engages in his other passion: horse training. He trains Quarter horses through the natural horsemanship or "horse whisperer" technique. He is also 3x Barrel Racing Champion in Alaska.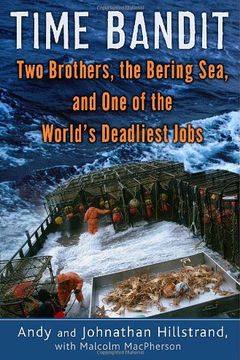 Time Bandit
Two Brothers, the Bering Sea, and One of the World's Deadliest Jobs
Andy Hillstrand, Johnathan Hillstrand, Malcolm MacPherson
-
2008-04-08
Embark on an epic journey across the tempestuous waters of the Bering Sea with brothers Andy and Johnathan Hillstrand, fierce masters of their treacherous, enthralling trade. Born with brine in their blood, they brave icy depths, 60-foot waves, and perils only the bravest dare. In Time Bandit, experience the exhilarating, and terrifying life on the edge, where the next harvest could end asleep in the deep.