Andy Hillstrand Books
Andy Hillstrand is a crab boat captain that is most popularly known from the Discovery Channel series "Deadliest Catch" Andy trades command duties with John between seasons; he is the captain of the Time Bandit during opilio crab season.He is talkative and considers himself the most levelheaded of the family. He runs the business side but always includes his brothers on the final decisions. Andy is also married (25 years), with two grown daughters, and one grandson. At his ranch in Indiana, Andy engages in his other passion: horse training. He trains Quarter horses through the natural horsemanship or "horse whisperer" technique. He is also 3x Barrel Racing Champion in Alaska.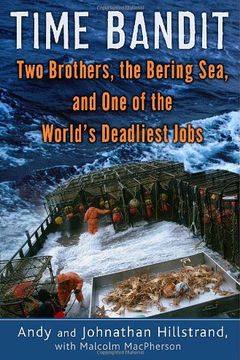 Time Bandit
Two Brothers, the Bering Sea, and One of the World's Deadliest Jobs
Andy Hillstrand, Johnathan Hillstrand, Malcolm MacPherson
-
2008-04-08
"Many brave hearts are asleep in the deep, so beware, beware," goes the chorus of an old sailors' sing-along that celebrates the allure and danger of the seafaring life. But make no mistake–there truly is much to beware for those who are drawn to risk their lives and seek their fortunes upon the waves. And perhaps none take more chances than the me...