Carlton Mellick III Books
Carlton Mellick III (July 2, 1977, Phoenix, Arizona) is an American author currently residing in Portland, Oregon. He calls his style of writing "avant-punk," and is currently one of the leading authors in the recent 'Bizarro' movement in underground literature[citation needed] with Steve Aylett, Chris Genoa and D. Harlan Wilson.Mellick's work has been described as a combination of trashy schlock sci-fi/horror and postmodern literary art. His novels explore surreal versions of earth in contemporary society and imagined futures, commonly focusing on social absurdities and satire.Carlton Mellick III started writing at the age of ten and completed twelve novels by the age of eighteen. Only one of these early novels, "Electric Jesus Corpse", ever made it to print.He is best known for his first novel Satan Burger and its sequel Punk Land. Satan Burger was translated into Russian and published by Ultra Culture in 2005. It was part of a four book series called Brave New World, which also featured Virtual Light by William Gibson, City Come A Walkin by John Shirley, and Tea from an Empty Cup by Pat Cadigan.In the late 90's, he formed a collective for offbeat authors which included D. Harlan Wilson, Kevin L. Donihe, Vincent Sakowski, among others, and the publishing company Eraserhead Press. This scene evolved into the Bizarro fiction movement in 2005.In addition to writing, Mellick is an artist and musician.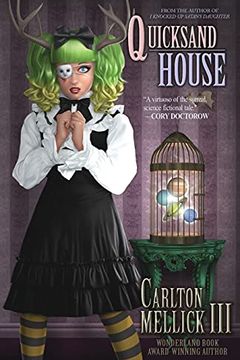 An eerie, dystopian nightmare awaits in Quicksand House, a novel by Carlton III Mellick. Tick and Polly live in their parents' house, but have never met them, only dreaming of them at night. When the machines that provide food and water stop, the children are forced to leave the nursery and explore the maze-like house. But deranged creatures and the bodies of long-dead children are lurking in the shadows. Every minute out of the nursery is a battle for survival, as the siblings uncover the mysteries of their past and their world. This survival horror novel is the author's most sincere work to date.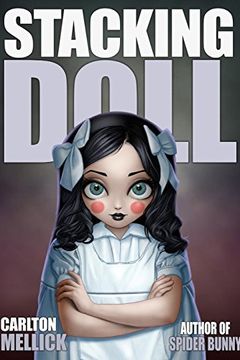 In Carlton Mellick III's Stacking Doll, readers enter into a surreal love story that explores the beauty and ugliness of relationships. Benjamin is in love with a Matryoshkan, a nesting doll that belongs to a subspecies of humans with smaller people living inside of them. Against all odds, Benjamin and his beloved are determined to get married, but first they have to pass The Trial, a matryoshkan tradition where couples lock themselves in a house for several days to introduce each other to all of the people living inside of them. This unique and bizarre love story challenges readers to fall in love with each and every one of the protagonist's fiancé's inner personalities, no matter how strange or disturbing they turn out to be.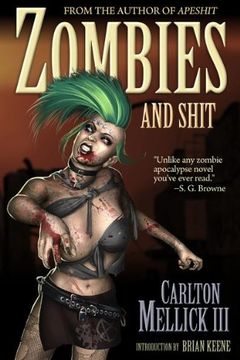 Step into the zombie-infested wasteland of this post-apocalyptic action adventure. Twenty contestants wake up in a boarded-up building, given supplies and weapons to fight their way through the city to a lone helicopter. But with only one seat, they must not only battle the undead but also each other. With a punk rock edge and plenty of gore, this campy yet thrilling read will have you on the edge of your seat until the very end.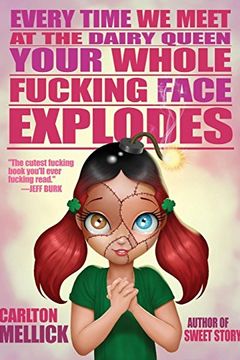 Childhood love takes a twisted turn in this cute yet disturbing novel by the award-winning author Carlton Mellick III. The protagonist, Ethan, is in love with the weird girl in school, the one who can't sit still and has spiders in her hair. The only issue is that whenever they go on a date at the Dairy Queen, her whole face explodes with meat and gore, leaving Ethan to deal with her odd condition. As their relationship becomes serious, Ethan must become just as strange as she is to make it work. This heart-warming and creepy love story is a must-read for fans of absurd novels.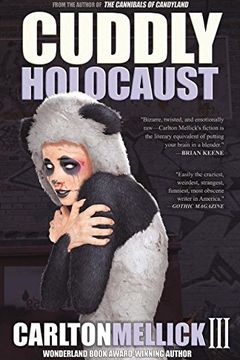 Toys have had enough and won the war against humans, leaving them with no hope for the future. In "Cuddly Holocaust," a human girl goes through surgical transformation to infiltrate enemy lines and save her family from toy death camps. Author Carlton Mellick III delivers another weird and captivating tale that is reminiscent of a crazy cult movie.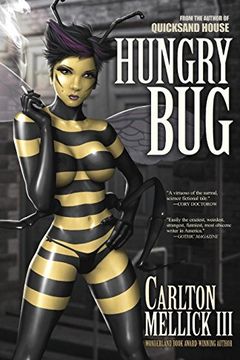 "Experience a gritty and addictive urban fairy tale like no other in this spell-binding novel. Carlton Mellick III, master of bizarre fiction and author of cult classics 'Satan Burger' and 'Adolf in Wonderland', takes readers on a journey to a world where magic is real, but comes at a steep cost. Addictive spell-casting destroys lives and tears families apart, leading those who cast too much to be banished to a sorcerer ghetto called Hell's Bottom. Here, survival is a daily struggle and dangerous entities roam free. Told through interconnected stories that bring to mind Frank Miller's 'Sin City' and David Lapham's 'Stray Bullets', 'Hungry Bug' is a haunting and unforgettable tale that blends real-life problems with fantastical elements."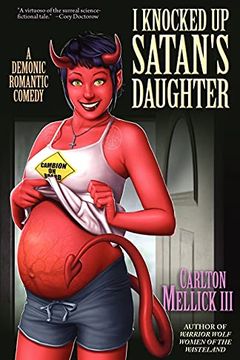 A carefree Lego sculptor and his alcoholic sumo wrestler friend have their lives turned upside down when he impregnates a demon from hell. With her demonic family threatening eternal torture, Jonathan must marry the red-skinned, fork-tongued succubus before their big day. Combining romance, comedy, and violence, this bizarro fiction novel is perfect for readers who love the fantastical.
In Neverday, Carlton Mellick III creates a dystopian horror tribute to time loop stories in the tradition of Groundhog Day, Edge of Tomorrow and Happy Death Day. Karl Lybeck has been repeating the same day over and over again for what feels like a thousand years. He thought he was the only one until a woman named January appears in his backyard. They discover that the majority of the population has been repeating the same day just like them. With the help of others who share their suspicions, they explore the neverday in search of answers that could destroy the very fabric of their new society forever.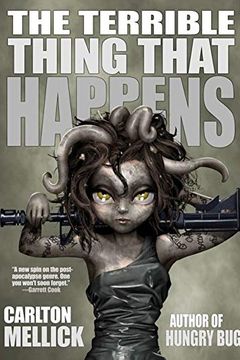 Enter a post-apocalyptic world where a lone grocery store stands as the only source of food and water. But every night, it becomes a deadly battleground as a group of masked men carry out a massacre that repeats itself each and every night. Follow the journey of a community of survivors, hideously mutated by radiation, as they attempt to navigate the kill zone to collect the essentials of life. From acclaimed author Carlton Mellick III, comes a hauntingly surreal horror story that will leave you reeling.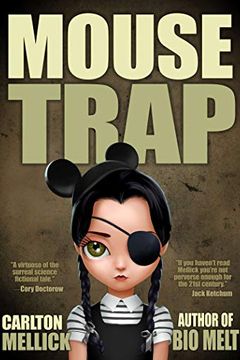 "Mouse Trap" by Carlton Mellick III is a captivating and imaginative story of young love in a dying world. When mysterious traps start appearing across the countryside killing off humans, a school trip turns into a fight for survival for Emily and her classmates. Eighth-grader Clyde Donner promises to keep them safe, but when his true intentions come to light, Emily must put her feelings aside to protect the younger children. This intense, suspense-filled thrill ride will keep you on the edge of your seat.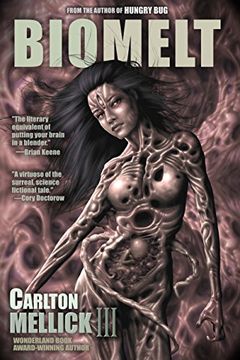 Bio Melt
Carlton Mellick III
-
2015-10-03
Exercise Bike by Carlton Mellick
As She Stabbed Me Gently in the Face by Carlton Mellick III
Tumor Fruit by Carlton Mellick III
The Handsome Squirm by Carlton Mellick III
Clusterfuck by Carlton Mellick III
The Egg Man by Carlton III Mellick
Parasite Milk by Carlton Mellick III
Warrior Wolf Women of the Wasteland by Carlton III Mellick
The Best Bizarro Fiction of the Decade by Aimee Bender, Joe R. Lansdale, Carlton Mellick III, Bentley Little, Alissa Nutting, Amelia Gray
Sweet Story by Carlton Mellick III
The Bad Box by Carlton Mellick III
The Boy with the Chainsaw Heart by Carlton Mellick III
The Tick People by Carlton Mellick III
Punk Land by Carlton Mellick III
Cybernetrix by Carlton Mellick III
The Big Meat by Carlton Mellick
The Greatest Fucking Moment in Sports by Kevin L. Donihe
Snuggle Club by Carlton Mellick III
The Magazine of Bizarro Fiction by Kevin Donihe, Carlton III Mellick
Hammer Wives by Carlton Mellick III
Barbarian Beast Bitches of the Badlands by Carlton Mellick III
Village of the Mermaids by Carlton Mellick
Werewolves and Shape Shifters by
Spider Bunny by Carlton Mellick III
Testa d'Uovo by Carlton Mellick III
Ugly Heaven, Beautiful Hell by Jeffrey Thomas, Carlton Mellick III
Full Metal Octopus by Carlton Mellick III
Bust Down the Door and Eat All the Chickens by Carlton Mellick III, Steve Rasnic Tem, D. Harlan Wilson, Kris Saknussemm, Kevin L. Donihe, Andersen Prunty
Falling from the Sky by Brad Listi, Kristopher Young, Kate Holden, Tony O'Neill, Carlton Mellick III, Bradley Sands
Kill Ball by Carlton Mellick III
Fantastic Orgy by Carlton Mellick III
Tempting Disaster by Simon Logan, Carlton Mellick III, Jeffrey Thomas, Kevin L. Donihe, Ronald Malfi, Lance Olsen, Darren Speegle, Michael Hemmingson
The Year's Best Fantasy and Horror by
Armadillo Fists by Carlton Mellick III
Zombies by Carlton Mellick III, Cody Goodfellow, John Skipp
Ultra Fuckers by Carlton Mellick III
Crab Town by Carlton Mellick III
The Faggiest Vampire by Carlton Mellick III
Bienvenidos al bizarro by Tamara Romero
The Cannibals of Candyland by Carlton Mellick III
Sunset with a Beard by Carlton Mellick III
Teeth and Tongue Landscape by Carlton Mellick III
The Bizarro Starter Kit (Orange) by Carlton Mellick III, Jeremy Robert Johnson, John Edward Lawson, D. Harlan Wilson, Steve Beard, Vincent W. Sakowski, Bruce Taylor, Kevin L. Donihe, Andre Duza, Gina Ranalli
Sea of the Patchwork Cats (Avant Punk Book Club) by Carlton Mellick III
Sausagey Santa by Carlton Mellick III
The Steel Breakfast Era by Carlton Mellick III
Fishy-Fleshed by Carlton Mellick III
The Kobold Wizard's Dildo of Enlightenment +2 (an Adventure for 3-6 Players, Levels 2-5 by Carlton Mellick III
Sex and Death in Television Town by Carlton Mellick III
The Morbidly Obese Ninja by Carlton Mellick III
The Steel Breakfast Era / The Decadent Return of the Hi-Fi Queen and Her Embryonic Reptile Infection by Carlton Mellick III, Simon Logan
The Menstruating Mall by Carlton Mellick III
Apeshit by Carlton Mellick III
Apeshit - Pazzi furiosi by Carlton Mellick III
Ocean of Lard by Kevin L. Donihe, Carlton Mellick III
The Baby Jesus Butt Plug by Carlton Mellick III
Electric Jesus Corpse by Carlton Mellick III
Satan Burger by Carlton Mellick III
Angel Scene / Teeth and Tongue Landscape (Eraserhead Double #2) by Richard Kadrey, Carlton Mellick III, Brian Doogan, Richard Kadrey, Carlton Mellick, Brian Doogan
Adolf in Wonderland by Carlton Mellick III
Ugly Heaven by Carlton Mellick III
War Slut by Carlton Mellick III
Razor Wire Pubic Hair by Carlton Mellick III
The Haunted Vagina by Carlton Mellick III