Carrie Ann Ryan Books
Carrie Ann Ryan is the New York Times and USA Today bestselling author of contemporary, paranormal, and young adult romance. Her works include the Montgomery Ink, Talon Pack, Promise Me, and Elements of Five series, which have sold millions of books worldwide. She's the winner of a RT Book of the Year and a Prism Award in her genres. She started writing while in graduate school for her advanced degree in chemistry and hasn't stopped since. Carrie Ann has written over seventy-five novels and novellas with more in the works. When she's not losing herself in her emotional and action-packed worlds, she's reading as much as she can while wrangling her clowder of cats who have more followers than she does.The Montgomery Ink World contains the following series, though each series is a stand alone and can be read in any order. Feel free to hop around:The Montgomery Ink SeriesThe Gallagher Brothers SeriesThe Montgomery Ink: Colorado Springs SeriesThe Whiskey and Lies SeriesThe Fractured Connections SeriesThe Montgomery Ink: Boulder SeriesThe Less Than SeriesThe Promise Me SeriesHer Elements of Five Series is her Young Adult Romance series while her other series are all adult.Her Talon Pack series is set in the same world as the Redwood Pack series, only 30 years later.The Dante's Circle, Holiday, Montana, and Branded Packs series are all individual series as well.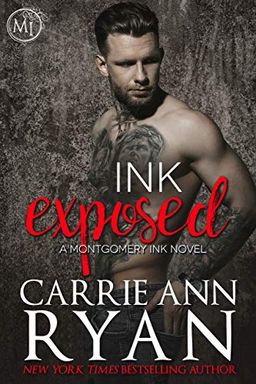 A man gets a second chance at love after overcoming addiction and finding his place in his family's construction company. When danger threatens the woman he's always loved, he must confront his demons again to save her. Passion and heart-pounding romance make this a must-read.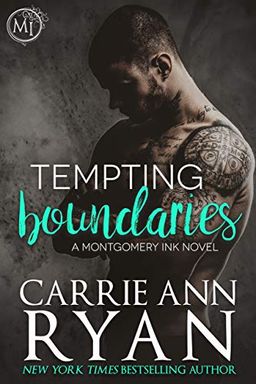 In this Montgomery Ink series novel, Carrie Ann Ryan explores the forbidden romance between Decker Kendrick and Miranda Montgomery. Despite Decker's attempts to stay away, Miranda is determined to make him see what they could have together. But when they finally give into temptation, their pasts come back to haunt them, risking their newfound love. Will their love be enough to survive the obstacles in their way?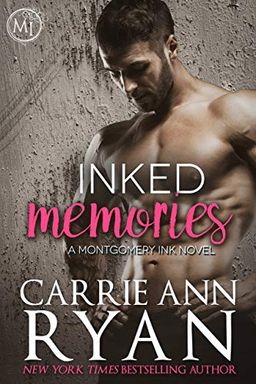 "Inked Memories" is a captivating novel that tells the story of Wes Montgomery, the final sibling in the Montgomery Ink series who refuses to fall in love with his brother's former flame – the company's new plumber. When Wes finds himself attracted to the dynamic and strong-willed Jillian Reid, who also happens to work for Montgomery Inc., he realizes he's having second thoughts. Meanwhile, Jillian finds herself drawn to Wes, the one man she shouldn't love. Together, they fight a love that is both passionate and complicated in this thrilling enemies-to-lovers tale.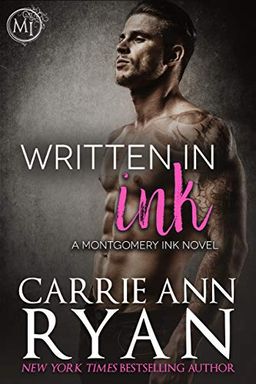 In this latest installment of the Montgomery Ink series by NYT Bestselling author Carrie Ann Ryan, a quiet man finds his match in a woman with a fiery passion and a past shrouded in mystery. When Autumn Minor meets her boss, Griffin Montgomery, she's afraid to let anyone get too close. But as the demons from Autumn's past resurface and threaten their lives, Griffin will do whatever it takes to protect her—even if it means losing her in the end.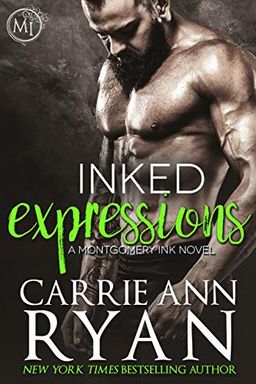 Inked Expressions tells the story of Everly Law, a single mother who lost the love of her life on the eve of giving birth to their twins. When past secrets are revealed, she finds herself needing Storm Montgomery more than ever. But Storm has his own secrets and promises to keep. As their passions ignite, they must remember who they are and the dangers of taking chances. NYT Bestselling Author Carrie Ann Ryan brings us another thrilling tale in The Montgomery Ink Series.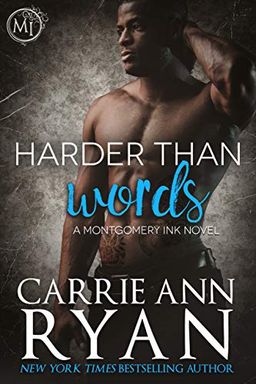 A slow-burn romance filled with heartache, healing, and the realization of missed opportunities. Former best friends, now strangers, Meghan and Luc are finally ready to confront their feelings for one another. But with secrets from the past threatening their future together, they must stand strong or risk losing everything.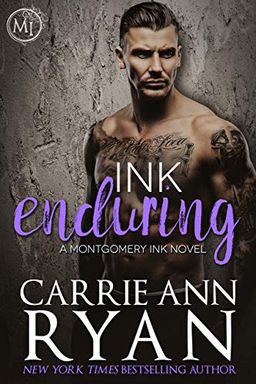 Ink Enduring explores the complicated relationships between three friends and the past that haunts them. The bewitching intensity between Maya and Jake is undeniable, even though life never turns out as planned. When a stranger from Jake's past threatens their future, they must confront their feelings before it's too late. This book not only tugs at your heartstrings but also keeps you at the edge of your seat with danger lurking around the corner.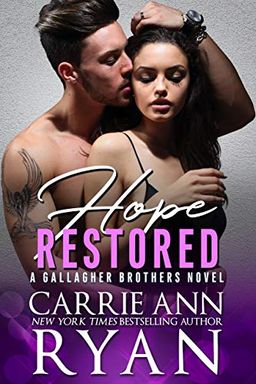 "Hope Restored" by Carrie Ann Ryan is the final novel in the Gallagher Brothers series. Murphy Gallagher learned at a young age that life isn't worth living if you don't fight for it, after battling cancer twice. When his world is turned upside down again, he must navigate the unknown and his attraction to his best friend, Tessa Stone. Tessa has always tried to focus on the present and not dwell on the past, but when she is forced to be Murphy's rock, they both must learn to lean on each other. As they navigate through their feelings, they realize that their initial attraction might be the beginning of something much more complicated. This novel is full of romance, seduction, and the reminder that life is for living.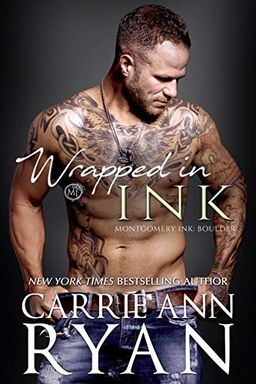 "Wrapped in Ink" follows Liam Montgomery in Boulder as he discovers a family secret that shatters everything he thought he knew. After an accident, Liam meets Arden Brady, a woman with a hidden illness that the world doesn't see. Despite their challenges, they fall for each other, navigating overprotective siblings and a mischievous puppy. This new series in the Montgomery Ink saga is full of unexpected twists and heartwarming romance.
Hidden Ink
A Montgomery Ink Novella
Carrie Ann Ryan
-
2016-01-12
"Hidden Ink" is a Montgomery Ink series novel about the long-awaited romance between a café owner and a tattoo artist who's loved her from afar. Hailey Monroe has picked herself up from the ashes before, and she's ready to do it again. Sloane Gordon has kept his distance, but when Hailey approaches him with a proposition, he'll do everything to protect her and the secrets he's been forced to keep.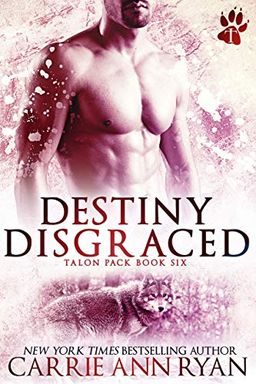 Steam and Ink by Chelle Bliss
Restless Ink by Carrie Ann Ryan
Fallen Ink by Carrie Ann Ryan
Adoring Ink by Carrie Ann Ryan
Whiskey Undone by Carrie Ann Ryan
Eternal Mourning by Carrie Ann Ryan
Forever Broken by Carrie Ann Ryan
Fighting Fate by Carrie Ann Ryan
Fractured Silence by Carrie Ann Ryan
Montgomery Ink Box Set by Carrie Ann Ryan
Seduced in Ink by Carrie Ann Ryan
Strength Enduring by Carrie Ann Ryan
Forever Ink by Carrie Ann Ryan
Sated in Ink by Carrie Ann Ryan
Wolf Betrayed by Carrie Ann Ryan
Far From Destined by Carrie Ann Ryan
Passion Restored by Carrie Ann Ryan
Tangled Innocence by Carrie Ann Ryan
Inked Persuasion by Carrie Ann Ryan
Hidden Destiny by Carrie Ann Ryan
From That Moment by Carrie Ann Ryan
Ashes to Ink by Carrie Ann Ryan
An Alpha's Choice by Carrie Ann Ryan
Shattered Emotions by Carrie Ann Ryan
Forever Only Once by Carrie Ann Ryan
Montgomery Ink Box Set 2 by Carrie Ann Ryan
Embraced in Ink by Carrie Ann Ryan
Mated in Mist by Carrie Ann Ryan
Whiskey Reveals by Carrie Ann Ryan
Fierce Enchantment by Carrie Ann Ryan
Reckless With You by Carrie Ann Ryan
Falling With You by Carrie Ann Ryan
Whiskey Secrets by Carrie Ann Ryan
Enforcer's Redemption by Carrie Ann Ryan
Love, Honor, and Ink by Carrie Ann Ryan
Jagged Ink by Carrie Ann Ryan
Ink By Numbers by Carrie Ann Ryan
Love Restored by Carrie Ann Ryan
Wicked Wolf by Carrie Ann Ryan
Shameless With Him by Carrie Ann Ryan
Inked Nights by Carrie Ann Ryan
Blurred Expectations by Carrie Ann Ryan
Dropout by Carrie Ann Ryan
An Immortal's Song by Carrie Ann Ryan
Forgiveness by Carrie Ann Ryan
A Beta's Haven by Carrie Ann Ryan
Trinity Bound by Carrie Ann Ryan
Prowled Darkness by Carrie Ann Ryan
Redwood Pack, Vol. 2 by Carrie Ann Ryan
Dante's Circle Box Set by Carrie Ann Ryan
Shouldn't Have You by Carrie Ann Ryan
A Night Away by Carrie Ann Ryan
Loving the Omega by Carrie Ann Ryan
His Choice by Carrie Ann Ryan
Redwood Pack, Vol. 3 by Carrie Ann Ryan
Breathless With Her by Carrie Ann Ryan
An Unlucky Moon by Carrie Ann Ryan
Dreams of Ivory by Carrie Ann Ryan
The Hunted Heart by Carrie Ann Ryan
Executive Ink by Carrie Ann Ryan
Her Lucky Love by Carrie Ann Ryan
Buried and Shadowed by Carrie Ann Ryan, Alexandra Ivy
Her Warriors' Three Wishes by Carrie Ann Ryan
Santa's Executive by Carrie Ann Ryan
Abandoned and Unseen by Carrie Ann Ryan, Alexandra Ivy
Second Chance Ink by Carrie Ann Ryan
Redwood Pack, Vol. 1 by Carrie Ann Ryan
Finding Abigail by Carrie Ann Ryan
Breaking Without You by Carrie Ann Ryan
Ink Reunited by Carrie Ann Ryan
From Breath and Ruin by Carrie Ann Ryan
Tattered Loyalties by Carrie Ann Ryan
Dust of My Wings by Carrie Ann Ryan
A Taste for a Mate by Carrie Ann Ryan
Ink Inspired by Carrie Ann Ryan
Charmed Spirits by Carrie Ann Ryan
Delicate Ink by Carrie Ann Ryan
Stolen and Forgiven by Carrie Ann Ryan, Alexandra Ivy
An Alpha's Path by Carrie Ann Ryan