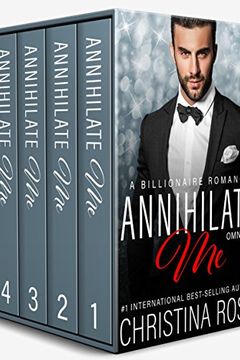 Annihilate Me
Boxed Set (Complete Vols. 1-4, Annihilate Me Series) (The Annihilate Me Series Book 6)
Christina Ross
-
2014-01-13
An explosive romance novel about a recent MBA graduate named Jennifer Kent who takes an unorthodox job as the "girlfriend" of a billionaire CEO named Alexander Wenn. As they navigate the high-stakes world of business and society events, Jennifer finds it increasingly difficult to resist the white-hot chemistry between them. But the wolves are always at the door, and Jennifer must protect her heart - and maybe her life - from the dangers that come with falling for a powerful man. This limited edition omnibus includes Vols. 1-4 at a discounted price!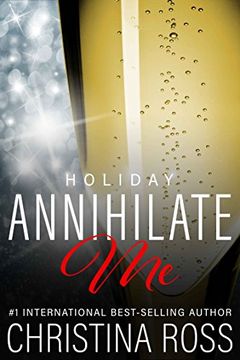 Annihilate Me
Holiday Edition (Annihilate Me, Vol. 5) (The Annihilate Me Series)
Christina Ross
-
2013-12-20
This holiday-themed book set in Maine follows Jennifer and Alex, Lisa and Tank, and Blackwell and her daughters as they navigate Christmas dinner and their personal relationships. With announcements of love and comedic moments, this romance book is filled with plenty of sexy times and hilarity.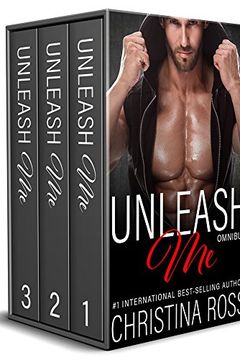 Unleash Me
Complete Boxed Set (Vols. 1-3, Unleash Me Series) (The Annihilate Me Series Book 7)
Christina Ross
-
2014-08-28
This suspenseful series has sold over one million copies, and is now available in a discounted boxed set for a limited time. Follow the story of Lisa Ward, a best-selling author whose life is on the line after an altercation with her editor. Her boyfriend, a former SEAL, rises up to protect her and their unwavering love becomes the one thing she believes might get her through the ongoing threats against her life. With twists and turns that leave readers breathless, "Unleash Me" is pure romantic suspense that will leave you speechless.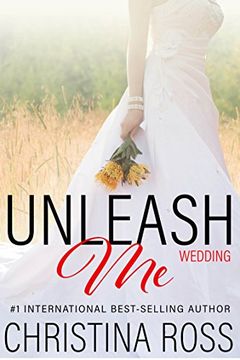 Unleash Me
Wedding (The Unleash Me Series)
Christina Ross
-
2017-07-31
A bestselling author's upcoming wedding is set in the midst of family conflict in the heart of Nebraska. The groom's mother is on a mission to derail the wedding, convinced that the author's books about the undead are sacrilegious. With fan favorites at her side, the bride-to-be must navigate a brutal war with her potential monster-in-law to ensure that love wins out in the end.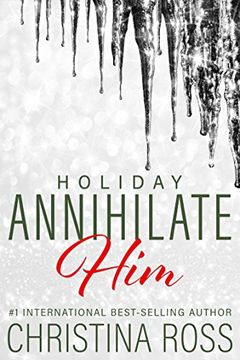 Annihilate Him
Holiday (The Annihilate Me Series Book 10)
Christina Ross
-
2015-12-19
Get ready for holiday mayhem and romance in this latest installment of the international bestselling "Annihilate Me" series. Jennifer and Alex have had a tough year, and decide to spend their holidays at a ski resort with family. But nothing seems to go right as surprises and hilarity ensue with the cast of characters from the series. Will Blackwell, Daniella, Alexa, Cutter, Brock and Madison find love? And if they do, what fresh hell will that mean for you as the reader? Be sure to read the first three volumes before diving into this holiday adventure!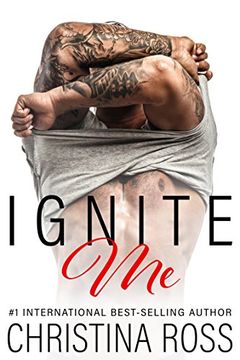 An MBA graduate lands a job as a personal assistant to a perfectionist boss at a Manhattan conglomerate. The daily struggle to please her boss takes on new dimensions with the arrival of a hot new colleague, who kindles an irresistible attraction. Sparks fly in Ignite Me, but will office politics extinguish romance?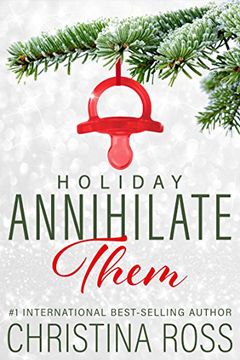 Annihilate Them
Holiday (The Annihilate Me Series Book 12)
Christina Ross
-
2017-02-26
Prepare for romance, drama, and mayhem in this latest installment from the bestselling author of the Annihilate Me series. Jennifer and Alex are spending the holiday season in Manhattan with their friends and family, but tensions rise as Blackwell and Lisa battle over who will plan Jennifer's baby shower and Cutter and Daniella's relationship hits a rocky patch. The main conflict arises with the appearance of Jennifer's abusive mother, Ava Kent, who threatens to reveal long-held secrets that could destroy Jennifer's fragile emotional state. With all the love, laughter, and steamy scenes of previous holiday books, Annihilate Them: Holiday offers even more suspenseful drama. Make sure to read Annihilate Them before diving into this page-turner.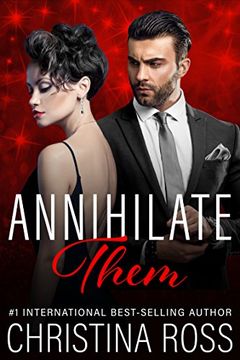 A man seeks revenge on those who publicly defamed and humiliated him. Six people will die, including Alex and Jennifer Wenn. Annihilate Them is a devastating and suspenseful addition to the international best-selling Annihilate Me series. You can expect a thrilling series of events driven by twists, turns, suspense, wit, and action. No one is safe, and not everyone will make it out alive. This full-length, stand-alone novel features all of your favorite characters and is Christina Ross' most arresting and heart-stopping book yet.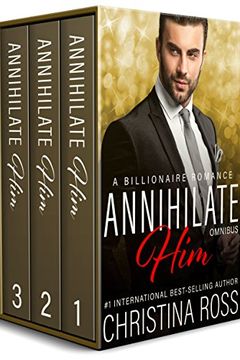 Annihilate Him
Omnibus (Complete Vols. 1-3, The Annihilate Him Series) (The Annihilate Me Series Book 8)
Christina Ross
-
2015-08-30
In this thrilling omnibus, love and lives are put to the ultimate test. As Wenn Enterprises faces not one, but two crises, the characters must navigate unprecedented challenges and unthinkable loss. With twists and turns at every page, this epic adventure will keep you on the edge of your seat. Don't miss this heart-pumping addition to the #1 worldwide bestselling ANNIHILATE ME series.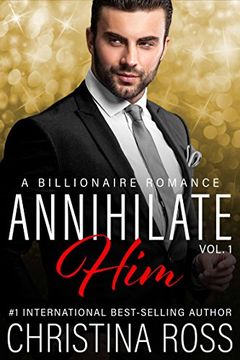 Annihilate Me 2
Vol. 1 (The Annihilate Him Series) (Annihilate Me 2)
Christina Ross
-
2014-11-20
A thrilling sequel to a bestselling series, Annihilate Me 2 ramps up the love, humor, and suspense in unexpected ways. Love is put to the test and lives are claimed as Jennifer Wenn and her husband, Alex, must face not one, but two unexpected crises. This harrowing adventure is full of fear and uncertainty, but ultimately reminds us that only when the phoenix burns can it fully re-emerge.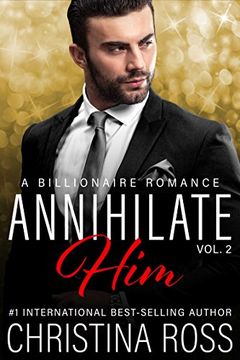 Annihilate Him, Vol. 3 by Christina Ross
Annihilate Me Vol. 4 by Christina Ross
Unleash Me, Vol. 2 by Christina Ross
Annihilate Me Vol. 3 by Christina Ross
A Dangerous Widow (A Dangerous Series) by Christina Ross
Unleash Me, Vol. 3 by Christina Ross
Annihilate Me Vol. 2 by Christina Ross
Faking It by Christina Ross
Unleash Me, Vol. 1 by Christina Ross
Captive-Moi by Christina Ross
Chance (The One More Night Series) by Christina Ross
Making It by Christina Ross
making it by Christina Ross
Unter Feuer by Christina Ross
Protège-moi, la série. L'intégrale. by Christina Ross
Enflamme-Moi by Christina Ross
Captive-Moi by Christina Ross
Entfesselt by Christina Ross
Protège-Moi by Christina Ross
Enflamme-Moi by Christina Ross
Liberte-me by Christina Ross
Liberte-me by Christina Ross
Embrase-Moi (La série Captive-Moi) by Christina Ross
Acabe Comigo, Livro 5 (Edição de Natal) by Christina Ross
Acabe Comigo, Livro 8 by Christina Ross
Unter Feuer 3 (Die Unter Feuer / Entfesselt-Serie) by Christina Ross
Aniquílame by Christina Ross
Entfesselt by Christina Ross
Aniquílame by Christina Ross
Unter Feuer 3 by Christina Ross
Entfacht (Die Unter Feuer / Entfesselt-Serie) by Christina Ross
Unter Feuer by Christina Ross
Unter Feuer by Christina Ross
DESÁTAME, Vol. 2 (La Serie Aniquílame) by Christina Ross
Liberte-me by Christina Ross
Unter Feuer by Christina Ross
Unter Feuer by Christina Ross
Unter Feuer by Christina Ross
Incendeie-me (Série de Acabe Comigo) by Christina Ross
Unter Feuer by Christina Ross
Aniquílalo by Christina Ross
Acabe com Eles, Livro 1 by Christina Ross
Acabe com Eles, Livro 2 by Christina Ross
Acabe com Eles by Christina Ross
Brucia con Me by Christina Ross
Aniquílalo, Vol. 1 by Christina Ross
Unter Feuer by Christina Ross
Acabe com Eles, Livro 3 by Christina Ross
Captive-Moi 2 by Christina Ross
Unter Feuer by Christina Ross
Impuls (zuvor veröffentlicht als "Chance") by Christina Ross
Chance (Série Mais Uma Noite) by Christina Ross
Aniquílalo, Vol. 2 by Christina Ross
Perdue Pour Toi (La série « Perdue » ) by Christina Ross
Brucia con Me by Christina Ross
Captive-Moi 2 by Christina Ross
Enflamme-Moi by Christina Ross
DESÁTAME, Vol. 3 (La Serie Aniquílame) by Christina Ross
Brucia con Me by Christina Ross
DESÁTAME, Vol. 1 (La Serie Aniquílame) by Christina Ross
Captive-Moi (7ème partie) by Christina Ross
Protège-Moi by Christina Ross
Enflamme-Moi by Christina Ross
Love Fed by Christina Ross
Protège-Moi by Christina Ross
Protège-Moi by Christina Ross
Protège-Moi by Christina Ross
Persa In Te (La serie di Persa...) by Christina Ross
Enflamme-Moi by Christina Ross
Protège-Moi by Christina Ross
Captive-Moi (Captive-Moi 8ème partie) by Christina Ross
Annihilate Me Vol. 1 by Christina Ross
Captive-Moi (6ème partie) by Christina Ross
Protège-Moi by Christina Ross
Persa Senza Te by Christina Ross
Captive-Moi (2ème partie) by Christina Ross