Daisy Meadows Books
Daisy Meadows is the pseudonym used for the four writers of the Rainbow Magic children's series: Narinder Dhami, Sue Bentley, Linda Chapman, and Sue Mongredien. Rainbow Magic features differing groups of fairies as main characters, including the Jewel fairies, Weather fairies, Pet fairies, Petal fairies, and Sporty fairies. Narinder Dhami was born in Wolverhampton, England on November 15, 1958. She received a degree in English from Birmingham University in 1980. After having taught in primary and secondary schools for several years she began to write full-time. Dhami has published many retellings of popular Disney stories and wrote the Animal Stars and Babes series, the latter about young British girls of Asian origin. She lives in Cambridge, England with her husband and cats. Sue Bentley was born in Northampton, England. She worked in a library after completing her education and began writing for children once her own began school. Bentley is the author of the Magic Kitten, Magic Puppy, and S Club series and lives in Northamptonshire. Linda Chapman has written over 50 children's fiction books, including the following series: My Secret Unicorn, Stardust, Not Quite a Mermaid, and Unicorn School. She lives in Leicestershire with her husband and daughters. Sue Mongredien was born in 1970 and grew up in Nottingham, England. She has published over 100 children's books, including the following series: The Adventures of Captain Pugwash, The Magic Key, Frightful Families, and Oliver Moon. She has also contributed many titles to the Sleepover Club series and written picture books. Mongredien created the Royal Ballet School Diaries under the pen name Alexandra Moss. She lives with her family in Bath, England.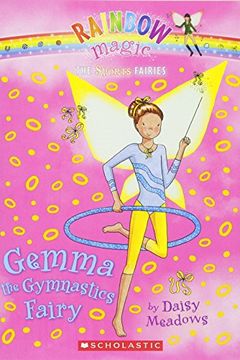 Everyone in Fairyland is preparing for the Fairy Olympics, but Jack Frost and his goblins have stolen the magic sporty items so they can win by cheating! Gemma's Magic Ribbon is the last item that Rachel and Kirsty must rescue to ensure the Olympics will go ahead smoothly. Everyone in Fairyland is preparing for the Fairy Olympics, but Jack Frost an...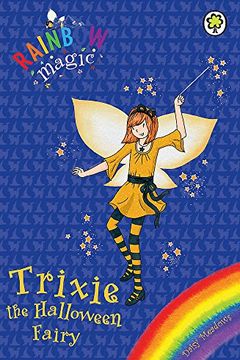 Three sparkly stories in one Rainbow Magic book, just in time for Halloween!BOO! It's Halloween, and Rachel and Kirsty can't wait to go trick-or-treating together. But for Jack Frost, this holiday is all about the tricks! Three magical pieces of Halloween candy are missing, and Jack Frost's goblins are to blame. If Trixie the Halloween Fairy doesn'...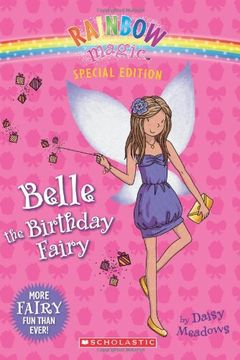 Rainbow Magic
Belle the Birthday Fairy
Daisy Meadows
-
2012-01-01

(first published in 2010)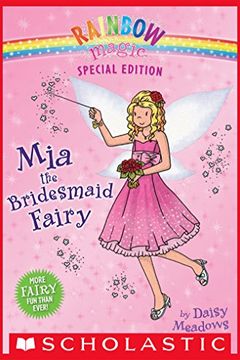 Mia the Bridesmaid Fairy helps make weddings wonderful with her three magical items. But when these are stolen by mean Jack Frost and his naughty goblins, weddings everywhere descend into chaos! Kirsty and Rachel are about to be bridesmaids for Kirsty's cousin, Esther, so the race is on to help Mia find her magical objects (a silver sixpence, some ...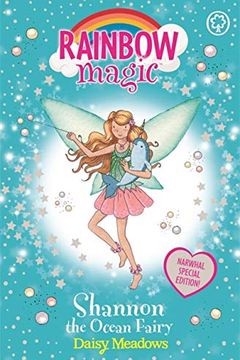 It's an ocean commotion!What's a fairy to do? Jack Frost has stolen three enchanted pearls that control te magic of the oceans. Now the tides are all wrong, the sea creatures are confused, and even daytime and nighttime have gotten mixed up!When Shannon the Ocean Fairy asks Rachel and Kirsty for help, they set off on a magical adventure to an under...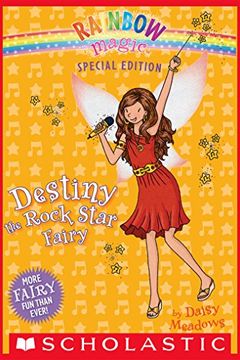 A brand-new, sparkly special edition -- with a holiday concert in the spotlight!Destiny the Rock Star Fairy has a very important job. She helps rock stars everywhere shine! But when her magic is stolen, everything starts to go wrong. Even Rachel and Kirsty's favorite music group, The Angels, is in trouble! Everything at their special holiday concer...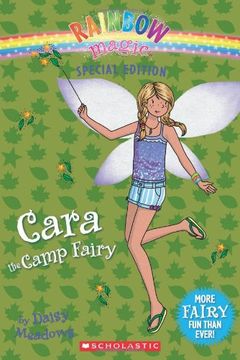 Just in time for summer, a brand-new special edition --- all about the magic of summer camp!Summer camp is one of the best parts of summer vacation, thanks to Cara the Camp Fairy! Because of her special magic, campers can navigate through the woods, stay cool during the day, and do lots of fun activities. But Jack Frost has sent his goblins to stea...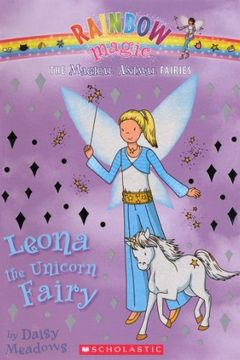 The Magical Creature Fairies look after seven young Magical Creatures, and train them to use their powers for the good of Fairyland and the human world. But all of the creatures have been stolen by naughty Jack Frost! Can Rachel and Kirsty help Leona to find her Magical Unicorn before she's lost forever in the human world? The Magical Creature Fair...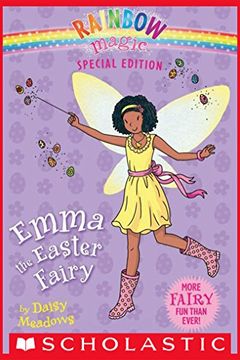 Just in time for Easter, a brand-new Special Edition fairy -- and a brand-new adventure!Every year, Emma the Easter Fairy paints the three special eggs that make Easter sparkle. But this year, Jack Frost has ruined everything! The magic eggs have disappeared. Now the chocolate is melting, the eggs are going bad, and the Easter Bunny is missing! Can...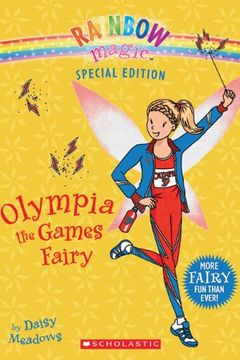 Just in time for the 2012 Olympics, this fairy is bringing her special magic to the games!Let the games begin!There's a triathlon in town! Kirsty and Rachel are excited to watch the running, biking, and swimming events. But when people start swimming in circles, losing bike tires, and tripping over their own feet, the girls know something is wrong....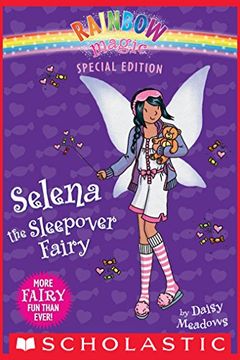 Samantha the Swimming Fairy by Daisy Meadows
Ally the Dolphin Fairy by Daisy Meadows
Ava the Sunset Fairy by Daisy Meadows
The Rainbow Fairies by Daisy Meadows
Lara the Black Cat Fairy by Daisy Meadows
Stacey The Soccer Fairy by Daisy Meadows
Joy The Summer Vacation Fairy by Daisy Meadows
Gabriella the Snow Kingdom Fairy by Daisy Meadows
Tess the Sea Turtle Fairy by Daisy Meadows
Amelie the Seal Fairy by Daisy Meadows
Hope the Happiness Fairy by Daisy Meadows
Pia the Penguin Fairy by Daisy Meadows
Zoe the Skating Fairy by Daisy Meadows
Ashley the Dragon Fairy by Daisy Meadows
Bella The Bunny Fairy by Daisy Meadows
Isabelle The Ice Dance Fairy by Daisy Meadows
Holly the Christmas Fairy by Daisy Meadows
Crystal The Snow Fairy by Daisy Meadows
Alice the Tennis Fairy by Daisy Meadows
Saskia the Salsa Fairy by Daisy Meadows
Penny The Pony Fairy by Daisy Meadows
Katie the Kitten Fairy by Daisy Meadows
Kylie The Carnival Fairy by Daisy Meadows
Lauren the Puppy Fairy by Daisy Meadows
Paige the Pantomime Fairy by Daisy Meadows
Goldie the Sunshine Fairy by Daisy Meadows
Poppy the Piano Fairy by Daisy Meadows
Stella The Star Fairy by Daisy Meadows
Helena the Horseriding Fairy by Daisy Meadows
Heather the Violet Fairy by Daisy Meadows
Jessica The Jazz Fairy by Daisy Meadows
Rebecca The Rock 'N' Roll Fairy by Daisy Meadows
Sky the Blue Fairy by Daisy Meadows
Tasha the Tap Dance Fairy by Daisy Meadows
Bethany the Ballet Fairy by Daisy Meadows
Sarah the Sunday Fairy by Daisy Meadows
Fern the Green Fairy by Daisy Meadows
Grace the Glitter Fairy by Daisy Meadows
Georgia the Guinea Pig Fairy by Daisy Meadows
Harriet the Hamster Fairy by Daisy Meadows
Cherry the Cake Fairy by Daisy Meadows
Honey the Sweet Fairy by DAISY MEADOWS
Molly the Goldfish Fairy by Daisy Meadows
Phoebe the Fashion Fairy by Daisy Meadows
Jasmine the Present Fairy by Daisy Meadows
Amber the Orange Fairy by Daisy Meadows
Sunny the Yellow Fairy by Daisy Meadows
Pearl The Cloud Fairy by Daisy Meadows
Scarlett The Garnet Fairy by Daisy Meadows
Melodie the Music Fairy by Daisy Meadows
Freya the Friday Fairy by Daisy Meadows
Emily the Emerald Fairy by Daisy Meadows
Polly the Party Fun Fairy by Daisy Meadows
Abigail The Breeze Fairy by Daisy Meadows
Evie The Mist Fairy by Daisy Meadows
Inky The Indigo Fairy by Daisy Meadows
Lucy the Diamond Fairy by Daisy Meadows
India The Moonstone Fairy by Daisy Meadows
Jade the Disco Fairy by Daisy Meadows
Sienna the Saturday Fairy by Daisy Meadows
Hayley The Rain Fairy by Daisy Meadows
Sophie the Sapphire Fairy by Daisy Meadows
Chloe The Topaz Fairy by Daisy Meadows
Thea the Thursday Fairy by Daisy Meadows
Megan The Monday Fairy by Daisy Meadows
Storm The Lightning Fairy by Daisy Meadows
Louise the Lily Fairy by Daisy Meadows
Amy The Amethyst Fairy by Daisy Meadows
Willow the Wednesday Fairy by Daisy Meadows
Tallulah The Tuesday Fairy by Daisy Meadows