David Gaider Books
David Gaider lives in Edmonton, Alberta, and has worked for video game developer BioWare since 1999. He is the lead writer on the upcoming Dragon Age: Origins role-playing game and has previously worked on such titles as Baldur's Gate 2: Shadows of Amn, Star Wars: Knights of the Old Republic, and Neverwinter Nights.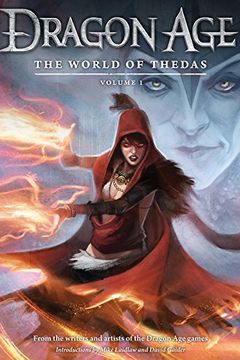 For Dragon Age newcomers, this comprehensive volume brings you up to speed on everything you need to know about the regions, religions, monsters, magic, and more! For dedicated fans, never before have the secrets of BioWare's epic fantasy been revealed so completely and so compellingly! * Filled with never-before-seen art by the creators of the gam...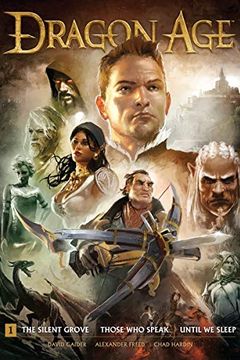 Helping set the stage for BioWare's hotly anticipated "Dragon Age: Inquisition," this deluxe oversized hardcover collects every Dark Horse Dragon Age comic to date--"The Silent Grove, Those Who Speak," and "Until We Sleep"-- an epic trilogy complete in one volume, written by "Dragon Age "lead writer David Gaider! This edition also features extensiv...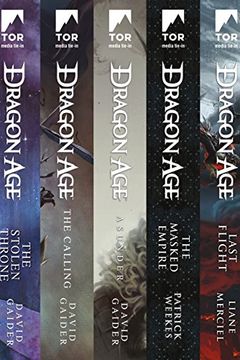 A Dragon Age Collection
(The Stolen Throne, The Calling, Asunder, The Masked Empire, Last Flight)
David Gaider, Patrick Weekes, Liane Merciel
-
2017-10-10
This discounted ebundle includes: Dragon Age: The Stolen Throne, Dragon Age: The Calling, Dragon Age: Asunder, Dragon Age: The Masked Empire, Dragon Age: Last FlightBased upon the critically acclaimed Dragon Age series! Essential for any fan of Dragon Age, the books expand the fantastic world of Thedas. Whether you want to learn more about the king...
Return to the dark fantasy world created for the award-winning, triple platinum game, Dragon Age™: Origins in this third tie-in novel!A mystical killer stalks the halls of the White Spire, the heart of templar power in the mighty Orlesian Empire. To prove his innocence, Rhys reluctantly embarks on a journey into the western wastelands that will not...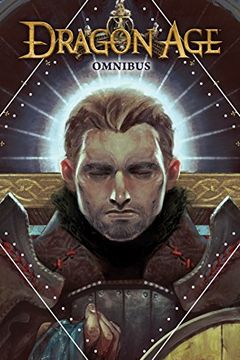 Bioware's bestselling franchise Dragon Age lives on in these essential, canonical comics from Dark Horse--now in an affordable omnibus format!Dragon Age lead writer David Gaider pens an exciting tale following King Alistair as he journeys across Thedas to discover the fate of his father. Joined by rogues Isabela and Varric, together they will encou...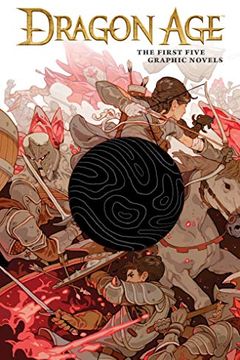 Prequel short story to Dragon Age II, introducing one of the characters....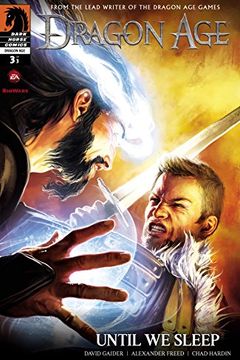 Dragon Age
Until We Sleep #3
Alexander Freed, David Gaider
-
2015-10-07
Willing to embrace an evil that once nearly shattered reality, Magister Aurelian Titus must be stopped. King Alistair and his allies have traveled to the realm of nightmares to do so, but if the cost of victory is to sacrifice his father, will Alistair be able to pay the price? Story by David Gaider, lead writer of the games and novels! An essentia...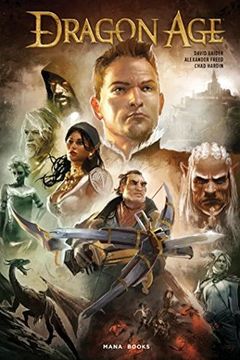 Dragon Age
David Gaider, Alexander Freed, Chad Hardin
-
2018-03-08
Une histoire officielle de la saga RPG culte de BioWare. En compagnie de la pirate Isabela et du marchand Varric, Alistair Theirin parcourt le monde sur les traces de son père disparu. Mais lorsqu'il se retrouve au cœur d'une machination pour ressusciter les dragons d'antan, le jeune roi, tiraillé entre sa famille et son devoir, sera confronté à de...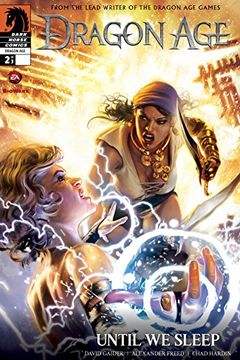 Dragon Age
Until We Sleep #2
Alexander Freed, David Gaider
-
2015-10-07

(first published in 2013)
Enter the Fade, where the life you always imagined is yoursas long as you never wake up! Dwarven rogue Varric Tethras travels through the realm of magic and fantasy rescuing his companions from the dreamsand nightmaresthat have imprisoned their minds. Will our heroes remember the truth in time to stop the most evil of mages from making his dream a ...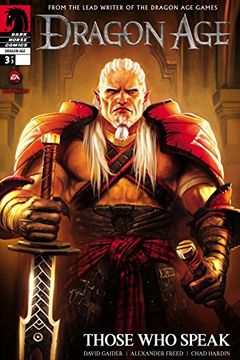 Dragon Age
Alexander Freed, David Gaider
-
2015-10-07
Dragon Age by Alexander Freed, David Gaider
Dragon Age by Alexander Freed, David Gaider
Dragon Age by Alexander Freed, David Gaider
Dragon Age by Alexander Freed, David Gaider
Dragon Age by Alexander Freed, David Gaider
Dragon Age by Alexander Freed, David Gaider
Dragon Age by Alexander Freed, David Gaider
DRAGON AGE #01 - DRAGON AGE #0 by Alexander Freed, David Gaider
Dragon Age. Utracony tron by David Gaider
Until We Sleep by David Gaider, Alexander Freed
Those Who Speak by David Gaider, Alexander Freed
The Silent Grove by David Gaider
The Calling by David Gaider
Dragon Age by Alexander Freed, David Gaider
The Stolen Throne by Bioware
Fantasy Magazine, May 2011 by Fantasy Magazine, Orson Scott Card, Sarah Monette, Genevieve Valentine, Jeffrey Ford, David Gaider, John Joseph Adams