Gabriele Dell'Otto Books
Gabriele Dell'Otto is an Italian illustrator author whose works have been published in several countries of the world.His activity during the years included several fields: scientific illustration, calendars, lithographies, books, coloured graphic folders, comic boooks, covers of magazines and videogame covers.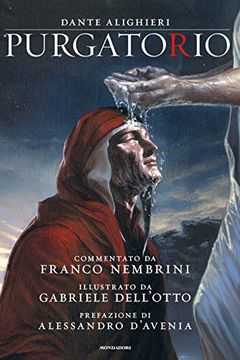 Purgatorio
Dante Alighieri, Franco Nembrini
-
2004-04-08

(first published in 1321)
Experience the power of change in "Purgatorio" by Dante Alighieri, with insightful commentary by Franco Nembrini. Discover how this classic work can relate to your everyday life - teaching us that the true challenge is not in falling, but in getting back up and taking the hand that is offered. Gabriele Dell'Otto's stunning illustrations add depth and emotion to the journey.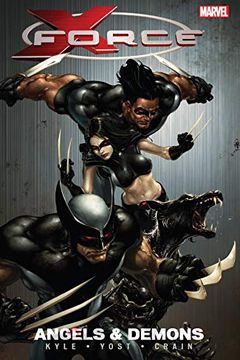 X-Force, Volume 1
Angels & Demons (X-Force Volume)
Craig Kyle, Christopher Yost
-
2009-01-28

(first published in 2008)
Join X-Force, the X-Men's top-secret unit, as they take on missions too dangerous for the regular squad. This team of skilled killers and trackers includes Wolverine, X-23, Warpath, and Wolfsbane. In this collection of issues 1-6, witness their thrilling adventures and high-stakes missions.
Discover an incredible project that combines the classic tale of Dante's Divine Comedy, the artistic genius of Gabriele Dell'Otto, and the literary expertise of Franco Nembrini. This stunningly illustrated book features the original text of Dante paired with contemporary Italian translations and visual interpretations, making it accessible and captivating for modern readers. With introductions to each canto by Nembrini and an introduction by Alessandro D'Avenia, this is a must-have for lovers of Italian literature and art. Don't miss out on this dreamlike journey through Inferno.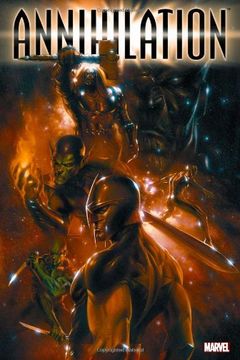 Embark on a thrilling sci-fi adventure with Marvel's cosmic heroes as they fight to resist the Annihilation Wave, a destructive force led by Annihilus, lord of the Negative Zone. Follow Nova, Drax, Silver Surfer, and other heroes as they join forces to save the universe. This omnibus features a collection of action-packed issues that will keep you on the edge of your seat. Don't miss out on this explosive widescreen sci-fi masterpiece.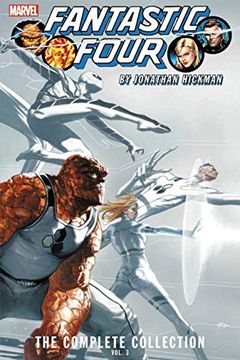 Follow Marvel's first family, the Fantastic Four, as they reunite in a thrilling adventure that explores the entire Marvel Universe. Join them as they face off against the Kree Empire and the Negative Zone's Annihilation Wave, encounter Galactus, and ultimately make their final stand against the Council of Reeds and the Future Foundation. This landmark graphic novel collects some of Jonathan Hickman's best work, including FF (2011) #6-16 and Fantastic Four (1998) #600-604.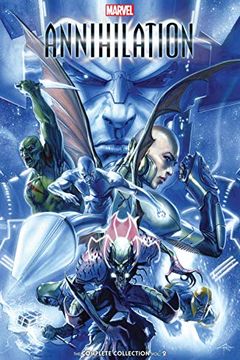 Annihilation
The Complete Collection Vol. 2
Keith Giffen, Simon Furman
-
2018-05-08
This action-packed comic collection brings together a cosmic epic that will leave the Marvel Universe forever changed. Filled with thrilling battles between some of the deadliest women in the galaxy, including Gamora, and a united front led by newcomer Richard Rider as the new Nova Prime, this collection features a ragtag team of heroes banding together to save the universe from the lethal Annihilation Wave. With appearances from beloved characters like Drax the Destroyer, Peter "Star-Lord" Quill, Moondragon and Phyla-Vell, this book culminates in a chilling showdown between Thanos and Drax. Don't miss this must-read conclusion to the epic storyline.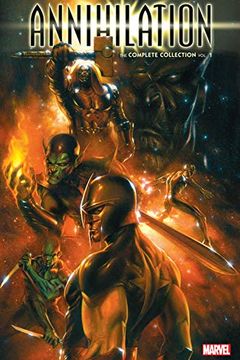 Annihilation
The Complete Collection Vol. 1
Keith Giffen, Dan Abnett, Andy Lanning
-
2018-04-10
"Revitalize Marvel's cosmos with this explosive outer-space epic! Follow the journey of Drax the Destroyer as he gains a new look, a fresh purpose, and an unlikely ally. When Annihilus unleashes his monstrous Annihilation Wave, heroes and villains alike must prepare for war. Follow the devastating impact on the Nova Corps and witness the Silver Surfer's dark bargain to protect Galactus. Don't miss out on this action-packed journey through the Negative Zone."
Batman is on the brink of defeat from a powerful and incurable virus. His only hope for a cure lies in the hands of his enemy, the Joker. Together they embark on a desperate journey across Europe to save the Dark Knight. Superstar artist Jim Lee returns to bring this 4-issue miniseries to life with breathtaking visuals. Written by Matteo Casali and Brian Azzarello, this thrilling event will keep readers on the edge of their seats until the very end.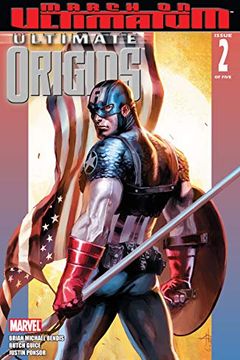 Travel back to World War II with this thrilling book and uncover the true danger that Steve Rogers faced—not the Nazis, but an otherworldly presence awakened after 70 years! Ultimate Origins #2 is a page-turning adventure that delves into Project Pegasus and its mysterious object.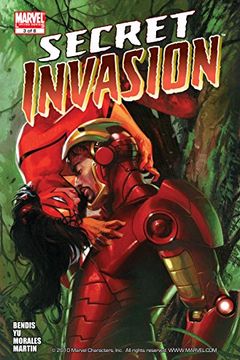 Superheroes clash as Norman Osborn faces off against Captain Marvel in Secret Invasion #3. The Initiative battles a legion of Super-Skrulls, but it's Nick Fury who holds the key to stopping the madness. Join the action-packed, hero versus hero showdown in this gripping comic book.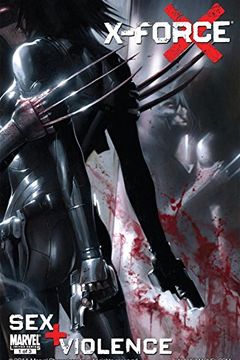 X-Force
Christopher Yost, Craig Kyle
-
2010-07-14
X-Force by Craig Kyle, Christopher Yost
X-Force by Craig Kyle, Christopher Yost
Annihilation Book One by Keith Giffen, Dan Abnett, Andy Lanning
New Avengers by Brian Michael Bendis
Original Sin #4 by Jason Aaron
Fantastic Four #600 by Jonathan Hickman
Original Sin #3 by Jason Aaron
Secret Invasion #4 by Brian Michael Bendis
Dark Nights by Scott Snyder
Annihilation by Keith Giffen
The Clone Conspiracy #2 by Dan Slott
The Clone Conspiracy #1 by Dan Slott
X-Force by Craig Kyle, Christopher Yost
Dark Nights by Scott Snyder
The Clone Conspiracy #5 by Dan Slott
Secret Invasion #7 by Brian Michael Bendis
Avengers by Brian Michael Bendis by Brian Michael Bendis
Secret Invasion #5 by Brian Michael Bendis
New Avengers by Brian Michael Bendis by Brian Michael Bendis
Avengers #1 by Jonathan Hickman
Dark Nights by Scott Snyder
The Clone Conspiracy #3 by Dan Slott
Original Sin #1 by Jason Aaron
Secret War by Brian Michael Bendis
Secret Invasion #1 by Brian Michael Bendis
Annihilation by Keith Giffen
Secret War #5 by Brian Michael Bendis
Secret War #3 by Brian Michael Bendis
Secret Invasion #8 by Brian Michael Bendis
Original Sin #7 by Jason Aaron
Annihilation by Keith Giffen
Ultimate X-Men, Vol. 19 by Aron Coleite
G.I. Joe #1 by Chuck Dixon
Secret Invasion #6 by Brian Michael Bendis
The Pulse #2 by Brian Michael Bendis
New Avengers #24 by Jonathan Hickman
The Clone Conspiracy #4 by Dan Slott
Secret War #2 by Brian Michael Bendis
Amazing Spider-Man by Dan Slott, Christos N. Gage
Secret War by Mike Raicht
New Avengers #32 by Jonathan Hickman
Original Sin #8 by Jason Aaron
Annihilation by Javier Grillo-Marxauch
Annihilation by Javier Grillo-Marxauch
What If? Annihilation #1 by David Hine
Original Sin #2 by Jason Aaron
Secret War #1 by Brian Michael Bendis
Annihilation by Keith Giffen
Annihilation by Keith Giffen
Avenging Spider-Man #14 by Cullen Bunn
Moon Knight Vol. 5 by Mike Benson
Annihilation by Keith Giffen
Annihilation by Keith Giffen
Captain America by Nick Spencer
Avengers By Brian Michael Bendis, Vol. 5 by Brian Michael Bendis
New Avengers #29 by Jonathan Hickman
New Avengers (2010-2012) Annual #1 by Brian Michael Bendis
Annihilation by Simon Furman
Annihilation by Javier Grillo-Marxauch
New Avengers #33 by Jonathan Hickman
Moon Knight Annual #1 by Duane Swierczynski
Morbius by Joseph Keatinge
Avenging Spider-Man by Cullen Bunn, Joshua Hale Fialkov, Kevin Grevioux, Rob Williams, Brian Reed, Dean Haspiel
God of War by Chris Roberson
All-New Miracleman Annual #1 (Miracleman by Grant Morrison, Peter Milligan
Annihilation by Simon Furman
Annihilation by Simon Furman
Captain America & Hawkeye (Captain America by Cullen Bunn
Red Sonja by Michael Avon Oeming, Mike Carey
Annihilation by Javier Grillo-Marxauch
Annihilation by Simon Furman
Avenging Spider-Man #15 by Cullen Bunn
Secret Invasion by Ivan Brandon