Hidekaz Himaruya Books
Hidekaz Himaruya (日丸屋 秀和 Himaruya Hidekaz, born May 8th, 1985, in Koriyama, Fukushima) is the creator of the series Hetalia: Axis Powers (originally titled Axis Powers Hetalia in the webcomic run). He is sometimes affectionately called Papa Hima, by Hetalia fans.Himaruya started the original Hetalia webcomic while he was attending Parsons School Of Design in New York City and continues the series in the present. He is currently an art design major and makes posts about his day-to-day life on his blog the Bamboo Thicket, along with the latest character designs and sketches.Besides Hetalia, his website Kitayume (which started on June 19th, 2003) showcases his other manga projects and artwork. His latest series, Chibi-san Date, currently runs in the magazine Comic Birz by Gentosha Comics (which also published the printed versions of the Hetalia manga).Himaruya lived in New York from late 2006 until some point in early 2009, when he moved back to Japan following the release of the Hetalia anime and his contract with Comic Birz.In the earlier days of the Kitayume site (2003-2007), he used the name Kazuyoshi Himaruya (日丸屋 和良 Himaruya Kazuyoshi), which most notably appears in the credits of the Gakuen Hetalia demo.Estonia's character design is based on his appearance, although his hair and eye color is different.On his blog and update logs from the archived versions of Kitayume, Himaruya mentions that he is a fan of South Park and Happy Tree Friends. In some instances, he has referenced the song Let's Fighting Love (from the South Park episode Good Times With Weapons) by using the phrase and replacing "Fighting" with another word of his choice, such as: "Let's Flying Pan-ing Love" and "Let's Englanding Love".He is also a fan of the horror visual novels Higurashi When They Cry and Umineko no Naku Koro ni by Ryukishi07, which coincidentally, both received animated adaptations by Studio DEEN.Himaruya's hobbies (mentioned on the bio page at Kitayume) include photography, architecture, and collecting postcards.The programs he uses to color and ink his artwork are: SAI Painter and Adobe Photoshop Elements 6.He allows the usage of images from his site, show, and blog as long as no profit is involved, and encourages fans to create their own original characters, fan videos (MADs), or cosplay inspired by his works, though he actively discourages fans from copying CDs. Selling any of the downloadable site games for profit is also prohibited.He's admitted to having a rather questionable naming sense, and encouraged the fans to call the gender flipped nations by whichever names they chose to.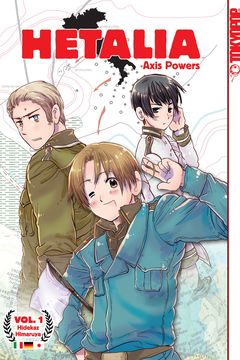 In these hilarious comic strips, the world's powers take on ridiculous stereotypes. During World War 1, gruff Germany finds Italy hiding in a wooden box of tomatoes. World War I quickly comes to an end, but World War II is right on its heels! This time, Italy tries his best to become friends with Germany. In these hilarious comic strips, the world'...
A clumsy, politically incorrect comedy of the relationships of the Axis and Allied powers during the World Wars....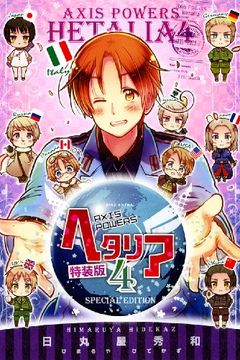 Воистину, мировая история становится в сто раз интереснее, когда она показана через взаимоотношения персонажей, олицетворяющих собой 40 стран-участников мирового политического процесса. И особенно - если в характерах героев так удивительно точно и узнаваемо переданы черты представляемых ими наций. Манга Химаруи Хидэкадзу заставляет по-новому взглян...
A bound collection of animation cell images forms this comic....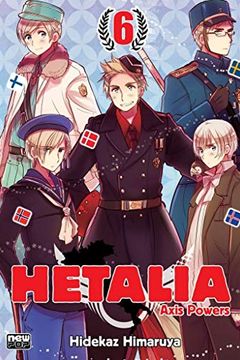 A história de Hetalia inicialmente foca-se nas Potências do Eixo (Itália, Alemanha e Japão), especialmente na Itália. Mas, longe de se dedicar somente às batalhas e contos de guerra, explora curiosidades e detalhes que geralmente não aparecem em livros de história. Além das relações diplomáticas entre países que são representadas como relações emoc...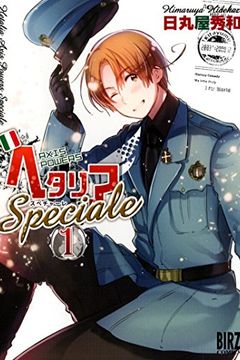 First omnibus volume of Hetalia: Axis Powers (contains original manga volumes 1 and 2)....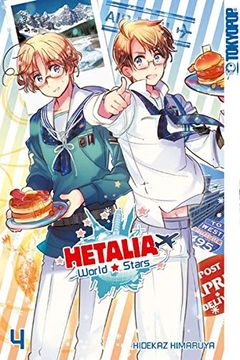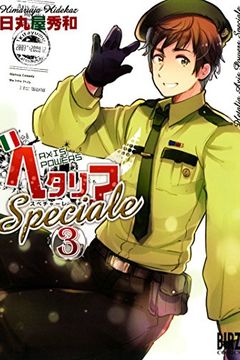 Third omnibus volume of Hetalia: Axis Powers (contains original manga volumes 5 and 6)....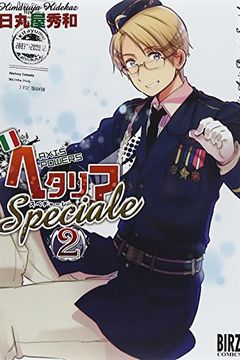 Second omnibus volume of Hetalia: Axis Powers (contains original manga volumes 3 and 4)....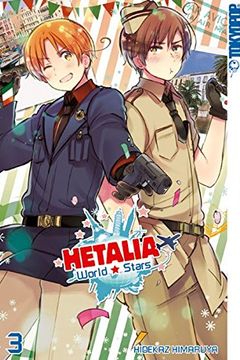 Hetalia Axis Powers Animation Official Guide (In Japanese) by