James Stokoe Books
James Stokoe (born September 4, 1985) is a Canadian comic book artist who is known for his work on such titles as Wonton Soup, Orc Stain and Godzilla: The Half-Century War.Along with Corey Lewis, Brandon Graham and Marley Zarcone, he's a part of a studio/collective called "Yosh Comics".
Explore the epic, action-packed world of Godzilla with this thrilling book! Follow Lieutenant Ota Murakami as he faces off against the legendary monster during its first appearance in Japan in 1954. Alongside his friend Kentaro, Ota risks everything to save lives and becomes obsessed with Godzilla for the next fifty years. With stunning illustrations and a fresh perspective on the classic story, this book is a must-read for any fan of the iconic creature.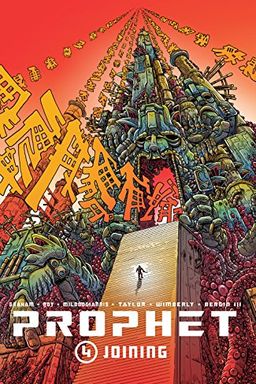 A thrilling sci-fi graphic novel with a focus on the super-being Troll and his plans to draw out the elusive Badrock. The action-packed story awaits in Prophet, Volume 4, featuring issues 39-45.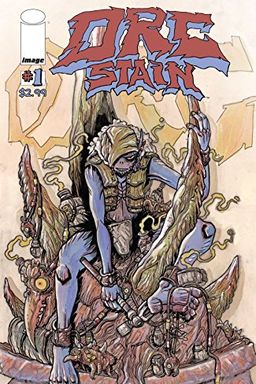 Prepare for a journey through a world stained by the savage, bloodthirsty orcs, who have dominated for millions of years. Follow the newest orc leader's quest to find a lost organ of a forgotten god, and discover how a unique, one-eyed orc can break the cycle forever. This thrilling, action-packed adventure will keep you on the edge of your seat until the very end.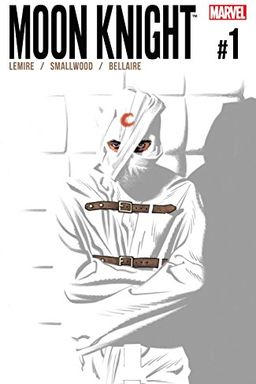 Dive into a gripping tale about the mysterious and complex superhero Moon Knight. When Marc Spector wakes up in an insane asylum without his powers and a lifetime of medical records, his identity is called into question. Written by Jeff Lemire and illustrated by Greg Smallwood, this book will keep you on edge and make you question everything you thought you knew about Moon Knight.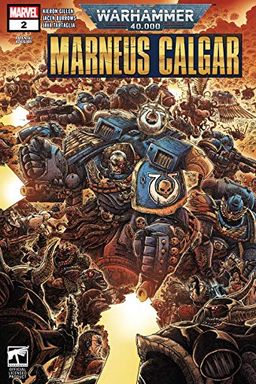 "Uncover the untold origin story of a legendary Chapter Master of the Ultramarines in Marneus Calgar #2 by Kieron Gillen. Follow the young Marneus as he makes a startling discovery on the moon of Nova Thulium, and faces his first triumph or a soul-shattering loss. Prepare to be shocked by a revelation that will forever change what you thought you knew about this iconic character."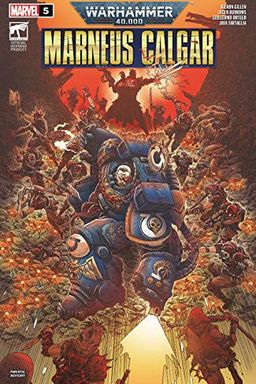 In this epic sci-fi book, Marneus Calgar faces his ultimate test on the moon where it all began. He's up against a hidden enemy who's been in hiding for centuries, and Calgar will stop at nothing to quell the threat they pose. Fans of action-packed, high-stakes novels won't want to miss this thrilling adventure that's full of only one thing: WAR.
Get ready to immerse yourself in the world of ancient Egyptian gods in this unmissable new graphic novel from James Stokoe. Follow Sobek, the gigantic crocodile god, as he springs into action to protect his followers from the affronts of the followers of Set. This stunningly illustrated book brings to life the Nile riverbeds and the awe-inspiring power of the gods.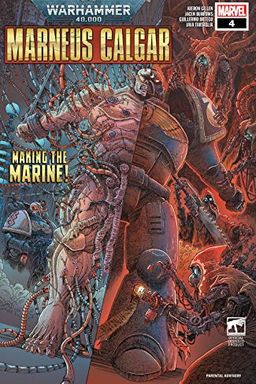 Embark on a journey through the challenges of becoming a Space Marine as a young Marneus Calgar takes on rigorous training, organ implantation, and physical augmentation. In a world of constant warfare, he must prove himself against all odds. But even as he fights his own battles, the assault on the Calgar Estates reaches a deadly climax. Experience the thrilling struggles of a true Space Marine in this epic tale.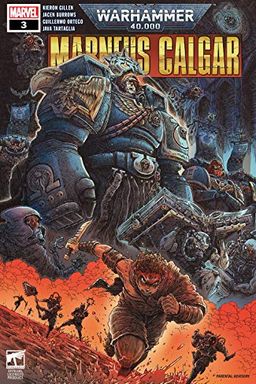 In the dramatic conclusion of Marneus Calgar #3, Calgar and the Ultramarines must defend their homeworld from heretical invaders to save the Imperium. Meanwhile, a young Tacitan takes matters into their own hands as a dark secret on Nova Thulium's moon is revealed. Can Calgar's daring battle plan save their world from corruption and destruction?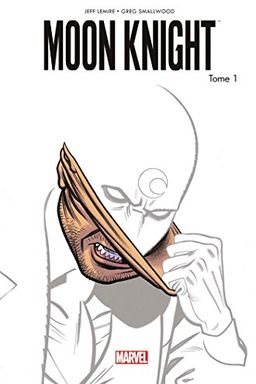 A superhero's reality is questioned when he discovers he may have spent his entire life in a psychiatric hospital. Follow Moon Knight as he navigates through the depths of his own mind in this captivating graphic novel by Jeff Lemire and Greg Smallwood.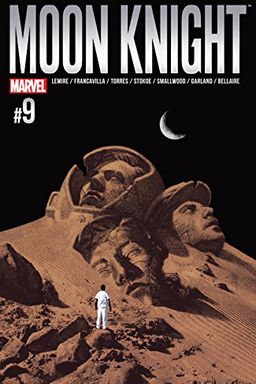 Moon Knight #8 by Jeff Lemire
Godzilla In Hell #1 (of 5) by James Stokoe
Orphan and the Five Beasts by James Stokoe
Orc Stain #6 by James Stokoe
Orc Stain #7 by James Stokoe
Godzilla by James Stokoe, Chris Mowry, Ulises Farinas
Orc Stain #3 by James Stokoe
Batman Black & White (2020-) #5 by Lee Weeks, Jamal Campbell, Jorge Jimenez, Kieron Gillen, Mariko Tamaki
Orphan and the Five Beasts #2 by James Stokoe
Orc Stain #5 by James Stokoe
Guardians of the Galaxy, Bd. 8 by Brian Michael Bendis, Mike Deodato Jr.
Orc Stain #4 by James Stokoe
Decorative and Ornamental Brickwork by James Stokoe
Batman núm. 113/ 58 (Batman (Nuevo Universo DC)) by James Tynion IV
Moon Knight, Vol. 2 by Jeff Lemire
Wonton Soup by James Stokoe
Orc Stain #2 by James Stokoe
Orphan and the Five Beasts #1 by James Stokoe
The Joker War Saga by James Tynion IV
Batman núm. 110/ 55 (Batman (Nuevo Universo DC)) by James Tynion IV
Batman Annual #5 by James Tynion
Wonton Soup Vol. 2 by James Stokoe
Heroes Reborn #4 by Jason Aaron
Godzilla Treasury Edition by James Stokoe
Wonton Soup Vol. 1 by James Stokoe
Godzilla in Hell by James Stokoe, Bob Eggleton, Ulises Farinas, Erick C. Freitas, Brandon Seifert, Dave Wachter
Deadpool by Tom Taylor, Ed Brisson, James Stokoe
Popgun, Vol. 1 by Erik Larsen, Mike Allred, Khary Rhandolph, Corey Lewis, Jim Mahfood, Dave Crosland, Ben Roman, Toby Cypress, Chris Moreno, Brandon Graham, James Stokoe, & more
Moon Knight #7 by Jeff Lemire
Superman Red & Blue (2021-) #3 by James Stokoe, Jesse J. Holland, Michel Fiffe, Robert Venditti, Nick Spencer
First Knife by Simon Roy, Daniel M. Bensen
Batman, Vol. 3 by James Tynion IV
Strange Tales II by Various
Eclipse #9 by Zack Kaplan
Edge of Venomverse by Various
Batman by James Tynion, John Ridley, Joshua Williamson, Sam Johns
Deadpool by James Stokoe, Ed Brisson, Tom Taylor
Sullivan's Sluggers by Mark Andrew Smith
Siege #1 by Kieron Gillen
Heroes Reborn by Jason Aaron
Strange Tales Vol. 2 #3 (of 3) by Terry Moore, James Stokoe, Benjamin Marra, Tim Hamilton, Kate Beaton, Dean Haspiel, Toby Cypress, Michael DeForge, Alex Robinson, Eduardo Medeiros, The Perry Bible Fellowship, Harvey Pekar
Edge of Venomverse #5 by Clay McLeod Chapman
Secret Wars by James Stokoe, Peter David
Secret Wars Journal / Battleworld by Prudence Shen, Michael Rosenberg, Kevin Maurer, Simon Spurrier, Frank Tieri, Scott Aukerman, Mike Benson, Sina Grace, Jen Soska, Sylvia Soska, Aaron Alexovich, Joshua Williamson, Ed Brisson, David F. Walker, Donny Cates, Ivan Brandon, Ryan Ferrier, James Stokoe, Peter David, Skottie Young, Tom Taylor
24seven, Volume 1 by Ivan Brandon, Adam Hughes, Eduardo Risso, Becky Cloonan, Alex Maleev, John Ney Rieber, Ben Templesmith, Jim Rugg, Matt Fraction, Frazer Irving
Marvel 100th Anniversary Special by