Jim Balent Books
Jim Balent's work has been published by several comic book companies, including Marvel, Dark Horse and DC Comics.He has drawn some notable characters, such as Batman, Vampirella, and the sexy femme fatal, Catwoman.He has worked on many character designs and posters for the film and video industry. In the year 2000, Jim Balent and Holly Golightly started their own comic book company, BroadSword Comics.Jim's creation, Tarot: Witch of the Black Rose, is an ongoing story about a voluptuous young Witch who battles to keep the balance between Magick and Mankind. Jim Balent lives in Eastern Pennsylvania with his beloved Witch , Holly, a pesky cat, Brujah and he has a black lagoon that he calls a kio pond.Jim was never breast fed as a baby.
Gotham City is under siege as Batman battles his greatest foes - The Joker, Poison Ivy, The Riddler, and more - who have escaped from Arkham Asylum. But when Bane enters the fray, the Dark Knight is pushed to his limits. Brace yourself for an action-packed ride with Batman as he fights to save his city.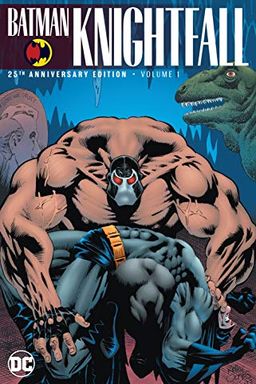 In this thrilling graphic novel, Batman faces off against some of his most notorious enemies as they wreak havoc on Gotham City. But when he confronts the monstrous Bane, he is pushed to his limit and suffers a devastating injury that alters the course of his life. Batman: Knightfall Vol. 1 is the second chapter in a nine-volume collection chronicling the epic battle between Batman and Bane. Don't miss out on this action-packed and emotionally charged story.
"Batman: Knightfall Omnibus" is a thrilling graphic novel that puts the Dark Knight against his most notorious foes - Joker, Two-Face, Riddler, Poison Ivy and more, who have escaped Arkham Asylum. This epic collection tells the story of how Batman must face his greatest challenge yet, the mysterious Bane. Will Gotham City fall into chaos or will the Caped Crusader once again save the day? This massive hardcover collection includes the best-selling comic series from Batman, Detective Comics, Shadow of the Bat and more.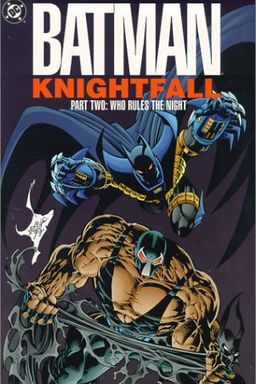 Gotham City is in chaos in this riveting graphic novel. After a mass escape from Arkham Asylum and the emergence of Batman's most threatening foe, Bane, the Dark Knight is pushed to his limits. Can a successor to the mantle of the Bat carry on Bruce Wayne's war against crime and defeat Bane? Find out in this second volume of the epic Knightfall story.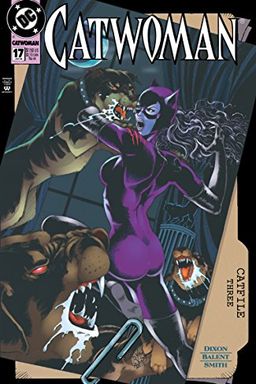 In Catwoman (1993-) #17, follow our daring protagonist as she sets her sights on stealing a fake painting from a Parisian museum. With a sophisticated security system in place, Catwoman must use all of her cunning and skills to succeed.
This trade paperback is a must-have for tarot enthusiasts! It includes fan-favorite issues #18-22, featuring "The Mists of Darkness" and "Diary of a Witch" story arcs, along with never-before-seen art and information. With sold-out issues and a litho gallery, this collection is perfect for mature readers who love Tarot.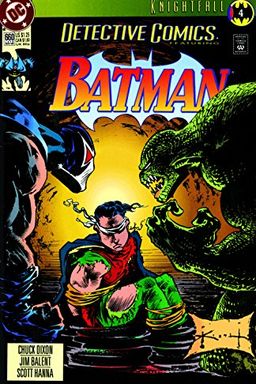 Explore the thrilling world of Gotham City as Batman battles for survival against his most formidable foes in Detective Comics (1937-2011) #660 by Chuck Dixon. Follow the action-packed "Knightfall" story arc as Batman faces exhaustion and must confront deadly enemies Bane and Killer Croc in a fight for his life. Will Batman come out on top, or will his enemies conquer Gotham City? Discover the thrilling conclusion in BATMAN #494.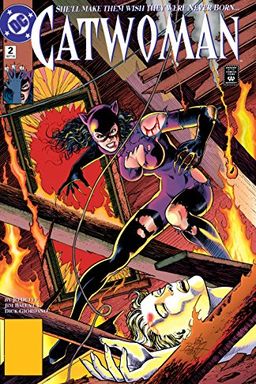 "In this riveting comic book issue, readers will be thrust into the midst of a deadly war raging within the criminal organization led by the infamous Bane. Caught in the middle of the chaos is the iconic Catwoman, whose home is destroyed in a fiery explosion. Join her as she fights to survive and navigate the perilous world of Gotham's underworld in 'Life Lines' part 2."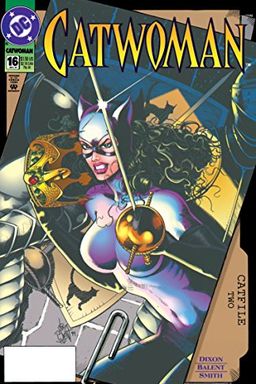 Get ready for Catwoman: Federal Agent?! Now in the employee of the government, Catwoman is sent on a mission to steal the crown of the Swan King!...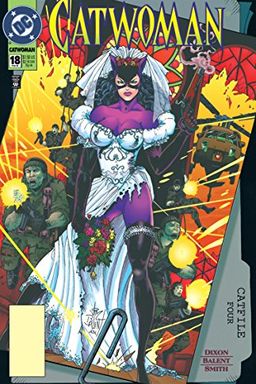 In this comic book, Catwoman is caught in a dangerous game of deception and survival. Forced into a marriage with a wealthy European, she must navigate a treacherous path to stay alive. Meanwhile, her enemies plot to take her down in a violent assault on the castle. Will Catwoman escape unscathed? Find out in this thrilling adventure.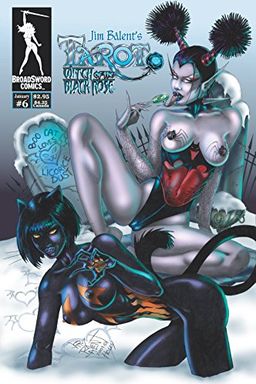 Tarot, Witch of the Black Rose #87 by Jim Balent
Tarot, Witch of the Black Rose #99 by Jim balent
Tarot, Witch of the Black Rose #2 by Jim Balent
Tarot, Witch of the Black Rose #1 by
Tarot, Witch of the Black Rose #7 by Jim Balent
Catwoman (1993-) #3 by Jo Duffy
Tarot, Witch of the Black Rose #100 by JIM BALENT
Catwoman (1993-) #4 by Jo Duffy
Tarot, Witch of the Black Rose #84 by Jim Balent
Catwoman (1993-2001) #34 by Chuck Dixon
Tarot, Witch of the Black Rose #65/70/71 by Jim Balent
Tarot, Witch of the Black Rose #94 by Jim Balent
Catwoman by Jim Balent, Book Two by Chuck Dixon
Catwoman (1993-) #12 by Jo Duffy, Chuck Dixon
Catwoman (1993-) #7 by Jo Duffy
Catwoman (1993-) #1 by Jo Duffy
Batman by Chuck Dixon, Alan Grant, Doug Moench, Jo Duffy
Purgatori by Brian Pulido
Catwoman (1993-) #13 by Jo Duffy
DC Comics One Million Omnibus by Grant Morrison
Catwoman (1993-) #11 by Jo Duffy
Catwoman (1993-) #10 by Jo Duffy
Tarot, Witch of the Black Rose #85 by Jim Balent
Catwoman by Jim Balent, Book One by Jim Balent, Chuck Dixon
Catwoman (1993-) #8 by Jo Duffy
Catwoman (1993-) #5 by Jo Duffy
Batman by Chuck Dixon, Doug Moench, Alan Grant, Dennis O'Neil, Christopher Priest
Batman Arkham by Alan Grant, Kelley Puckett, Devin Grayson, John Layman
Catwoman (1993-2001) #57 by Devin Grayson
The Art of Jim Balent, Magick in Black and White Vol. 2 by Jim Balent
Batman by Doug Moench, Alan Grant, Jo Duffy, Archie Goodwin
Catwoman (1993-) #6 by Jo Duffy
The Amalgam Age of Comics by DC Comics
Tarot, Witch of the Black Rose #86 by Jim Balent
Batman by Chuck Dixon, Doug Moench, Alan Grant
Catwoman (1993-) #9 by Jo Duffy
Catwoman/Vampirella by Chuck Dixon
Batman (1940-2011) #507 by Doug Moench
Catwoman by Demulder Balent Moench