Maria Grazia Swan Books
Maria Grazia Swan was born in Italy, but this rolling stone has definitely gathered no moss. She lived in Belgium, France, Germany, in beautiful Orange County, California where she raised her family, and is currently at home in Phoenix, Arizona—but stay tuned for weekly updates of Where in the World is Maria Grazia Swan?As a young girl, her vivid imagination predestined her to be a writer. She won her first literary award at the age of fourteen while living in Belgium. As a young woman Maria returned to Italy to design for—ooh-la-la—haute couture. Once in the U.S. and after years of concentrating on family, she tackled real estate. These days her time is devoted to her deepest passions: writing and helping people find happiness. Maria loves travel, opera, good books, hiking, and intelligent movies (if she can find one, that is). When asked about her idea of a perfect evening, she favors stimulating conversation, spicy Italian food and perfectly chilled Prosecco—but then, who doesn't? Maria has written short stories for anthologies, articles for high profile magazines and numerous blogs tackling love and life. She engaged her editorial and non-fiction skills for Mating Dance Rituals for Singles Who Weren't born yesterday. Her romantic suspense novels Love Thy Sister,Bosom Bodies and Italian Summer are available at Amazon.com.Her new series, published by Gemma Halliday is also available on Amazon and Barnes & Noble, the first book is title Gemini MoonWebsite: http://www.mariagraziaswan.comContact Maria:
[email protected]
touch base with her on Facebook.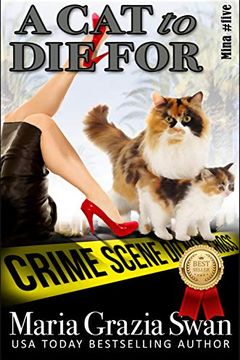 Mina Calvi's new Furry Friends Foundation is a dream come true for the formerly footloose young woman. Her no-kill shelter rescues and places dogs and cats into new forever homes, and it gives Mina a purpose in life. But changes are looming on a perfect Sunday afternoon at the Dana Point Marina where she is minding the adoption booth. A Greek heire...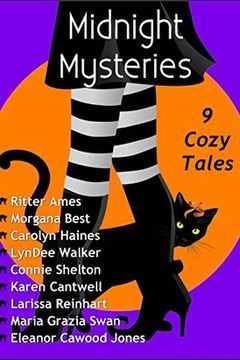 Midnight Mysteries
Nine Cozy Tales
Ritter Ames, Carolyn Haines, Karen Cantwell, Connie Shelton, Larissa Reinhart, Lyndee Walker, Eleanor Cawood Jones, Morgana Best, Maria Grazia Swan
-
2016-09-11
Nine Cozy Tales by Nine Bestselling AuthorsRitter Ames – "Organized for Masked Motives" (Organized Mysteries series) Kate McKenzie never dreamed when she started her business, Stacked in Your Favor, she'd spend nearly as much time crime solving as organizing. But with Halloween approaching and too many items on the to-do list, she and Meg Berman fi...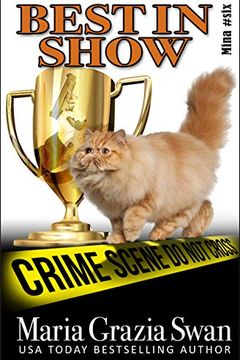 Mina Calvi, Italian transplant to Southern California, thinks her love life might finally come together, just as her professional life has. Her Furry Friends Foundation, a no-kill shelter for rescued cats and dogs, is a success, and Mina hopes she may find a loving forever home for her-self, in the arms of Diego Moran, her elusive, frustratingly my...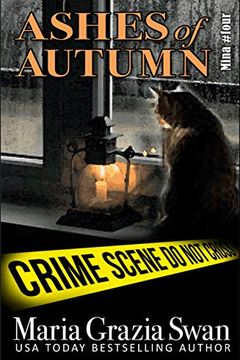 On the eve of the final sale of her mother's business, Italian import Mina Calvi faces a crossroads. The road she dreams of foretells a life of rosy bliss in a quaint Laguna Canyon cottage, sipping cappuccino with her lover, Diego. When a chance detour brings her face to face with the love of her life caught in the wrong place, with the wrong crowd...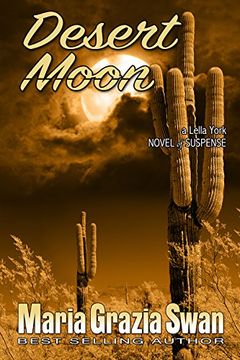 Desert Moon
Death Under the Desert Moon (Lella York Mysteries Book 3)
Maria Grazia Swan
-
2016-09-02

(first published in 2015)
When her cat hitched a ride without her, she had no choice but to tail the furry creature...From award winning author Maria Grazia Swan comes a story of suspense, romance, and one mischievous cat... How does a domestic black cat from Southern California become a stowaway and end up in Phoenix Arizona? That's what Lella York wants to know as she cro...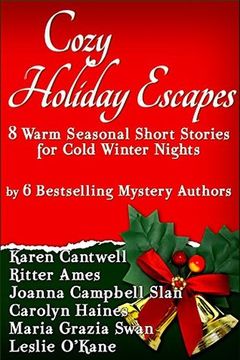 Cozy Holiday Escapes
Warm Seasonal Short Stories by Bestselling Mystery Authors for Cold Winter Nights
Ritter Ames, Karen Cantwell, Carolyn Haines, Joanna Campbell Slan, Maria Grazia Swan
-
2015-11-01
Eight light holiday short stories by six bestselling mystery authors-- "How the Finches Stole Christmas" by Karen Cantwell, a new story in the popular Barbara Marr series. When a new couple moves down the block and Christmas decorations begin disappearing, Barbara investigates in her own humorous way. "Organized for Christmas Wishes" by Ritter Ames...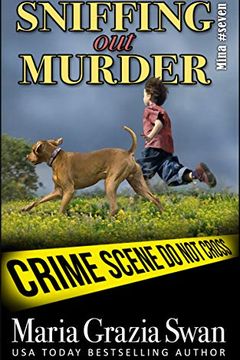 One dog with two names, twice lost, yet always found. Two newly orphaned boys who love their dog and love each other so much they vow to stick together against all odds. Enter super sleuth Mina Calvi, the quasi-grown up Italian import who likes cats more than dogs. When she tries to locate the owners of a lost dog, Mina is drawn into tracking down ...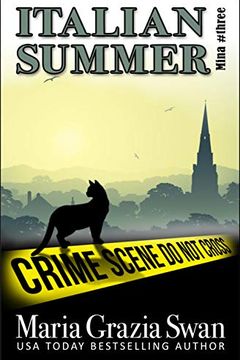 When they say, "you can't go home again," they're talking about Mina Calvi, twenty-something Italian transplant to California. Still nursing a broken heart, desperate to discover her place in the world, Mina arrives in the town of her birth in Veneto, Italy. In the decade she's been gone, the village nestled at the foot of the Dolomites has changed...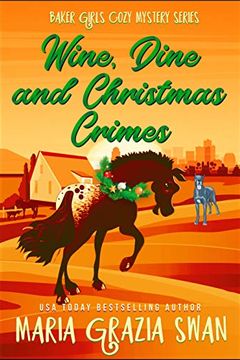 Some Christmas surprises don't come from Santa. At a gathering atop the tallest building in Phoenix, Arizona, to celebrate Monica Baker's newest listing, the body of a mysterious young woman is found floating in the pool. But why do fingers point to Monica? Is it the victim's missing clothing that links Monica to the crime? As if being alone during...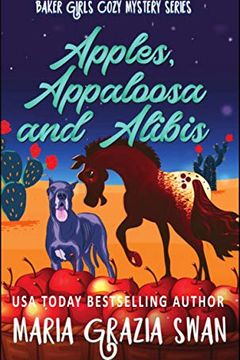 A good deed, a sexy French millionaire, and a deadly mystery. Just a typical day for Monica Baker… Monica thought her luck was finally improving… until she found herself caught up in a murder investigation. Again. And running the risk of being the next victim. Who knew that agreeing to pick up someone's mail could end with a dead body in the den, a...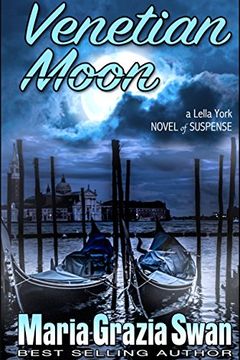 Bohemian Rhapsody by Maria Grazia Swan
Foods, Fools, and a Dead Psychic (Baker Girls, #2 by Maria Grazia Swan
Cooks, Crooks and a Corpse by Maria Grazia Swan
Weeping Moon by Maria Grazia Swan
Mina's Adventures (Mina's Adventures #1-3) by Maria Grazia Swan
Mating Dance by Maria Grazia Swan
Christmas in Venice by Maria Grazia Swan
Stories My Grandfather Told Me... and other tales by Maria Grazia Swan
From Italy with Love by Maria Grazia Swan
Cats, Gondolas and Valentines (Mina's Adventures #0.5) by Maria Grazia Swan
Pies, Lies and a Last Goodbye by Maria Grazia Swan
Love Thy Sister by Maria Grazia Swan
Gemini Moon by Maria Grazia Swan
Bosom Bodies by Maria Grazia Swan
Boomer Babes by Maria Grazia Swan