Marie Brennan Books
Marie Brennan a.k.a. M.A. CarrickMarie Brennan is a former anthropologist and folklorist who shamelessly pillages her academic fields for material. She recently misapplied her professors' hard work to Turning Darkness Into Light, a sequel to the Hugo Award-nominated series The Memoirs of Lady Trent. As half of M.A. Carrick, she is also the author of The Mask of Mirrors, first in the Rook and Rose trilogy. For more information, visit swantower.com, Twitter @swan_tower, or her Patreon.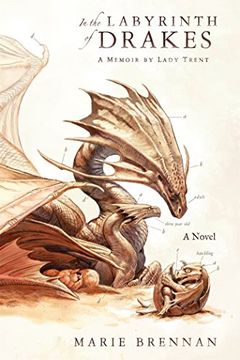 In this thrilling fantasy book, Lady Trent takes her dragon naturalism expedition to the deserts of Akhia. Her discoveries there catapult her to worldwide fame and the fourth volume of her memoirs reveals the details of her personal and professional life during that time. Follow her pursuit of knowledge as she ventures into the depths of the Labyrinth of Drakes and achieves her greatest feat yet.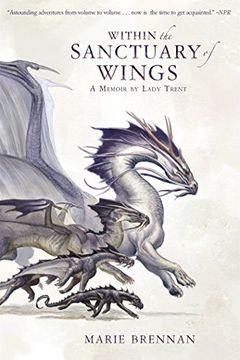 This thrilling conclusion to a five-part memoir follows Lady Isabella Trent on her dragon research and anthropological adventures. Infamous for her daring feats and scientific discoveries, Lady Trent's last adventure will reveal the truth behind her scaling the tallest peak in the world and what she found in the Sanctuary of Wings, buried behind Scirland's enemies.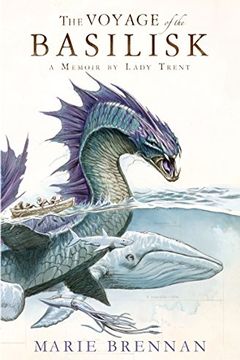 The Voyage of the Basilisk
A Memoir by Lady Trent (A Natural History of Dragons 3) (Memoir By Lady Trent 3)
Marie Brennan
-
2015-03-31
Join Lady Trent on her most ambitious and perilous expedition yet in Voyage of the Basilisk by Marie Brennan. Embark on a two-year trip around the world to study every kind of dragon imaginable, from feathered serpents to mighty sea serpents. But the journey is not without its dangers, as Isabella copes with storms, shipwrecks, intrigue, and warfare. Along the way, she makes a revolutionary discovery that sheds new light on the history of dragons. Don't miss this illuminating and scandalous adventure!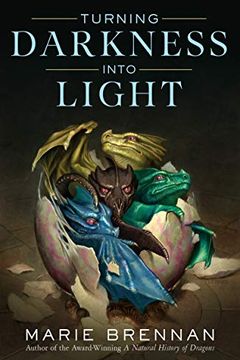 Explore a world of ancient secrets and intricate conspiracies with Turning Darkness Into Light. Join Audrey Camherst, granddaughter of the renowned Lady Trent, as she deciphers a series of ancient tablets that hold the secrets of the Draconean civilization. Little does she know that her research will lead her into a web of conspiracy and rebellion. Perfect for fans of fantasy and Victorian-era stories, Turning Darkness Into Light is a delightful and thrilling adventure that you won't want to miss.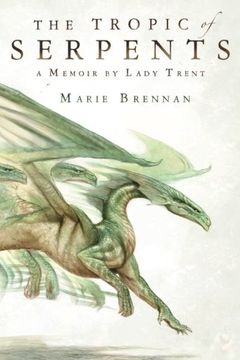 Follow the adventures of Lady Trent, the world's premier dragon naturalist, as she embarks on an expedition to the war-torn continent of Eriga to study exotic draconian species. From grass-dwelling snakes to swamp-wyrms, Lady Trent braves oppressive heat, palace intrigues, and forbidden jungles to satisfy her boundless curiosity. The Tropic of Serpents is a thrilling and candid memoir of a courageous woman's quest to understand the natural world.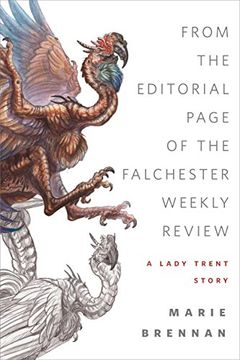 A renowned scientist returns home from a perilous sea voyage and struggles to publish her groundbreaking research that contains secret knowledge. While waiting for political restrictions to lift, she vents her frustration by critiquing the subpar research of her colleagues in a collection of witty, entertaining letters.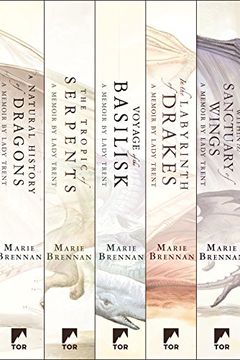 The Complete Memoirs of Lady Trent Series
A Natural History of Dragons, The Tropic of Serpents, The Voyage of the Basilisk, In the Labyrinth of Drakes, ... Sanctuary of Wings (The Lady Trent Memoirs)
Marie Brennan
-
2018-05-08
Immerse yourself in the world of dragonkind with the ebundle of The Complete Memoirs of Lady Trent Series. Join Isabella, the renowned dragon naturalist, on thrilling expeditions around the world in this Victorian Age science fantasy series by Marie Brennan. This discounted ebundle includes A Natural History of Dragons, The Tropic of Serpents, The Voyage of the Basilisk, In the Labyrinth of Drakes, and Within the Sanctuary of Wings. Discover adventure, mystery, and the study of legendary creatures in this must-read series.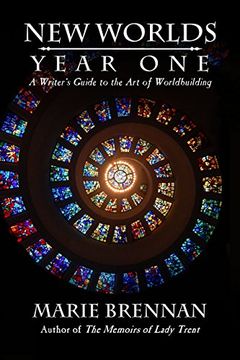 "Unleash Your Imagination: Learn How to Build Worlds in Science Fiction and Fantasy" - Dive into the art of worldbuilding with award-winning author Marie Brennan. Drawing on her academic background in anthropology, Brennan takes readers beyond the surface details of a setting to explore the intricate questions that many authors neglect to answer. Using real-world cultures as inspiration, Brennan guides readers through the endless possibilities of speculative fiction. This collection features essays from the first year of the New Worlds Patreon.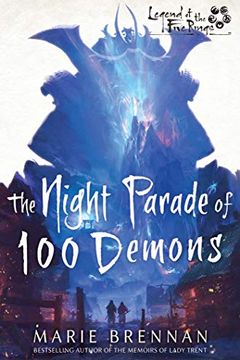 Join two rival clans on a thrilling adventure to investigate a lethal supernatural mystery in the astonishing realm of Legend of the Five Rings. Chaos has erupted in the Dragon Clan settlement of Seibo Mura, as horrifying creatures unleash havoc and death during the full moon. To save the village, Dragon samurai Agasha no Isao Ryotora must confront his buried past, and an unexpected Phoenix Clan visitor with secrets of his own. This epic fantasy will take you on a quest into the depths of forgotten history and the shifting terrain of the Spirit Realms, where an ancient, terrifying evil awaits.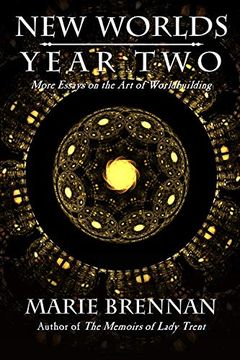 "Craft Your Own Unique World with Expert Guidance from A Renowned Fantasy Author. Learn the art of worldbuilding and how it can shape your story, from exploring different cultures and taboos to creating vivid settings that immerse readers. Dive into the complexity of real and imaginary worlds with essays from the award-winning author Marie Brennan, in this follow-up to the collection, New Worlds, Year One."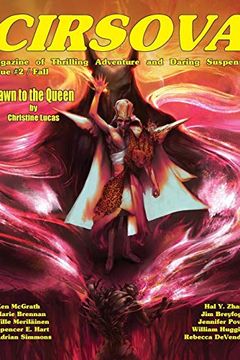 Doppelganger + Warrior and Witch by Marie Brennan
Bubble Off Plumb by Dan Kalin, Marie Brennan, David Tallerman, E.E. King, Art Weil, Sarah M. Lewis, Pepper Hume, Karen Ovér, Liz Schriftsteller, Mariah Southworth
The Nine Lands by Marie Brennan
Dice Tales by Marie Brennan
Dancing the Warrior by Marie Brennan
New Worlds, Year Four by Marie Brennan
New Worlds, Year Three by Marie Brennan
Writing Fight Scenes by Marie Brennan
Maps to Nowhere by Marie Brennan
For King and Country by Brian MacArthur
Memoirs of a Shitty Life by MARIE BRENNAN
Shroud 9 by Brian Keene, Kevin Lucia, Scott Christian Carr, Alethea Contis, Debbie Kuhn, Lon Prater, J.R. McLemore, Ty Schwamberger, T.J. May, Robert T. Canipe
Beneath Ceaseless Skies #67 by Greg Linklater, Marie Brennan
Secondary Schooling In A Changing World by Susan Groundwater-Smith
Policy and Politics in Teacher Education by
Beneath Ceaseless Skies #66 by Heather Fawcett, Marie Brennan
The Struggle for Teacher Education by
Clockwork Phoenix 4 by Marie Brennan, Tanith Lee, Gemma Files, Richard Parks, Nicole Kornher-Stace, Cat Rambo, Yves Meynard, Camille Alexa, Kenneth Schneyer
Apex Magazine Issue 39 by Genevieve Valentine, Jim C. Hines, Kat Howard, Marie Brennan, Nir Yaniv
Beneath Ceaseless Skies #329 by Marie Brennan, Jonathan Edelstein
Eloise and the elephant by marie brennan
Beneath Ceaseless Skies #44 by Marie Brennan, Adam Corbin Fusco
Mythic Delirium by Ken Liu, Jane Yolen, Marie Brennan, Yoon Ha Lee, Amal El-Mohtar, Beth Cato, Kenneth Schneyer, Nicole Kornher-Stace
Beneath Ceaseless Skies Issue #238 by Marie Brennan, Gillian Daniels
Secondary English Teacher Education in the United States by Donna L. Pasternak, Samantha Caughlan, Heidi L. Hallman, Laura Renzi, Leslie S. Rush
InterGalactic Awards Anthology Vol. I by James Maxey, Peter S. Beagle, Scott Roberts, Eric James Stone, Aliette deBodard, Eugie Foster, Marie Brennan, Alethea Kontis
Shared Nightmares by Larry Correia, Sarah Hoyt, D.J. Butler, Tom Lloyd, Paul Genesse, Michaelbrent Collings, Steven Diamond, Marie Brennan, Howard Tayler
Clockwork Phoenix 3 by Marie Brennan, Tanith Lee, Gregory Frost, Gemma Files, John C. Wright, Cat Rambo, John Grant, Nicole Kornher-Stace, C.S.E. Cooney
Beneath Ceaseless Skies #104 by Seth Dickinson, Marie Brennan
Worlds Seen in Passing by Irene Gallo
With Fate Conspire by Marie Brennan
Clockwork Phoenix 2 by Catherynne M. Valente, Mary Robinette Kowal, Saladin Ahmed, Marie Brennan, Leah Bobet, Gemma Files, Kelly Barnhill, Tanith Lee, Claude Lalumière
The Eternal Knot by Marie Brennan
Chains and Memory by Marie Brennan
Deeds of Men by Marie Brennan
Down a Street That Wasn't There (Collected Short Fiction of Marie Brennan) by Marie Brennan
A Natural History of Dragons by Marie Brennan
Never After by Marie Brennan
In London's Shadow by Marie Brennan
Driftwood by Marie Brennan
Uncanny Magazine Issue 36 by T. Kingfisher, Samantha Mills, Kenneth Schneyer, Lavie Tidhar, Marie Brennan, James Yu, P. Djèlí Clark
Uncanny Magazine Issue 27 by Lynne M. Thomas, Karen Osborne, Tina Connolly, Bonnie Jo Stufflebeam, Marie Brennan, Silvia Moreno-Garcia, A.T. Greenblatt, Beth Cato, Cassandra Khaw
Lace and Blade 4 by Deborah J. Ross
Clockwork Phoenix 5 by Marie Brennan, Beth Cato, C.S.E. Cooney, Carlos Hernandez, A.C. Wise, Shveta Thakrar, Alex Dally MacFarlane, Sonya Taaffe, Cassandra Khaw
A Star Shall Fall by Marie Brennan
The Best of Abyss & Apex, Volume Two by Various Authors
Some of the Best from Tor.com, 2014 edition by Various Various Authors
Ars Historica by Marie Brennan
Neverland's Library by Mark Lawrence
Beneath Ceaseless Skies Issue #287 (Eleventh Anniversary Double-Issue) by K.J. Parker, Marie Brennan, Shweta Adhyam, Aaron Perry
Lightning in the Blood by Marie Brennan
Zombies by Paula Guran, Jay Wilburn, Mike Carey, Stephen Graham Jones, Caitlin R. Kiernan, Neil Gaiman
Lies and Prophecy by Marie Brennan
Welcome to Welton by Marie Brennan
Clockwork Phoenix by Catherynne M. Valente, Tanith Lee, Laird Barron, Marie Brennan, Ekaterina Sedia, John C. Wright, John Grant, Leah Bobet, Erin Hoffman
In Ashes Lie by Marie Brennan
The Best of Beneath Ceaseless Skies Online Magazine, Year Two by Aliette de Bodard, Margaret Ronald, Saladin Ahmed, Marie Brennan
Cold-Forged Flame by Marie Brennan
Beneath Ceaseless Skies #60 by Camille Alexa, Marie Brennan
Monstrous Beauty by Marie Brennan
Arrivals by Michael Underwood, Marie Brennan, Cassandra Khaw
Daughter of Necessity by Marie Brennan
The Book of Apex (Book of Apex, #4) by
Uncanny Magazine Issue 29 by Lynne M. Thomas, Sarah Pinsker, Greg van Eekhout, Rachel Swirsky, P. H. Lee, Marie Brennan, A.C. Wise, Maurice Broaddus, Tim Pratt
Beneath Ceaseless Skies #50 by Marie Brennan, Liz Coleman
Mad Maudlin by Marie Brennan
Midnight Never Come by Marie Brennan
Shroud 6 by Rick Hautala, Jeff Strand, Marie Brennan, Bev Vincent, Timothy Deal, Steve Vernon
Foucault's Challenge by Thomas S. Popkewitz, Marie T. Brennan
Mythic Delirium Magazine Issue 0.1 by Marie Brennan, Ken Liu, Amal El-Mohtar, C.S.E. Cooney, Alexandra Seidel, Karthika Naïr, Sonya Taaffe, S. Brackett Robertson, Virginia M. Mohlere
Bewere the Night by Marie Brennan, Holly Black, Elizabeth Hand, Sandra McDonald, Cherie Priest, Vandana Singh, Kaaron Warren
Running with the Pack by Ekaterina Sedia
Flash Fiction Online October 2019 by Suzanne W. Vincent, Marie Brennan, Avra Margariti, Miyuki Jane Pinckard, Caroline Diorio
Beneath Ceaseless Skies Issue #207 by Marie Brennan, Thomas M. Waldroon
Flash Fiction Online October 2020 by Suzanne W. Vincent, Marie Brennan, Corey Farrenkopf, Sheila Massie, Elsa Richardson-Bach
Transforming Teacher Education with Mobile Technologies by Kevin Burden, Amanda Naylor, Joce Nuttall, Marie Brennan, Peter Smagorinsky, Viv Ellis
International Perspectives on Knowledge and Quality by
Navigating Teacher Education in Complex and Uncertain Times by Carmen I. Mercado
The Promise and Practice of University Teacher Education by Alexandra C. Gunn, Mary F. Hill, David A. G. Berg, Mavis Haigh, Joce Nuttall, Marie Brennan, Peter Smagorinsky, Viv Ellis
Re-Positioning University Governance and Academic Work by
Developing Culturally and Historically Sensitive Teacher Education by