Monica Mendez Leahy Books
Monica Mendez Leahy has been helping couples prepare for marriage for over twenty years, and has married over 100 couples as Deputy Commissioner of Civil Marriages for the County of Los Angeles. She hosts a popular series of couples' workshops in the Los Angeles area and provides private classes to engaged and newlywed couples around the world. Her advice on relationships is frequently sought after and hasbeen featured in the Ladies Home Journal and the Wall Street Journal and on Lifetime Television. She has served on panels along with notable authors such as John Gray, of Venus and Mars fame and Harville Hendrix. Couples can also seek her advice through www.1001questionstoask.com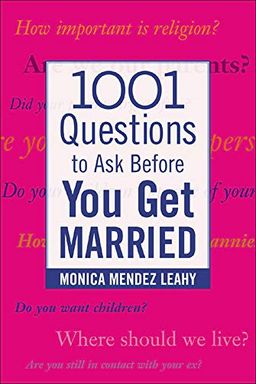 Discover the secrets to a lasting marriage with this expert guide. Filled with 1001 thought-provoking questions, delve deep into your partner's nature, lifestyle, and expectations before tying the knot. From innocent flirting to tax cheats, no topic is off-limits as you build a strong foundation for a happy and intimate relationship. By Ladies' Home Journal, Wall Street Journal and Lifetime Television relationship expert Monica Mendez Leahy.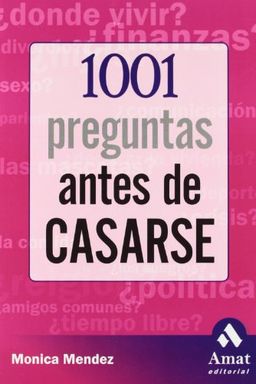 Discover 1001 thought-provoking questions to ask before tying the knot. Expert in human relationships, Monica Mendez Leahy, guides couples through communication, commitment, joint decisions, and other common obstacles in a marriage. Delve into topics related to personality, lifestyle, and expectations such as: Is innocent flirting okay? Do you want kids? How important is religion in your life? Should a couple share political preferences? Let this varied and engaging analysis help strengthen your relationship before saying "I do."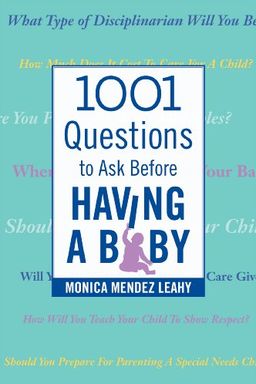 Prepare for parenthood with 1001 Questions to Ask Before Having a Baby. Monica Mendez Leahy's bestselling book tackles the concerns at the top of most parents' minds. Packed with fun and informative questions, this book provides foresight and insight on how to handle the sticky situations that come with child rearing from pregnancy through pre-school and beyond. Discover how a baby will change your relationship with your partner, how much it costs to care for a child, and what type of disciplinarian you will be.