Papus Books
Gerard Encausse, whose esoteric pseudonym was Papus, was born at Corunna (La Coruña) in Spain on July 13, 1865, of a Spanish mother and a French father, Louis Encausse, a chemist. His family moved to Paris when he was four years old, and he received his education there.As a young man, Encausse spent a great deal of time at the Bibliothèque Nationale studying the Kabbalah, occult tarot, the sciences of magic and alchemy, and the writings of Eliphas Lévi. He joined the French Theosophical Society shortly after it was founded by Madame Blavatsky in 1884 - 1885, but he resigned soon after joining because he disliked the Society's emphasis on Eastern occultism.In 1888, he co-founded his own group, the Kabbalistic Order of the Rose-Croix. That same year, he and his friend Lucien Chamuel founded the Librarie du Merveilleux and its monthly revue L'Initiation, which remained in publication until 1914.Encausse was also a member of the Hermetic Brotherhood of Light and the Hermetic Order of the Golden Dawn temple in Paris, as well as Memphis-Misraim and probably other esoteric or paramasonic organizations, as well as being an author of several occult books. Outside of his paramasonic and Martinist activities he was also a spiritual student of the French spiritualist healer, Anthelme Nizier Philippe, "Maître Philippe de Lyon".Despite his heavy involvement in occultism and occultist groups, Encausse managed to find time to pursue more conventional academic studies at the University of Paris. He received his Doctor of Medicine degree in 1894 upon submitting a dissertation on Philosophical Anatomy. He opened a clinic in the rue Rodin which was quite successful.When World War I broke out, Encausse joined the French army medical corps. While working in a military hospital, he contracted tuberculosis and died on October 25, 1916, at the age of 51.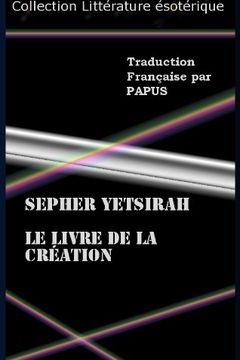 Dans l'histoire de la mystique juive , un texte très énigmatique fait date et réfrence : le Sefer Yezira (Sepher Yetsirah, Livre de la Création).Traduction par le grand maître Occulte Papus. Dans l'histoire de la mystique juive , un texte très énigmatique fait date et réfrence : le Sefer Yezira (Sepher Yetsirah, Livre de la Création).Traduction par...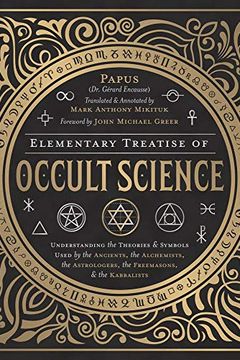 Elementary Treatise of Occult Science
Understanding the Theories and Symbols Used by the Ancients, the Alchemists, the Astrologers, the Freemasons & the Kabbalists
John Michael Greer, Mark Anthony Mikituk, Papus
-
2018-12-08
An Essential Work of 19th-Century French Occultism from the Leading Intellectual of the EraExplore Papus's Pivotal Teachings on the Secret History of the World, Symbols and Their Meanings, and the Nature of the Magical UniverseAvailable in English for the First TimeOne of the most important books in the modern history of occultism, Papus's Elementa...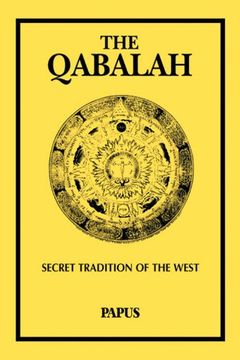 The Qabalah
Secret Tradition of the West
Papus
-
2000-11-01

(first published in 1892)
Papus (Dr. Ge'rard Encausse 18651916) was one of the great occultists of France, and was instrumental in developing and popularizing Eliphas Le'vi's earlier suggestions of a link between the Hebrew alphabet and the twentytwo trumps of the tarot. The Qabalah, first published in 1892, is particularly valuable because, along with his original theoreti...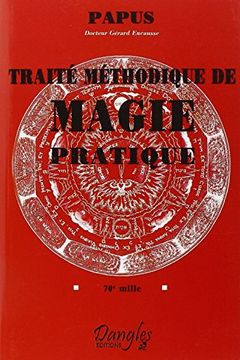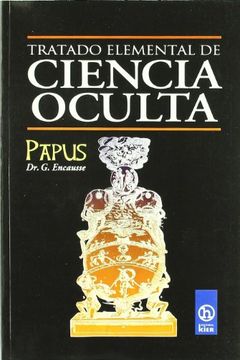 El estudio del ocultismo, que lleva a cabo Papus, es mucho más que una simple aventura del espíritu. El autor traspone los estrechos ámbitos de una común curiosidad por lo arcano y proporciona atinadas respuestas a múltiples fenómenos suprafísicos.Cuanto más ahondamos en el conocimiento de los textos herméticos, más nítidamente captamos las relacio...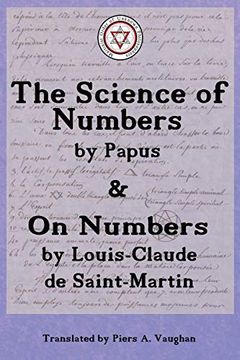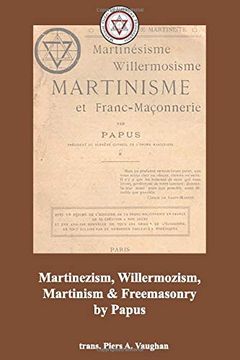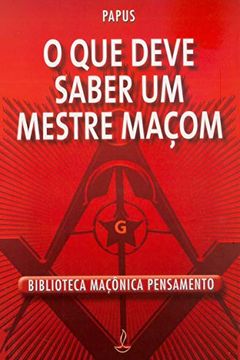 Este livro é mais um volume da Biblioteca Maçônica Pensamento, uma coleção de obras maçônicas, com um formato moderno e um projeto gráfico totalmente reformulado, indispensável para todo aquele que deseja compreender a fascinante jornada do Maçom pelos graus que levam à perfeição. Poucos ocultistas ou maçons atingiram o nível do Dr. Gérard Encausse...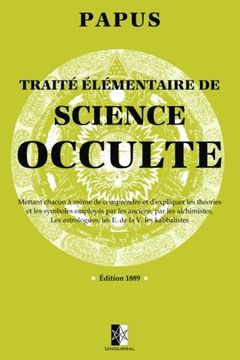 " Il n'existe pas en France de traité élémentaire de Science occulte. Les gens qui veulent se livrer à ce genre d'études sont contraints de puiser les éléments de leurs connaissances dans divers auteurs qui n'ont écrit généralement que pour une classe restreinte de lecteurs ; tels sont Agrippa Ragon, Eliphas Levi, etc. J'ai voulu réunir en un petit...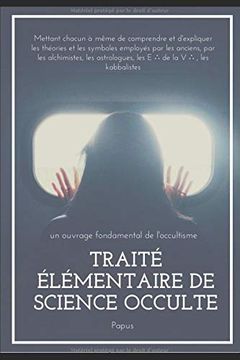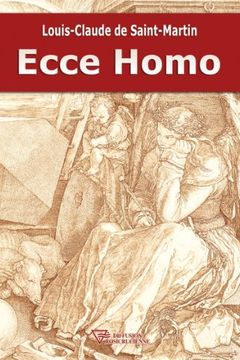 Ciò che deve sapere un maestro massone (Esoterismo) by Michele Leone, Papus
Cómo Combatir Los Maleficios by Papus
La Science des Nombres by Papus
The Analogy Between The Sacred Word And Numbers by Papus
Traite Methodique de Science Occulte - Tome Premier by Gérard Encausse - Papus
Le Diable & l'Occultisme by Papus
Absolute Key to Occult Science. the Tarot of the Bohemians. the Most Ancient Book in the World. for the Exclusive Use of Initiates by Papus
Tarot de Marsella (Tarot de los Bohemios) by Dr. Papus (Gerard Encausse)
Die Grundlagen der okkulten Wissenschaft by Papus
Éléments d'Hébreu by Paul Sédir
Francmasonería iluminista by Papus
Traité Élémentaire d'Occultisme & d'Astrologie by PAPUS
Comment Est Constitua(c) L'Aatre Humain ? Le Corps, L'Astral, L'Esprit Et Leurs Correspondances by PAPUS
L'Ame Humaine Avant La Naissance & Apres La Mort by PAPUS
La science des mages et ses applications théoriques et pratiques by Papus, Gérard Encausse
Premiers A(c)La(c)Ments de Lecture de La Langue Sanscrite by PAPUS
Qu'est-ce que l'occultisme ? by Papus
Les Arts Divinatoires by Papus
Comment on lit dans la main by Papus
Ce que doit savoir un Maître Maçon by Papus
Traite Methodique de Science Occulte - Tome Second by Gérard Encausse - Papus
La Science des Mages by Papus
What Is Occultism? a Philosophical and Critical Study by Papus, Gerard Encause
L'Illuminisme En France (1767-1774). by
The Tarot by F. Homer Curtiss, Harriette Augusta Curtiss, Manly P. Hall, A. E. Thierens, Papus, S. L. MacGregor Mathers, Arthur Edward Waite, Eliphaz Levi, P. D. Ouspensky, P. R. S. Foli
Lo Que Le Sucede a Nuestros Muertos by Papus
Abc Illustré D'occultisme by
Martinism by Rosicrucian Order AMORC, Christian Bernard, Julie Scott, Julian Johnson, Jacob Boehme, Marion S. Owens, Louis-Claude de Saint-Martin, Martines de Pasqually, Christian Rebisse, Steven Armstrong
Reincarnation by Papus, Gerard Encause
The Practice of Occultism or Magic by Papus, Gerard Encause
Alquimia by Gerard Encausse
Astrology for Initiates by Papus
The Divinatory Tarot by Papus
The Tarot of the Bohemians by Papus
La Pierre Philosophale by PAPUS
El embrujamiento by Papus.Dr
La Ciencia de Los Numeros by Papus
Le Livre de la Chance by Papus
Occultism and Philosophy by Papus, Gerard Encause
An Introduction to the Study of the Tarot by Papus
L'Occultisme Contemporain by PAPUS
Martines de Pasqually by Papus
History of the Symbolism of the Tarot by Papus, Gerard Encause
The Kabalistic Tarot by Papus
Ce Que Deviennent Nos Morts; Suivi de Ma(c)Ditations Sur Le Pater Et de Quelques Opuscules Posthumes by PAPUS
Doctrines Tha(c)Osophiques. Les Sept Principes de L'Homme Au Point de Vue Scientifique by PAPUS
Trait� �l�mentaire de science occulte, mettant chacun � m�me de comprendre et d'expliquer by PAPUS
Anarchie, Indolence Et Synarchie by PAPUS
La Pierre Philosophale by Papus, Nicolas Flamel
Morte e Reincarnazione by Papus Papus
L'Occultisme Et Le Spiritualisme by Papus
Hypoth�ses by Gérard Encausse (Papus), Éditions Stella Mystica, Arnaud de L'Estoile
L'État de Trouble Et L'Evolution Posthume de L'Être Humain by Papus
Premiers A(c)La(c)Ments de Lecture de La Langue Ha(c)Braaque. Les Lettres, Les Nombres, Les Hia(c)Roglyphes by PAPUS
Premiers A(c)La(c)Ments de Lecture de La Langue A(c)Gyptienne, Caracta]res Hia(c)Roglyphiques, Cours by PAPUS
Barano Cocoro by Kenneth U Idiodi, W J Albersheim, Papus, H Spencer Lewis, Gail Best, Christian Bernard