Sam Kieth Books
Kieth first came to prominence in 1984 as the inker of Matt Wagner's Mage, his brushwork adding fluidity and texture to the broad strokes of Wagner's early work at Comico Comics. In 1989, he drew the first five issues of writer Neil Gaiman's celebrated series The Sandman, but felt his style was unsuited to the book (specifically saying that he "felt like Jimi Hendrix in The Beatles") and left, handing over to his former inker Mike Dringenberg.He acted as illustrator on two volumes of writer William Messner-Loebs' Epicurus the Sage and drew an Aliens miniseries for Dark Horse Comics, among other things, before creating The Maxx in 1993 for Image Comics, with, initially, writing help from Messner-Loebs. It ran for 35 issues and was adapted, with Kieth's assistance, into an animated series for MTV. Since then, as a writer-artist, he has gone on to create Friends of Maxx, Zero Girl, Four Women and Ojo.Ojo comprises the first and My Inner Bimbo the second, in a cycle of original comic book limited series published by Oni Press. Loosely connected, the cycle will concern the intertwined lives of people with each other and sometimes with a supernatural entity known as the Mysterious Trout. Kieth has stated that other characters from The Maxx series will appear in this cycle of stories. My Inner Bimbo #1 was published in April 2006. Issue #2 was delayed past its original release date; It was finally resolicited in "Previews" in 2007 and hit the store shelves in November 2007.DC Comics' Batman/Lobo: Deadly Serious, a two-issue prestige format mini-series that started in August 2007, was written and drawn by Kieth. This was followed by 2009's two-issue prestige format mini-series Lobo: Highway to Hell, written by Scott Ian and featuring art by Kieth.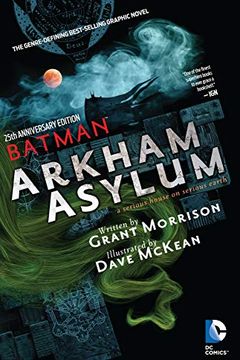 From the fertile imaginations of Neil Gaiman (Sandman) and Alan Moore (Watchmen) come four Batman stories that delve deep into the mythos of the Dark Knight. From the award-winning, elegiac 'Whatever Happened to the Caped Crusader?' to the warped but poignant 'Mortal Clay', Gaiman, Moore and their artistic collaborators - among them Andy Kubert (Fl...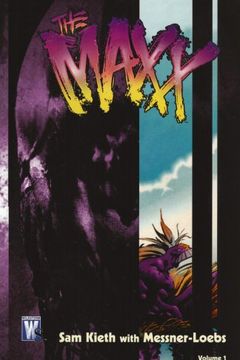 The Maxx, Vol. 1
Sam Kieth, William Messner-Loebs
-
2003-09-01

(first published in 1995)
An extremely imaginative and profound series, THE MAXX tells the tale of a fractured woman whose repressed emotions and memories prevent her from living a normal life and the hulking purple super-hero who tries to save her. A master of denial, Julie Winters created a magical dream world where she unknowingly escapes to when reality is too much. But...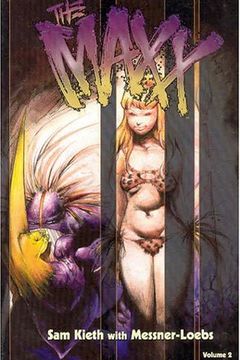 A perplexing adventure of fantasy and reality, THE MAXX BOOK TWO tells the compelling tale of three ordinary people caught in an extraordinary maelstrom of deadly denials and lost identities. After enduring a tragic event as a child, young Julie Winters created a fantasy world within her own mind to escape to whenever she was overwhelmed. But after...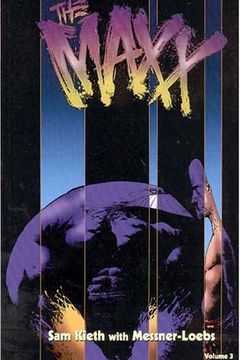 The third book in Wildstorm's collection of THE MAXX explores Julie Winters' separation from The Maxx as she plunges into denial, dyes her hair red, escapes into sexual excess — and gets pregnant! Maxx returns to the Outback and discovers who he is, while Julie is forced by Mr. Gone — who appears in a toilet bowl — to face her past. The third book ...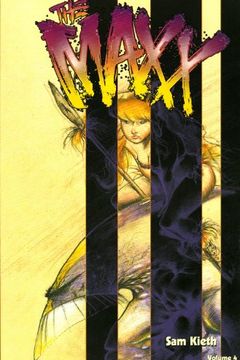 The fourth volume of the MAXX trade paperback collection is a turning point, which starts with Sarah and a large horsy in the Outback. Okay, maybe it doesn't workMaxx/Homeless Dave is a bunny...not a horsebut Sam Kieth was bound and determined everyone should have a spirit animal and Sarah's was going to be a friggin' horsy. There are some bright p...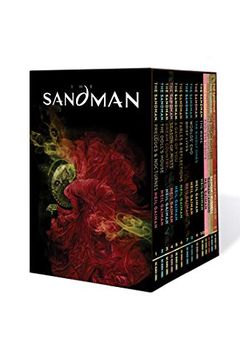 Weaving together ancient mythology, folklore, and fairy tales with his own distinct narrative vision, Gaiman created an unforgettable tale of the forces that exist beyond life and death. The Sandman universe is a master-creation following Dream, also known as Morpheus, lord of the Dreaming — a vast, hallucinatory landscape that houses all the dream...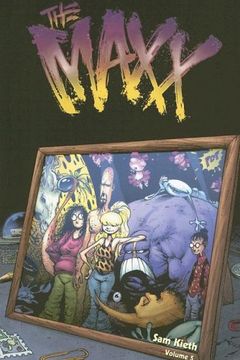 The long-awaited fifth volume completing the story of the Maxx, Julie, Mr. Gone and Sarah! Julie and li'l Sarah encounter a slew of new characters, but can both of them survive the experience? Glory's story is finally revealed, Megan shares a special moment in her life, and much more in issues #28-36 of THE MAXX! The long-awaited fifth volume compl...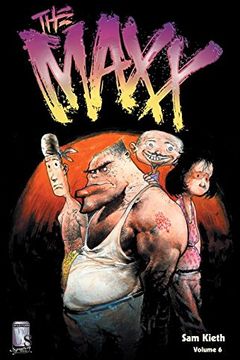 The final volume of Sam Kieth's eclectic masterpiece collects a series of innovative stories known as "Friends of Maxx". These tales mark a turning point for Kieth's artistic evolution as a storyteller, paving the way for later groundbreaking titles such as Zero Girl and Four Women. The final volume of Sam Kieth's eclectic masterpiece collects a se...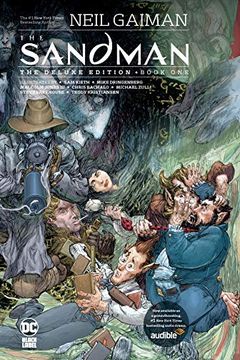 One of the most popular and critically acclaimed graphic novels of all time, Neil Gaiman's award-winning masterpiece The Sandman, is finally being collected for the first time in deluxe hardcover format. Illustrated by an exemplary selection of the medium's most gifted artists, the series is a rich blend of modern and ancient mythology in which con...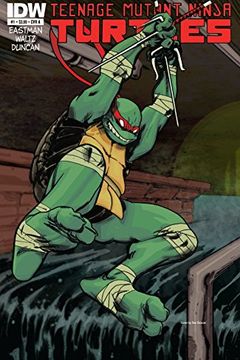 The Maxx by Sam Kieth, William Messner-Loebs
Batman (2011-2016) #38 by Scott Snyder, James Tynion
The Raven and Other Stories by Edgar Allan Poe
The MAXX by Sam Kieth, William Messner-Loebs
The Maxx by Sam Kieth, William Messner-Loebs
Sandman, Band 1 - Präludien & Notturni by Neil Gaiman
The Maxx by Sam Kieth, William Messner-Loebs
The Incredible Hulk Visionaries by Peter David
The MAXX by Sam Kieth, William Messner-Loebs
The Sketchbooks, Volume 1 by Sam Kieth
The MAXX by Sam Kieth, William Messner-Loebs
Complete Popbot by Ashley Wood, Sam Kieth
The MAXX by Sam Kieth, William Messner-Loebs
The Worlds of Sam Kieth, Vol. 1 by Sam Kieth
Judge Dredd by John Wagner, Alan Grant, Garth Ennis
Sam Kieth the Sketchbook 2 by Sam Kieth
The Maxx by Sam Kieth, William Messner-Loebs
The Maxx #19 by Sam Kieth, Bill Messner-Loebs
The Maxx #9 by Sam Kieth, William Messner-Loebs
Clive Barker's Hellraiser by John Rozum
The Maxx #11 by Sam Kieth, William Messner-Loebs
The Maxx #12 by Sam Kieth, William Messner-Loebs
The Maxx #8 by Sam Kieth, William Messner-Loebs
The Maxx #13 by Sam Kieth, William Messner-Loebs
The Maxx #23 by Sam Kieth
My Inner Bimbo by Sam Kieth
The Maxx #20 by Sam Kieth, Bill Messner-Loebs
Incredible Hulk (1962-1999) #368 by Peter David
The Maxx #15 by Sam Kieth
The Maxx #14 by Sam Kieth, William Messner-Loebs
The Maxx #16 by Sam Kieth
The Maxx #17 by Sam Kieth, William Messner-Loebs
The Maxx 100-Page Giant by Sam Kieth
Astonishing X-Men Companion (X-Men Unlimited (2004-2006)) by
Mage Vol. 2 by Matt Wagner
Sandman Deluxe by Neil Gaiman, Sam Kieth
The Maxx # 31 by Sam Kieth
The Maxx #18 by Sam; Image Kieth
Dark Horse Presents #16 by Bo Hampton, Carla Speed McNeil, Chad Lambert, David Chelsea, Jimmy Palmiotti, John Layman, Justin Gray, Nate Cosby, Phil Stanford, Richard Corben, Robert Tinnell, Tony Puryear
Wolverine/Hulk (2002) #1 by Sam Kieth
Wolverine/Hulk (2002) #4 by Sam Kieth
Wolverine/Hulk (2002) #2 by Sam Kieth
House of Mystery (2008-2011) by Bill Willingham, Lilah Sturges, Mark Buckingham, Peter Milligan, Matt Wagner, Chris Roberson
Wolverine/Hulk (2002) #3 by Sam Kieth
The Maxx #28 by Sam Kieth
Marvel Covers by Todd McFarlane. Sam Kieth Marc Silvestri John Romita Jr. Joe Quesada Jim Lee J. Scott Campbell Arthur Adams Alan Davis
Hellraiser Masterpieces #10 by Nicholas Vince, Peter Akins
Eleanor & The Egret #4 by John Layman
The Maxx #22 by Sam Kieth, William Messner-Loebs
I before E by Sam Kieth, Sam Keith
Hero Comics 2014 by Sam Kieth, Mike Grell, Various
X-Men Unlimited (2004-2006) #9 by Matt Fraction, Damon Hurd
The Joker by Scott Snyder, James Tynion IV, Becky Cloonan
Secret Origins Special (1989-) #1 by Neil Gaiman, Mark Verheiden, Alan Grant
The Popbot Collection by Sam Kieth, Ashley Wood
Heroes by Kurt Busiek, Fabien Nicieza, Stuart Moore, Paul Dini, Kevin Smith, David Mack, Alan Moore, Jim Shooter, Robert Weinberg, Chris Claremont
Eleanor & The Egret #5 by John Layman
30 Days of Night Compendium by Steve Niles, Matt Fraction, Dan Wickline, Kelly Sue DeConnick, David Lapham, Joe R. Lansdale, Ben Templesmith
Batman/The Maxx #1 by John Layman, Sam Kieth
Epicurus by William Messner-Loebs, Sam Kieth
Wolverine vs. The Marvel Universe by
Aliens Omnibus, Vol. 1 by Mark Verheiden
House of Mystery (2008-2011) #23 by Bethany Keele, Peter Keele, William Keele
House of Mystery, Volume 5 by Matthew Sturges, Bill Willingham
The Maxx #21 by Sam Kieth, Bill Messner-Loebs
Eleanor & The Egret #2 by John Layman
Ojo by Sam Kieth, Alex Pardee, Chris Wisnia
Eleanor & The Egret #1 by John Layman
Excalibur Visionaries by Scott Lobdell, Alan Davis
Epicurus The Sage, Volume II by William Messner-Loebs
Wolverine Legends, Vol. 1 by Sam Kieth
The Savage Hulk #1 by Peter David
Hero Comics by Kurt Busiek, Howard Chaykin, Neil Gaiman, Sam Kieth, Dave Sim, Bill Willingham, John Layman
Mage, Vol. 1 by Matt Wagner
Eleanor & The Egret #3 by John Layman
Batman/The Maxx by Sam Kieth
Batman/The Maxx #2 by Sam Kieth
30 Days of Night by Steve Niles
30 Days of Night by Steve Niles
30 Days of Night by Steve Niles
The Li'l Depressed Boy, Volume 0 by S. Steven Struble
Wasteland Book 10 by Antony Johnston
Legends of Marvel by Larry Hama, Chris Claremont, Sam Kieth, Jim Zub, Jed MacKay, Ed Brisson
Batman/The Maxx #5 (of 5) by Sam Kieth
Mage Vol. 3 by Matt Wagner
Batman/The Maxx #3 by Sam Kieth
Arkham Asylum by Sam Kieth
Aliens by Mark Verheiden, Sam Kieth
30 Days of Night by Steve Niles
30 days of Night by Steve Niles
Mars Attacks by Chris Ryall
Eleanor & The Egret Volume 1 by John Layman
Batman/The Maxx #4 (of 5) by Sam Kieth
Shock Volume 2 by Marguerite Bennett, Cullen Bunn, Andrew Dabb, Aaron Douglas, Garth Ennis, Justin Jordan, Joe Pruett, Jim Starlin, R.L. Stine, Jill Thompson, Frank Tieri, Ray Fawkes
Peter Parker by Zeb Wells
Peter Parker, Spider-Man, Volume 5 by Marvel Comics
T.H.U.N.D.E.R. Agents Volume 2. by Nick Spencer
Batman/Lobo by Alan Grant, Simon Bisley, Sam Kieth
The Hollows by Chris Ryall
30 Days of Night by Joe R. Lansdale
Iron Fist by Terry Kavanagh, Joey Cavalieri, Antonio Matias, John Figueroa, Ron Marz
30 Days of Night by Joe R. Lansdale
30 Days of Night by Joe R. Lansdale
Wolverine by Chris Claremont, Larry Hama, Sam Kieth
Dark Horse Presents #12 by Carla Speed McNeil, Dean Motter, Evan Dorkin, Francesco Francavilla, Harlan Ellison, John Arcudi, John Layman, Mike Baron, Steve Niles, Tim Seeley
Peter Parker by Zeb Wells
30 Days of Night by Joe R. Lansdale
Dark Horse Maverick by Various, Sam Kieth
Batman/The Maxx by Sam Kieth
Dark Horse Presents #15 by Arvid Nelson, Bo Hampton, Carla Speed McNeil, John Layman, Kelly Sue DeConnick, Kim W. Andersson, Michael Avon Oeming, Mike Baron, Nate Cosby, Neal Adams, Robert Tinnell, Tony Puryear