Shayla Black Books
Shayla Black is the New York Times and USA Today bestselling author of nearly eighty novels. For twenty years, she's written contemporary, erotic, paranormal, and historical romances via traditional, independent, foreign, and audio publishers. Her books have sold millions of copies and been published in a dozen languages.Raised an only child, Shayla occupied herself with lots of daydreaming, much to the chagrin of her teachers. In college, she found her love for reading and realized that she could have a career publishing the stories spinning in her imagination. Though she graduated with a degree in Marketing/Advertising and embarked on a stint in corporate America to pay the bills, her heart has always been with her characters. She's thrilled that she's been living her dream as a full-time author for the past eight years.Shayla currently lives in North Texas with her wonderfully supportive husband and two spoiled tabbies. In her "free" time, she enjoys reality TV, reading, and listening to an eclectic blend of music.Follow me on Facebook: http://shayla.link/FBPageJoin me in my Book Beauties group for weekly LIVE chats: http://shayla.link/FBChat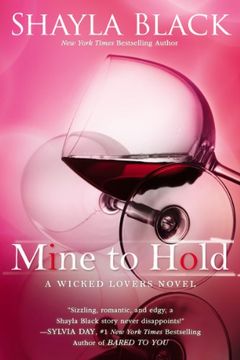 A friend's duty. Tyler Murphy was an LAPD detective, single and happy—until a near-fatal tragedy crippled his friend, fellow detective Eric Catalano. While Tyler supported Eric, he also became a shoulder for Eric's wife, Delaney, to lean on. But with one naughty suggestion from Eric, a drunken night with Delaney spilled into erotic abandon. Before ...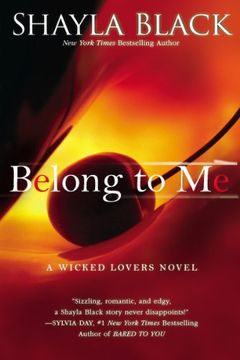 She's undercover and in over her head… When FBI analyst Tara Jacobs's fellow agent and best friend goes missing while investigating a sex ring, Tara goes undercover as a submissive in a Dallas BDSM club called Dominion. But no man can top a woman with Tara's moxie convincingly enough—until an edgy, dangerous Dom takes control of the scene and sets ...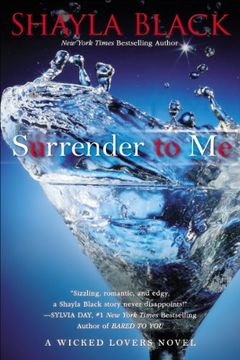 A secret fantasy. Hunter had everything until a bullet put his career as a Navy SEAL on hold. Restless and in need of distraction, he accepts an intriguing proposition: share an acquaintance's girlfriend and fulfill her fantasy of a ménage. It should have been just one night of sexual adventure among three consenting adults. But Kata is like no oth...
He can't control his desire. Luc Traverson's entire future is planned out—but there is one very sexy obstacle in his path: Alyssa Devereaux. She's a former exotic dancer turned strip club owner and restaurateur. Recently, Alyssa and Luc shared one night of wild abandon that left Luc terrified by his loss of self-control—and Alyssa desperate for mor...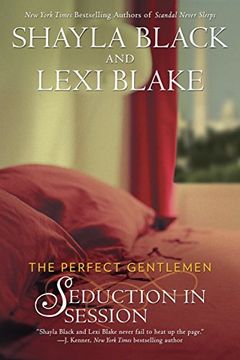 The second Perfect Gentlemen novel from the New York Times bestselling authors of the Masters of Ménage series.Privileged, wealthy, and wild: they are the Perfect Gentlemen of Creighton Academy. But the threat of a scandal has one of them employing his most deceptive—and seductive—talents…Recruited into the CIA at a young age, Connor Sparks knows h...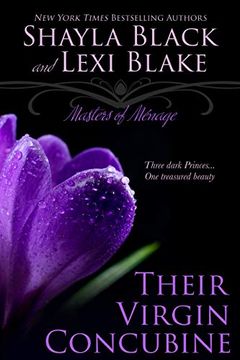 The country of Bezakistan – renowned for its wealth and the beauty of its desertsPiper Glen is thrilled when Rafe and Kade al Mussad ask her to visit their country on a business trip. Madly attracted to both, the virginal secretary knows that neither of her intensely handsome bosses desires her. But every night she dreams of having them both in her...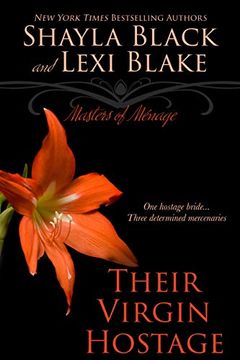 One Hostage BrideKinley Kohl agrees to marry wealthy Greg Jansen to save her family. Her wedding day should be the happiest of her life…except that she doesn't love him. And she can't help but wonder if she's making a mistake. Even so, she refuses to let her loved ones down. Then moments before her nuptials, she's kidnapped—and her whole life chang...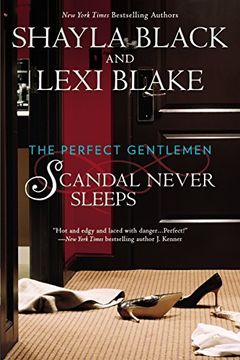 From the New York Times bestselling authors of the Masters of Ménage series . . .They are the Perfect Gentlemen of Creighton Academy: privileged, wealthy, powerful friends with a wild side. But a deadly scandal is about to tear down their seemingly ideal lives . . .Maddox Crawford's sudden death sends Gabriel Bond reeling. Not only is he burying hi...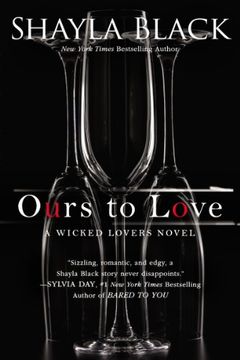 This is an alternative cover edition of the Kindle version ASIN B009KUO21Y published on May 7, 2013.Between two brothers… Xander Santiago spent years living it up as a billionaire playboy. Never given a chance to lead his family business in the boardroom, he became a master in the bedroom instead. His older brother, Javier, inherited the company an...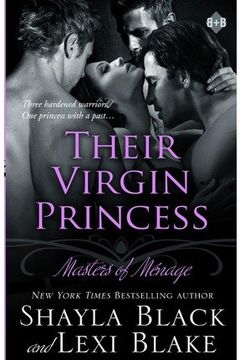 Their Virgin Princess
MASTERS OF MENAGE, BOOK 4 Paperback ] Black, Shayla ( AUTHOR ) Jan - 01 - 2013 [ Paperback ]
Lexi Blake | Shayla Black
-
2013-01-01
A broken woman…Alea Binte al Mussad, Princess of Bezakistan, was abducted from her university, mentally tortured and forced to witness the worst of humanity. She was rescued, but not before fear and her shattered soul made her retreat into herself. Two years later, she's living behind the palace's locked gates and the walls she's built surrounding ...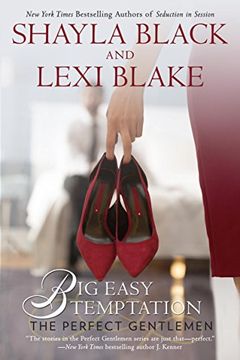 Smoke and Sin by Shayla Black, Lexi Blake
Possess Me at Midnight by Shayla Black
At the Pleasure of the President by Shayla Black, Lexi Blake
The Bold and the Dominant by Shayla Black, Jenna Jacob, Isabella LaPearl
The Edge of Dominance by Shayla Black
Wicked for You by Shayla Black
The Young and the Submissive by Shayla Black, Jenna Jacob, Isabella LaPearl
Entice Me at Twilight by Shayla Black
Wicked All the Way by Shayla Black
More Than Love You by Shayla Black
Their Virgin Mistress by Shayla Black, Lexi Blake
The Choice by Shayla Black
Embrace Me at Dawn by Shayla Black
Holding on Tighter by Shayla Black
Their Virgin's Secret by Shayla Black, Lexi Blake
His to Take by Shayla Black
Wicked Ever After by Shayla Black
Their Virgin Secretary by Shayla Black, Lexi Blake
Theirs to Cherish by Shayla Black
Wicked as Sin by Shayla Black
Seduce Me in Shadow by Shayla Black
The Chase by Shayla Black
More Than Dare You by Shayla Black
Falling in Deeper by Shayla Black
Wicked and True by Shayla Black
Devoted to Love by Shayla Black
Wicked as Lies by Shayla Black
More Than Pleasure You by Shayla Black
Dirty Wicked by Shayla Black
More Than Crave You by Shayla Black
More Than Tempt You by Shayla Black
Pure Wicked by Shayla Black
Wicked All Night by Shayla Black
Misadventures with My Ex by Shayla Black
Alphas of Danger by Shayla Black, Isabella LaPearl, Carrie Ann Ryan, Lexi Blake, Mari Carr, Kris Cook, Anissa Garcia, Kym Grosso, Jenna Jacob, Kennedy Layne
Alphas Confess All by Shayla Black, Lexi Blake, Mari Carr, Sierra Cartwright, Katana Collins, Jenna Jacob, Geneva Lee, Angel Payne, Willow Winters, Sidney Bristol
One Dom to Love by Shayla Black, Jenna Jacob, Isabella LaPearl
More Than Protect You by Shayla Black
Seduced by the Spy by Shayla Black
Devoted to Pleasure by Shayla Black
Seduced by the Bodyguard by Shayla Black
More Than Need You by Shayla Black
Seduced by the Assassin by Shayla Black
A Very Wicked Christmas by Shayla Black
Wicked and Dangerous by Shayla Black, Rhyannon Byrd
Wicked Lovers Bundle by Shayla Black
Wicked Reads by Shayla Black, Sylvia Day, Karin Tabke, Beth Williamson, Shiloh Walker, Cathryn Fox, Nikki Duncan, Mackenzie McKade
Seducing the Stranger by Shayla Black
Forbidden Confessions, Volume 1 by Shayla Black
1001 Dark Nights by Shayla Black, Laura Kaye, Lara Adrian, Heather Graham, Skye Jordan, CD Reiss
Seducing the Enemy by Shayla Black
The Strictly Duet by Shayla Black
Raine Falling by Shayla Black, Jenna Jacob
Seducing the Bride by Shayla Black
Misadventures of a Backup Bride by Shayla Black
Devoted to Wicked by Shayla Black
Wicked Ties by Shayla Black
Forever Wicked by Shayla Black
Wicked to Love by Shayla Black
Tempt Me with Darkness by Shayla Black
The Lady and the Dragon by Shayla Black, Shelley Bradley
Dangerous Boys and Their Toy by Shayla Black
Her Fantasy Men by Shayla Black
Their Virgin Captive by Shayla Black, Lexi Blake
Naughty Little Secret by Shayla Black, Shelley Bradley
Arresting Desire by Shayla Black
Alphas Heat The Sheets by Shayla Black, Jenna Jacob, Isabella LaPearl
Unyielding Circumstances of Chronicles Undefined by Dr Octavia Kincy-Moten