Victoria Thompson Books
Victoria Thompson is the USA Today bestselling author of the Edgar® and Agatha nominated Gaslight Mystery series and the Sue Grafton Memorial Award nominated Counterfeit Lady Series. She was nominated for an Edgar Award from Mystery Writers of America in 2001, and in 2012 she received a Career Achievement Award in Mystery Writing from RT Magazine. Six of her Gaslight Mysteries were nominated for an Agatha Award. She also contributed to the award winning writing textbook MANY GENRES/ONE CRAFT and authored a short story for the anthology, SHERLOCK HOLMES IN AMERICA. In her previous life, Victoria Thompson was the bestselling author of twenty historical romances. She earned her Master of Fine Arts degree in Writing Popular Fiction from Seton Hill University in 2012, where she has been a mentor and lecturer for 20 years. "I became enchanted by New York City, and Greenwich Village in particular, while one of my daughters attended NYU's Tisch School of the Arts. After reading many books about the village, and spending many pleasant hours dining, shopping, and just wandering the streets, I was permanently hooked!" Victoria Thompson is has also written 20 historical romances.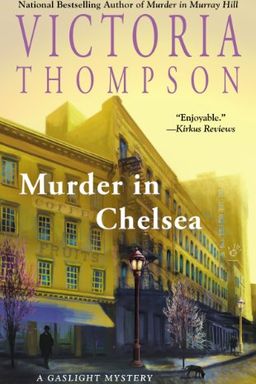 A murder investigation unfolds when a nursemaid claiming to be the mother of Sarah's adopted daughter is found dead. Sarah and Malloy must navigate Manhattan's contrasting neighborhoods and Catherine's complicated past to discover the truth. Will they find justice for the victim and a future for Catherine?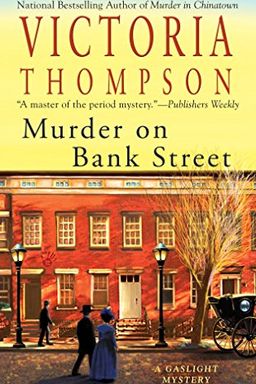 This historical fiction novel follows midwife Sarah Brandt as she navigates the tenements of turn-of-the-century New York. When her husband's murder is finally investigated by Detective Sergeant Frank Malloy, the shocking truth threatens to destroy their relationship and Sarah's reputation.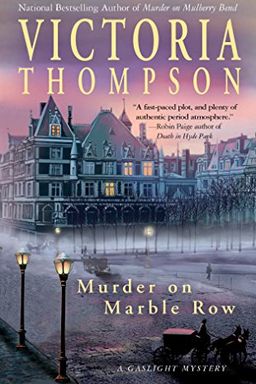 After an explosive death, Detective Sergeant Frank Malloy is tasked with tracking down anarchists by Police Commissioner Teddy Roosevelt. But when he encounters Sarah Brandt, emotions become complicated. As they clash over the motive behind the murder, they work together to solve the case in Murder on Marble Row.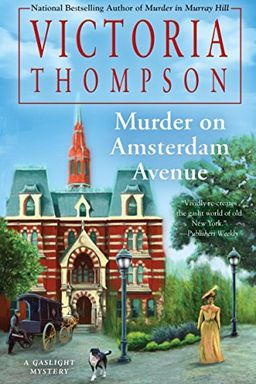 A Gaslight Mystery set in 19th century New York City, where midwife Sarah Brandt and Detective Sergeant Frank Malloy investigate foul play in high-society. As Sarah and Frank prepare for their wedding, they look into a mysterious disease that claimed the life of a family friend's son. When they uncover secrets that go back to the Civil War, they realize that they are surrounded by danger.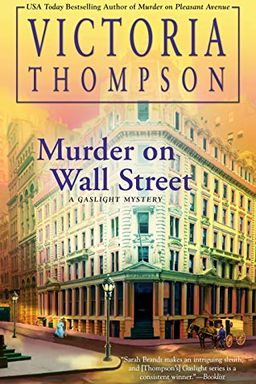 A prominent society banker is found dead, and all signs point to reformed gangster Jack Robinson. With the police on his tail, Jack's new life and family are at risk. It's up to midwife Sarah Brandt Malloy and her detective husband, Frank, to uncover the truth and find the true killer in this thrilling Gaslight Mystery set in Gilded Age New York City. But with a long list of suspects, including the city's elite and its most squalid residents, time is running out. Will Sarah and Frank solve the case before it's too late?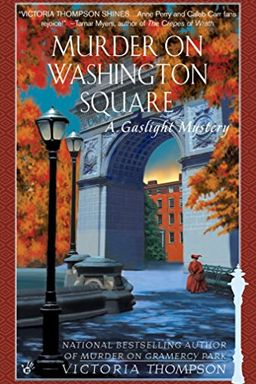 Experience the intrigue and mystery of turn-of-the-century New York City in this thrilling murder case. Follow midwife Sarah Brandt and Detective Sergeant Frank Molloy as they delve into the dark world of seductresses and uncover a twisted plot of deceit and betrayal.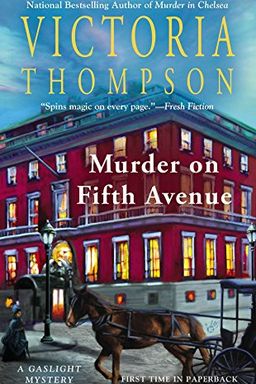 Follow Sarah Brandt and Detective Sergeant Frank Malloy as they solve the murder of a Knickerbocker club member in nineteenth-century New York. Sarah risks her safety to aid the impoverished, while Frank navigates the treacherous upper-class society of the city. As they work the case, family ties are tested and hidden secrets are revealed. Will they find justice for the victim and closure for themselves?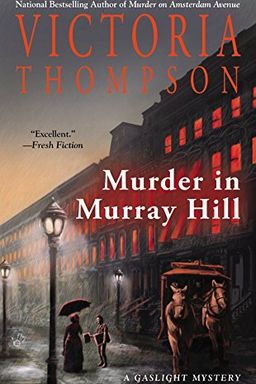 Nineteenth-century New York City's underprivileged turn to detective Frank Malloy and midwife Sarah Brandt to protect their rights. In their latest case, they must find a missing young woman who has fallen prey to a deceptive crook. As they delve deeper, their partnership is put in peril. A gripping Gaslight Mystery that will keep you on the edge of your seat.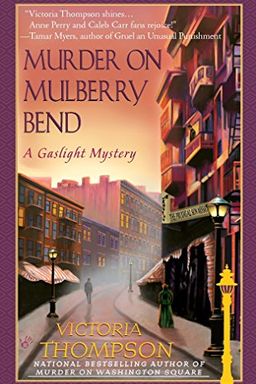 "Murder on Mulberry Bend" is a thrilling historical fiction book that will take you to turn-of-the-century New York City. Follow Sarah Brandt, a compassionate midwife, as she volunteers at the Prodigal Son Mission on Mulberry Bend, where girls seek refuge from a life of selling their bodies. When one of the girls is found dead, Sarah's passion for justice is ignited, but the investigation puts her in danger. Will Sarah and reluctant Sergeant Frank Malloy discover the truth before it's too late?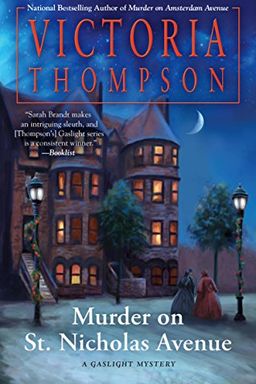 In Murder on St. Nicholas Avenue, a Christmas-themed murder mystery set in nineteenth-century New York City, newlyweds Detective Sergeant Frank Malloy and Sarah Brandt must investigate the death of a wealthy newlywed, who was found bludgeoned to death with his poor Irish wife cradling his body. With the wife charged with murder and unable to speak, it's up to their friends to do some detective work to uncover the truth about the victim's true identity and what really happened that night.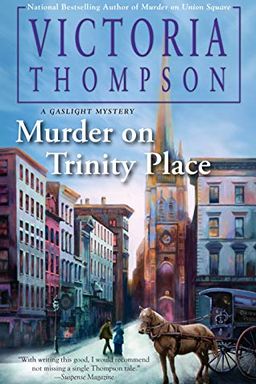 City of Schemes by Victoria Thompson
Murder on Lenox Hill by Victoria Thompson
Murder on Pleasant Avenue by Victoria Thompson
Murder in the Bowery by Victoria Thompson
Murder on Madison Square by Victoria Thompson
Murder on St. Mark's Place by Victoria Thompson
Murder on Lexington Avenue by Victoria Thompson
Murder on Gramercy Park by Victoria Thompson
Murder in Little Italy by Victoria Thompson
Many Genres, One Craft by
City of Scoundrels by Victoria Thompson
Murder in Morningside Heights by Victoria Thompson
City of Shadows by Victoria Thompson
HEARING WHISPERS by Kendall Thompson, Victoria Thompson
Coffee Thoughts by Susan Aubin
Peacefully Loud by Kendall Thompson, Kendall Thompson Jr.
Murder in Chinatown by Victoria Thompson
Murder on Sisters' Row by Victoria Thompson
Sherlock Holmes in America by
Murder on Waverly Place by Victoria Thompson
Beloved Outcast by Victoria Thompson
Texas Triumph by Victoria Thompson
City of Secrets by Victoria Thompson
Murder on Astor Place by Victoria Thompson
Bold Texas Embrace by Victoria Thompson
Murder on Union Square by Victoria Thompson
Parnell Hall Presents Malice Domestic by
Texas Blonde by Victoria Thompson
Angel Heart by Victoria Thompson
Blazing Texas Nights by Victoria Thompson
City of Lies by Victoria Thompson
Charlaine Harris Presents Malice Domestic 12 by Elaine Viets
To Love and to Honor by June Bride
Sweet Texas Surrender by Victoria Thompson
Texas Treasure by Victoria Thompson
Katherine Hall Page Presents Malice Domestic 11 by
Wild Texas Wind by Victoria Thompson
Texas Vixen by Victoria Thompson
Winds of Fortune by Victoria Thompson
Wings of Morning by Victoria Thompson
Cry Wolf by Victoria Thompson
Winds of Promise by Victoria Thompson
Wild Texas Promise by Victoria Thompson
Fortune's Lady (A Lady and the Scoundrel #3) by Victoria Thompson
Playing with Fire by Victoria Thompson
Rogue's Lady by Victoria Thompson
From This Day Forward by Victoria Thompson
Losing Alexandria by Victoria Thompson