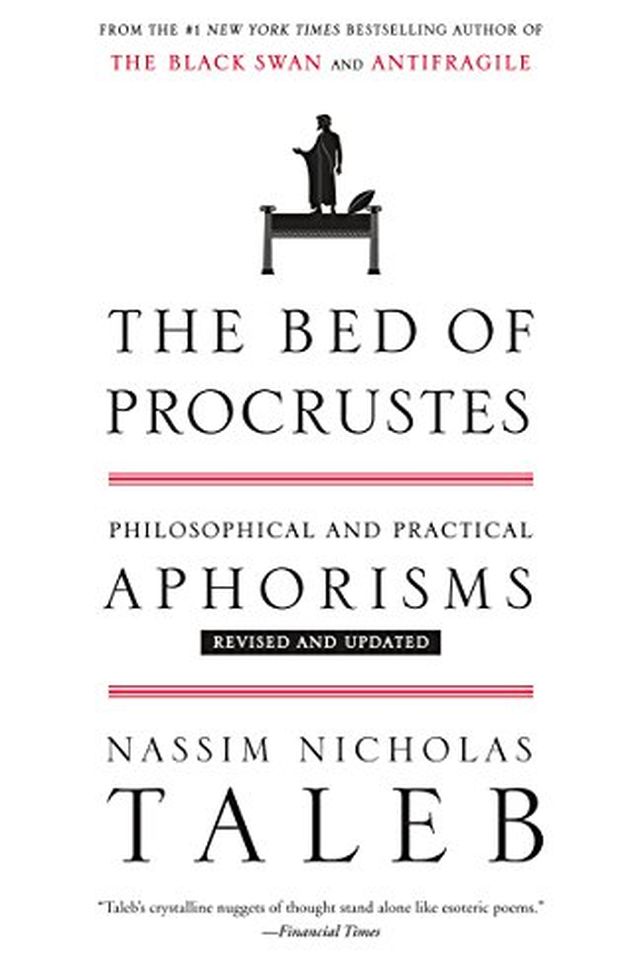 The Bed of Procrustes
Philosophical and Practical Aphorisms (Incerto)
Nassim Nicholas Taleb
This book is part of Nassim Nicholas Taleb's Incerto series, delving into opacity, luck, uncertainty, and decision-making in a world full of risk. The collection of aphorisms will surprise readers by exposing self-delusions and challenging modern values. Taleb's witty and wise commentary contrasts classical virtues with modern diseases, reminding us of the importance of courage, elegance, and erudition in a world dominated by nerdiness, philistinism, and phoniness.
Publish Date
2010-11-30T00:00:00.000Z
2010-11-30T00:00:00.000Z
Recommendations
This is his collection of ancient wisdom. He is also famous for The Black Swan: The Impact of the Highly Improbable, Antifragile: Things That Gain from Disorder, and Fooled by Randomness: The Hidden Role of Chance in Life and Markets, all of which are worth reading.     
–
source
I'm thrilled if I get a few counter-intuitive thought-provoking ideas from any source. This book is filled with his usual cocktail party sprezzatura bravado, but refreshingly succinct, minus his usual blowhard explanations of his superior scholarly approach to life.     
–
source