KonoSuba Manga
KonoSuba light novel. Game loving shut-in Kazuma Sato's life as a young schoolboy in Japan abruptly comes to an early end...or at least it was supposed to. When he opens his eyes, though, he sees a beautiful goddess that offers him a once in an after-lifetime chance to be reborn in a parallel world. The catch is that the world is violent and threatened by a growing evil! Fortunately, he can choose any one thing to bring with him. So he chooses the goddess, Aqua! And so his adventure with his gorgeous companion begins--if he could just get enough money and food to survive, keep his goddess out of trouble, and avoid grabbing the attention of the Demon King's army! Associated Names: この素晴らしい世界に祝福を! 為美好的世界獻上祝福! Gifting This Wonderful World with Blessings! Kono Subarashii Sekai ni Shukufuku o! Kono Subarashii Sekai ni Shukufuku wo! KonoSuba Konosuba - God's Blessing on This Wonderful World!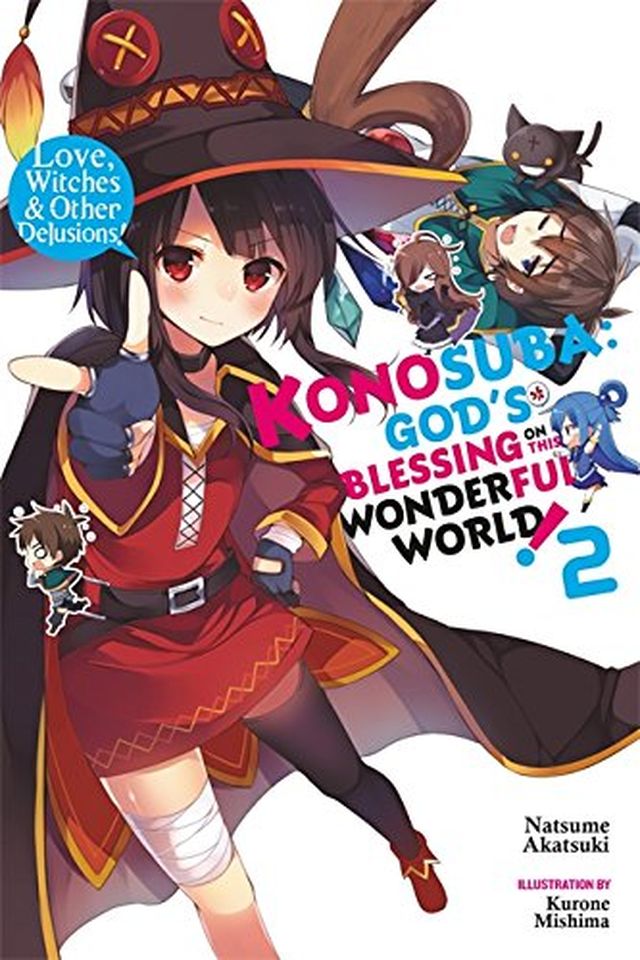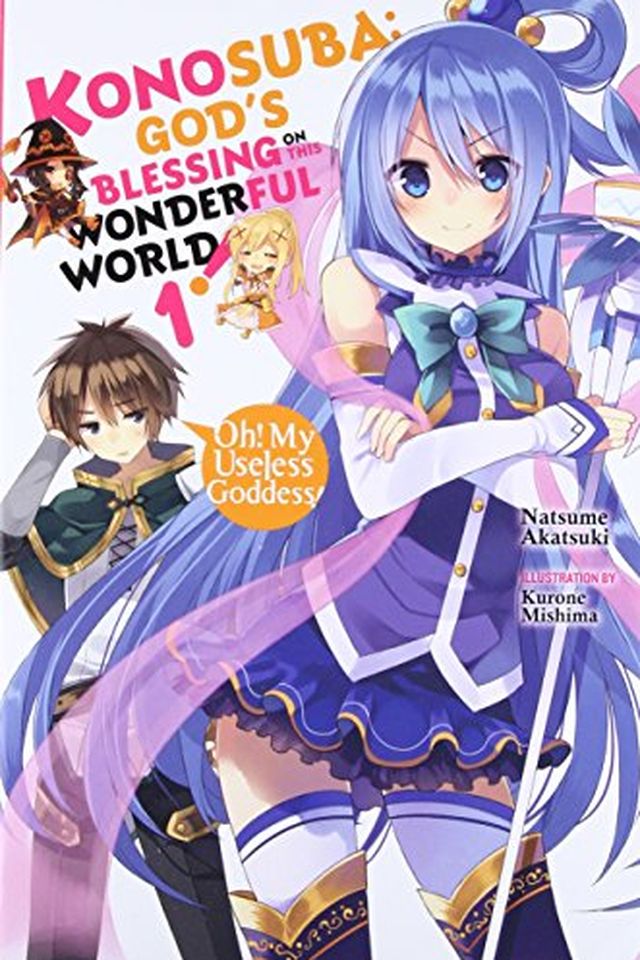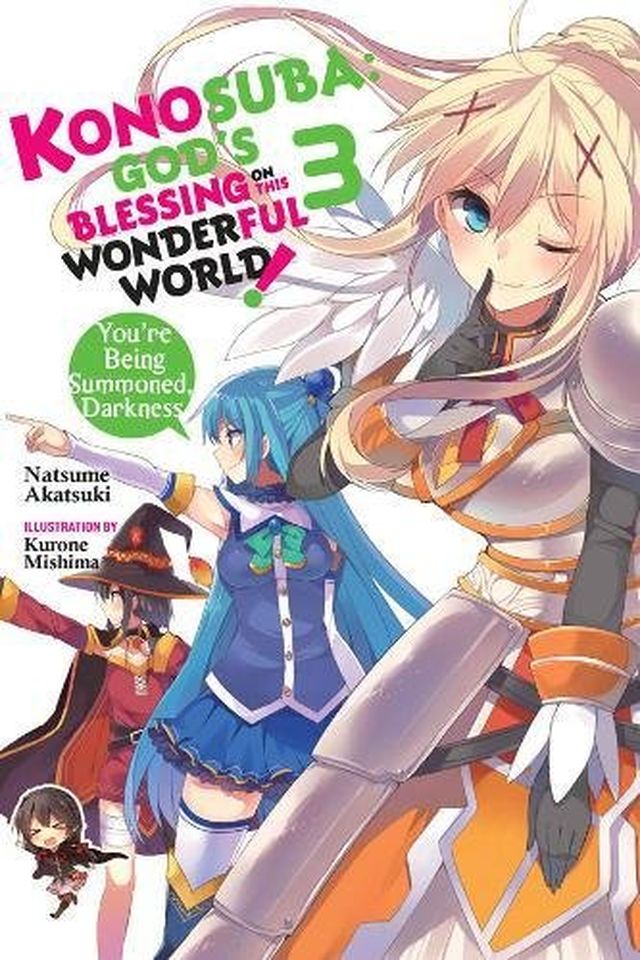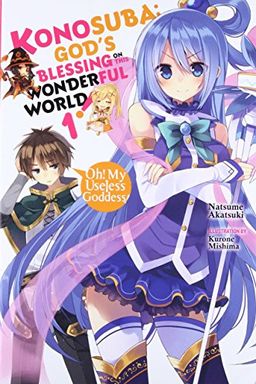 A video game addict dies and is given the chance to be reborn in a parallel world, but it's not all fun and games as he must fight against an evil threatening the violent world he finds himself in. He chooses the beautiful goddess, Aqua, to accompany him on his adventure, but they face challenges like finding the means to survive and avoiding the Demon King's army.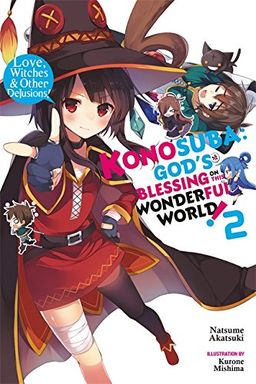 Love, Witches & Other Delusions is a novel about Kazuma and his party of dysfunctional companions trying to complete quests in a new world. Their winter is off to a rocky start and they can barely afford a stable. When they are offered the chance to stay in a mansion, they must exorcise the evil spirits haunting it. With an expert goddess and advanced classes, the quest should be easy, but things have a way of going wrong for this team.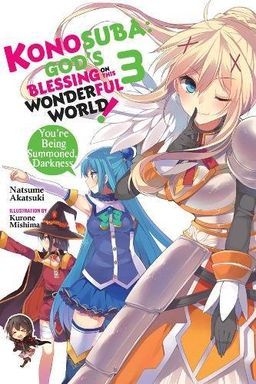 Join Kazuma and his fellow heroes Aqua, Megumin, and Darkness as they work to clear his name and avoid a death sentence in a world full of unexpected twists and turns. Will their plan be enough to save Kazuma, or will they meet a fate worse than death? Find out in this thrilling adventure full of fame, fortune, and criminal charges.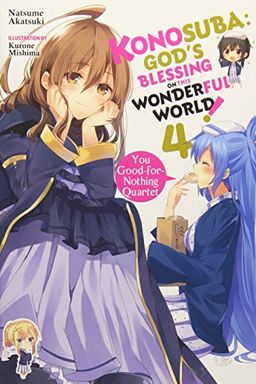 Join Kazuma and his crew for a well-deserved break as they visit Arcanletia, a hot springs destination perfect for adventurers in need of rest and relaxation. Rumored to be safe from the Demon King's army, the group may have found the ultimate peaceful retreat. But with Aqua's devoted followers in tow, will they truly find the peace they seek?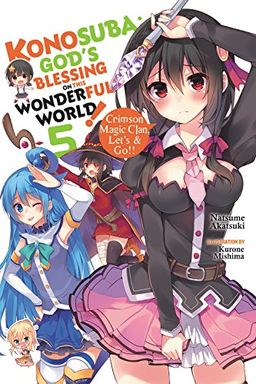 Get ready for an exciting adventure with Crimson Magic Clan, Let's & Go!! When Yunyun, a member of the Crimson Magic Clan, asks Kazuma to father her children to save their clan, he travels back to the village with her to assess the situation. However, things don't go quite as planned. Will Kazuma be able to step up and save the day? Find out in this gripping story filled with danger and unexpected twists.
This book is a magical adventure that follows Kazuma after he meets Princess Iris at a royal banquet. They embark on a fairy-tale life in the castle, but when Kazuma decides to capture an infamous thief, their perfect world is threatened. Will their love survive the challenge? Discover the answer in this captivating tale.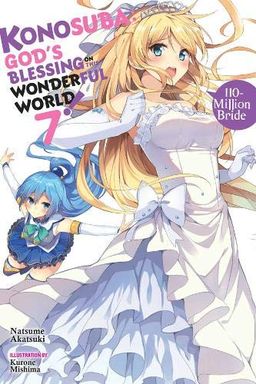 This thrilling novel follows Kazuma and his fellow adventurers as they face new challenges after defeating the Demon King's generals. When Darkness disappears to marry a lord, the group fears it could be the end of their adventures. Will they be able to reunite and continue their journey together? Find out in this must-read book.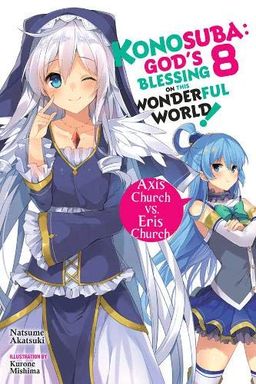 Join the chaos in this humorous and action-packed light novel as Aqua, Kazuma, and Chris get caught up in two festivals and a pursuit of a talking, legendary suit of armor. Who will come out on top: Axis Church or Eris Church?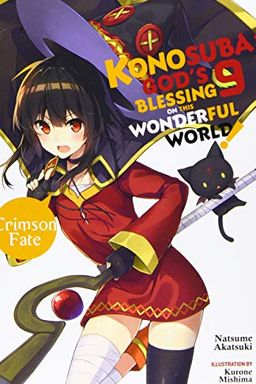 Book 9
#9
Crimson Fate
God's Blessing on This Wonderful World!, Vol. 9
Join the epic adventure as the capital faces a new crisis in the form of the enemy's latest general - the dark god Wolbach. When Kazuma and Megumin mount a defense, they discover that Wolbach is also a user of Explosion magic. Find out the explosive secrets behind this encounter and the explosive relationship between Megumin and Chomusuke.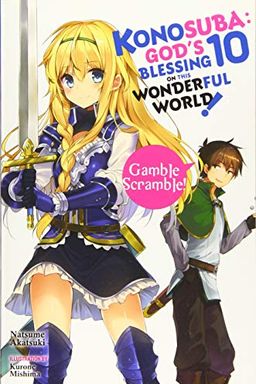 Join Princess Iris and Kazuma on their mission to gain financial support for their fight against the Demon King's army. With Kazuma's wit and incredible luck, they head to the Casino Kingdom to make a fortune. But things take a hilarious turn when they encounter obstacles along the way, including a wedding they try to derail. Will they succeed in their mission? Find out in this entertaining and unpredictable story.
The Knight's Lullaby by Natsume Akatsuki
Konosuba by Natsume Akatsuki
Konosuba by Natsume Akatsuki