Megan O'Brien Books
Megan O'Brien is the best selling author of The Ride Series and the Talon Security Series. She has a passion for a good love story and most enjoys writing stories with an alpha male and strong female characters.Megan was born and raised in Marin County, California where she still resides with her amazing husband and two lovely sons.When she's not enjoying family time or burying her nose in her kindle she loves hiking, running and relaxing moments on the back porch with a glass of wine.
More than six months ago, Jill put her past in the rearview mirror in search of a fresh start. Determined to start over, moving to Hawthorne seemed like the perfect place for new beginnings. The trouble is, sometimes the past just won't stay buried. When Jill and her son are threatened, one man will stop at nothing to keep them safe. As President o...
Six months ago he left me. He walked out of my life without a second glance. Kat Jennings has done her best to pick up the pieces since Sal left her. But just when she starts to move forward, Sal comes bursting back into her life with a singular purpose, to reclaim her. And he's not taking no for an answer. When an unknown danger threatens Kat and ...
More than a year ago, Sophie disappeared without a trace. When she turns up again, she's a different woman with one big secret and Axel will stop at nothing to make her his.Sophie was once afraid of the world. In her time away she's learned a hell of a lot except to rely on anyone other than herself.When Axel comes careening back into her life he d...
More than a decade ago, I walked away from Hawthorne Nevada and the only boy I ever loved. When Piper Owens returns home to care for her father and to try to pick up the pieces following her mother's death, she needs that boy more than ever. But Ryker Black isn't a boy anymore and he's not interested in reliving the past. Now a patched member of th...
For eight years I'd been content with my quiet life. I was safe in the bubble I'd built for myself. But I wasn't really living. Until one chance encounter changed it all. Scarlet Malone has lived quietly for years hiding from her past. Aside from her best friend Kat she doesn't allow herself to get close to anyone. Then Cole Jackson, Vice President...
I've loved him since I was old enough to understand what that meant. Max Jackson, patched member of the Knight's MC, is someone Wren Armstrong's father considers a friend. She shouldn't want him. Shouldn't need him. But she does. She always has. When Wren is put in danger while away at school, she's forced to return home to Hawthorne, Nevada, on th...
From the moment Cash Walker encounters Layla West, it's clear she's different than any woman he's ever met. Her bright green eyes and strong will have him captivated. She's his. Now he just has to convince her. After losing her nan, Layla relocates to Hawthorne, Nevada, with her five-year-old daughter and the desire for a fresh start. What she hadn...
I've never known what it's like to have a dream that's really mine. To live a life without fear. Being the niece of the most ruthless mob boss in Las Vegas has made any sort of freedom impossible. Francesca Rossi has spent much of her life balancing the weight of running the family bakery with avoiding her uncle's life of violence and corruption. W...
As her older brother's best friend, Gunner Pierce has been part of Emmie Jackson's life for just about as long as she can remember. The often arrogant, always annoying Gunner keeps his distance - except when it comes to demanding she cover up or chasing away every man who expresses the slightest interest.When Emmie is kidnapped and confronted with ...
After years working for Talon Security, Sarah Scott has settled into her life in Los Angeles. Her friendships are growing stronger, and that spark with a certain former SEAL... well, it just might be worth exploring. That is, until her ugly past becomes her present and Sarah sees no other choice but to disappear. Letting her go isn't an option. The...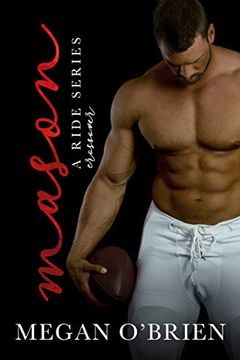 Mason
Megan O'Brien
-
2021-05-03