Craig Alanson Books
If you want to stay up to date on releases, receive promotion alerts and speak to me directly, please join my Facebook Page:https://www.facebook.com/Craig.Alanso...My Bio:Craig Alanson used to create financial reports for a large IT services company. Writing fiction at nights and on weekends, he finally independently published three novels on Amazon. Within 6 months of his first ebook release, he was able to quit his day job and pursue a full-time writing career. The breakout success of Columbus Day (Expeditionary Force, Book 1) reached new heights when Podium Audio released it in audio format, narrated by Audie Award Winner R.C. Bray. The Columbus Day audiobook was a huge hit, and a finalist for an Audie Award as Audiobook of the Year. The ExForce series, as it is known to fans, has gone on to 10 books/audiobooks, many of which have hit the NYT best-seller list, with a 11th book releasing June 2021 and 14 books planned. Craig has also published a spin-off series, ExForce: Mavericks; an ExForce audio drama, Homefront; a fantasy trilogy, Ascendent; and a young adult space opera, Aces. Craig lives in Virginia with his wife, who loves him even though he perpetually refuses to clean the garage.
Experience the thrilling sci-fi adventure of an elite Expeditionary Force who, on a simple recon mission, ignited an alien civil war. Now, stranded thousands of lightyears from home on a crumbling stolen alien starship, the "not-at-all-Merry Band of Pirates" must find a way to survive without their beloved AI, Skippy. Will they make it out alive? Find out in this action-packed tale.
Join the elite crew of a pirate ship on a mission to determine if Earth is in danger from an alien race. Along the way, they become sidetracked by securing a future for UNEF troops and must now deal with the consequences. Will the crew of the UNS Flying Dutchman be able to save Earth?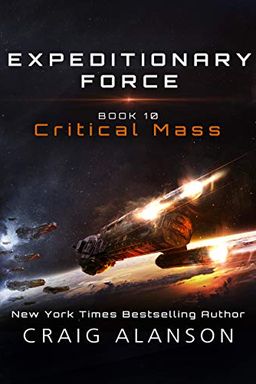 Alien Hostiles Threaten Earth in this Action-Packed Adventure. The Merry Band of Pirates is Back and Facing their Biggest Challenge Yet. Will Humanity be Able to Survive the Wormholes? Find Out in this Heart-Pounding Page-Turner.
A battle-scarred star carrier returns to Earth after a series of successful missions, but the exhausted crew just wants a break from constant warfare against a vicious enemy. However, their wish isn't granted as they encounter more challenges on their journey.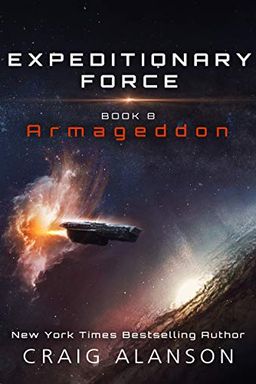 This thrilling science fiction book follows the crew of the starship Flying Dutchman as they embark on a mission to save Earth from imminent destruction. After a nuclear strike on an American city, UNEF enlists the help of the Merry Band of Pirates once again. But what was meant to be a simple recon mission turns into Armageddon for the fearless team. Get ready for an exciting journey filled with adventure, danger, and unexpected twists.
On an alien-controlled planet, the stranded remnants of the Expeditionary Force must prove themselves during a training mission with teenage alien cadets. But when the mission goes awry and everyone's survival is at risk, the Merry Band of Pirates must step in to save the day. Will they succeed or meet their demise? Find out in this thrilling sci-fi adventure.
"In Valkyrie, join the Merry Band of Pirates as they face an inevitable truth: Earth is doomed. Their only hope is to save a few thousand people before the vicious aliens arrive to destroy humanity's homeworld. But this fearless crew has one other idea: hit the enemy so hard that they regret ever crossing paths with humans. Brace yourself for an action-packed sci-fi adventure that will keep you on the edge of your seat until the very end."
In "Breakaway", the newest addition to the Expeditionary Force saga, the Merry Band of Pirates are back and facing a new threat to Earth. With R.C. Bray's hilarious portrayals of unforgettable characters, this epic sci-fi adventure is a must-listen. Will the Pirates be able to clean up the mess and find allies in the fight? Find out in "Breakaway".
Peacetime can be a rough adjustment for the battle-hardened Merry Band of Pirates.Especially when aliens don't get the memo that the shooting is over....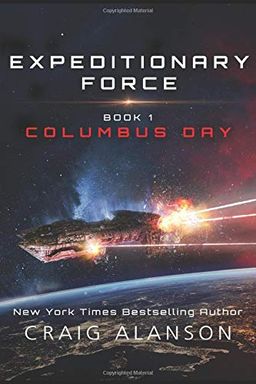 Columbus Day
Craig Alanson
-
2017-09-18

(first published in 2016)
"Intergalactic warfare, unexpected allies, and a fight for survival - all on the seemingly harmless day that commemorates Christopher Columbus. When a technologically advanced culture attacks Earth, the UN Expeditionary Force teams up with a surprising ally to fight back. But as tensions rise and loyalties are questioned, it becomes clear that not everything is as it seems. Fast-paced and full of plot twists, this book will keep you on the edge of your seat."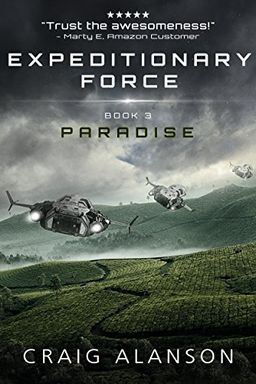 Trouble on Paradise by Craig Alanson
Deathtrap by Craig Alanson
Freefall by Craig Alanson
Transcendent by Craig Alanson
Ascendant by Craig Alanson
Deceptions by Craig Alanson