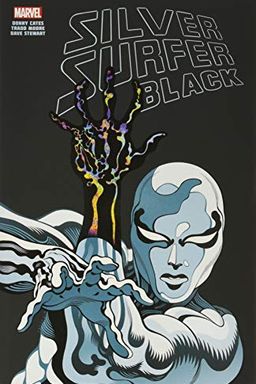 A Guardian of the Galaxy is lost in oblivion along with all the galaxy's defenders, including the Silver Surfer. To fight back, the Surfer must save his own soul and avoid being lost to the void. Experience a journey that will transform the Sentinel of the Spaceways forever in this comic book collection, Silver Surfer: Black 1-5.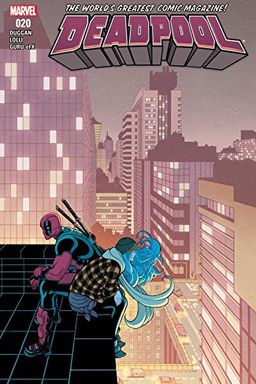 Deadpool has it tough sometimes. It can be hard to keep going. But he does....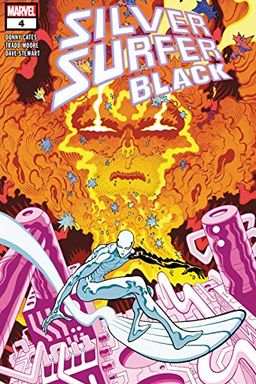 Prepare for an epic intergalactic battle as one lone hero seeks to turn the tide against an encroaching darkness. In the face of near-certain defeat, the Silver Surfer discovers a potential weapon that could save the day. But at what cost? Join the Surfer as he grapples with heavy sacrifices and desperate decisions in a thrilling tale of survival and heroism.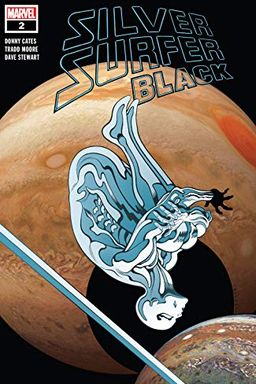 Join the Silver Surfer on a perilous journey across the cosmos as he battles to save the galaxy from certain destruction. With everything at stake, including his own soul, the Surfer must summon all his strength and courage to beat back the darkness and emerge victorious. This thrilling adventure is not to be missed!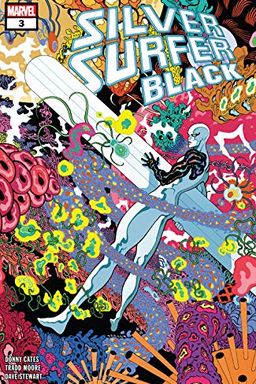 A fading power and impending darkness threaten the life of the Silver Surfer. Will he find salvation in a surprising ally? Find out in this riveting tale.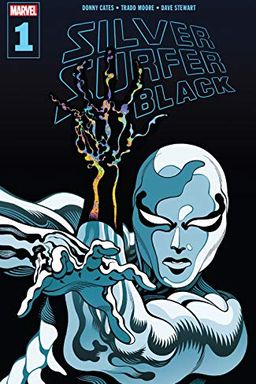 Join the Silver Surfer on a journey through the galaxy in this epic comic book. After being sucked into a black hole alongside other defenders, Surfer fights to save his soul and avoid losing himself to the void. Featuring stunning artwork, including a Cover Gallery and Character Designs, this action-packed adventure from Donny Cates and Tradd Moore will keep you hooked until the very end.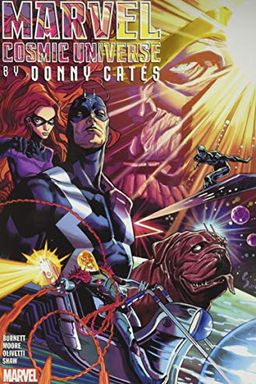 Prepare yourself for a wild ride filled with cosmic chaos in this omnibus filled with thrilling stories from the Marvel Universe. Blockbuster writer Donny Cates unleashes the power of the galaxy's most powerful beings, and readers won't soon forget it. Get lost in stories of bloody battles, bizarre heroes seeking vengeance, and the struggle to survive in space and time. This collection features issues from Thanos, Death of the Inhumans, Cosmic Ghost Rider, and Silver Surfer, making it an excellent choice for fans looking to delve deeper into the Marvel Cosmic Universe.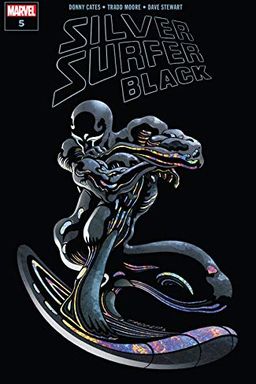 In the epic conclusion to a thrilling series, the Silver Surfer faces off against the dangerous Knull with severely depleted power. Will he resort to desperate measures and unleash a new horror upon the galaxy or find another way to take down his enemy? Find out in this must-read book.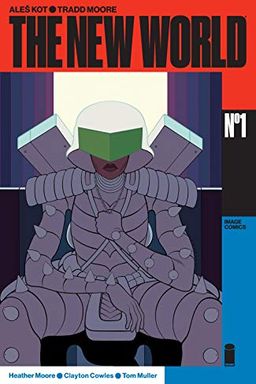 "An explosive sci-fi romance series set in a post-civil war United States. Follow two star-crossed lovers, a vegan anarchist hacker and a hedonistic cop with a reality show as they navigate a dangerous world. From the creators of Mad Max and Romeo and Juliet, this debut issue will leave you on the edge of your seat. Don't miss out on this action-packed adventure by ALEŠ KOT, TRADD MOORE, and HEATHER MOORE."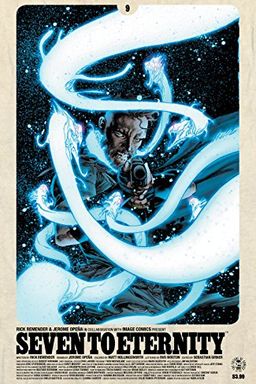 Join Adam Osidis on a thrilling journey as he faces the dark and terrifying Mud King. Will he save the world or himself? Discover the suspenseful conclusion to the second chapter of this epic fantasy by Rick Remender and Jerome Opeña in Seven To Eternity #9.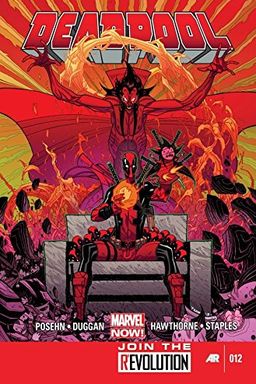 All-New Ghost Rider #2 by Felipe Smith
Deadpool (2012) #10 by Brian Posehn
Deadpool (2012) #11 by Gerry Duggan, Brian Posehn
Guardians of the Galaxy #12 by Donny Cates
All-New Ghost Rider #5 by Felipe Smith
Legacy of Luther Strode #2 by Justin Jordan
All-New Ghost Rider #3 by Felipe Smith
Secret Avengers #1 by Ales Kot
The Legacy of Luther Strode #1 by Justin Jordan
The New World #5 by Ales Kot
The New World #3 by Ales Kot
Secret Avengers #2 by Ales Kot
All-New Ghost Rider #4 by Felipe Smith
Legacy of Luther Strode #3 by Justin Jordan
Deadpool #23 by Gerry Duggan
Legacy of Luther Strode #5 by Justin Jordan
The New World #2 by Ales Kot
All-New Ghost Rider #1 by Felipe Smith
Harley Quinn núm. 01 by Amanda Conner, Jimmy Palmiotti
Deadpool vs. Thanos #1 by Tim Seeley
The Legend of Luther Strode by Justin Jordan
Secret Avengers #4 by Ales Kot
Secret Avengers #3 by Ales Kot
The Strange Talent of Luther Strode #3 (of 6) by Justin Jordan
Luther Strode by Justin Jordan, Tradd Moore
Secret Avengers, Vol. 3 by
The Legacy of Luther Strode by Justin Jordan
Star Wars Annual (2018) #4 by Cullen Bunn
The Strange Talent of Luther Strode by Justin Jordan
Deadpool #22 by Gerry Duggan
Zero Volume 1 by Ales Kot
In the Dark by Rachel Deering, Justin Jordan, Cullen Bunn, Sean E. Williams, Scott Snyder, James Tynion IV, Christopher Sebela
Venom (2016-2018) #150 by Mike Costa, Robbie Thompson, David Michelinie
All-New Ghost Rider #6 by Felipe Smith
Secret Warriors #4 by Matthew Rosenberg
Secret Warriors #5 by Matthew Rosenberg
Deadpool #24 by Gerry Duggan
Vote Loki #4 by Christopher Hastings
Deadpool vs. Thanos #4 by Tim Seeley
Secret Warriors #6 by Matthew Rosenberg
Deadpool vs. Thanos by Tim Seeley
Vote Loki #2 by Christopher Hastings
Secret Warriors #7 by Matthew Rosenberg
Deadpool (2012) Annual #1 by Ben Acker, Ben Blacker
Outlaw Territory Volume 3 by Maxwell Patterson, Tony DiGerolamo, Corrina Bechko, October Crifasi
Deadpool vs. Thanos #2 by Tim Seeley
The New World by Ales Kot
The New World #4 by Ales Kot
Deadpool vs. Thanos #3 by Tim Seeley
All-New Ghost Rider, Vol. 1 by Felipe Smith
Vote Loki #1 by Christopher Hastings
Secret Avengers #5 by Ales Kot
Amazing Spider-Man #49 by Nick Spencer, Tradd Moore, Kurt Busiek, Saladin Ahmed
Amazing Spider-Man by Nick Spencer, Vol. 10 by Nick Spencer, Tradd Moore, Kurt Busiek, Saladin Ahmed, Jed Mackay
Secret Warriors #1 by Matthew Rosenberg
Vote Loki #3 by Christopher Hastings
Secret Warriors #2 by Matthew Rosenberg
Secret Warriors #3 by Matthew Rosenberg
Batman Black & White (2020-) #1 by James Tynion, Paul Dini, Emma Rios, G. Willow Wilson, J.H. Williams
Venom Vol. 1 by Marvel Comics
Deadpool #1 by Gerry Duggan
Batman by Michael Avon Oeming
Secret Warriors, Vol. 2 by Matthew Rosenberg
Ghost Rider #1 by Felipe Smith