This book covers everything you need to know about SEO in 2022. Whether you're a beginner or advanced user, learn search engine optimization techniques to grow your website online and get more customers. Find out how Google's algorithm works and how to rank high in search results using the latest updates. Discover powerful link building strategies, tricks to get local businesses ranking high, and a bonus chapter on pay-per-click advertising. This is the only SEO book you'll ever need to succeed online.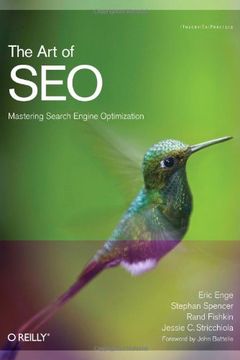 The Art of SEO
Mastering Search Engine Optimization (Theory in Practice)
Learn how to excel in search engine optimization with insights from four respected professionals. This updated and definitive guide covers modern SEO techniques, from basic to advanced tactics, exploring the complexities of search engine behavior and recent changes such as ranking methods and user engagement. With this book, you can discover the inner workings of social media, understand the importance of user data and links, recognize the right website tools, and join forces with a skilled SEO team. Look forward to the future of search and the SEO industry. For ongoing support, visit www.artofseobook.com.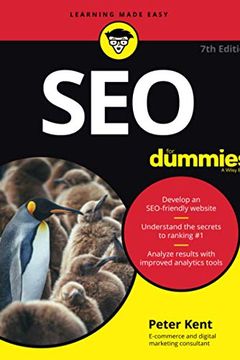 Learn how to boost your website's rankings and increase its traffic with Search Engine Optimization For Dummies. This book covers essential topics such as search engine basics, building a search engine-friendly site, using analysis tools to track results, and advertising your site. You'll also discover how to write effective content, use social media, and manage your platform to positively impact your rankings. With tips, tricks, and secrets from SEO masters, you can create a website that ranks at the top of search engines and drives traffic to your site.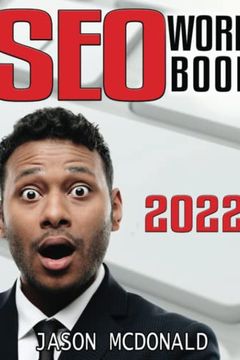 SEO Workbook
Search Engine Optimization Success in Seven Steps (2022 Online Marketing)
This SEO Workbook is the ultimate guide to optimizing your website to reach the top of Google's ranking. With step-by-step instructions, worksheets, and videos, it provides practical, actionable advice in plain English. It covers everything from content marketing to link-building to social media SEO, and includes up-to-date information on Google's algorithm updates. With access to free SEO tools and the expertise of author Jason McDonald, this workbook is worth its price tag and will save you money in the long run.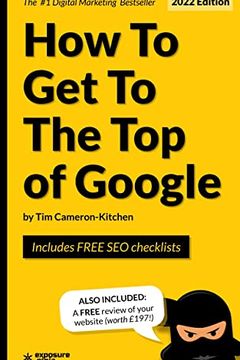 Learn how to increase your website's rankings and sell more with this bestselling no-nonsense SEO book. Perfect for beginners and professionals alike, this book covers everything from understanding how Google chooses which websites to rank, to identifying the right keywords and building relationships with key players in your industry. With real-life success stories and strategies that are data-backed and battle-tested by the Exposure Ninja team, you'll discover how to transform your website's ranking and build a comprehensive SEO strategy that gets big results.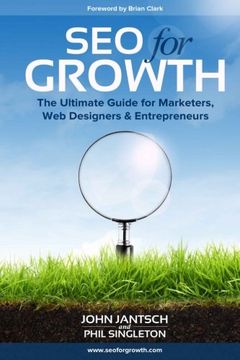 SEO for Growth
The Ultimate Guide for Marketers, Web Designers & Entrepreneurs
Learn how to optimize your website for search engines with this comprehensive guide to SEO. Featuring input from marketing, SEO, and social media experts, this book covers everything you need to know about capturing demand, leveraging SEO best practices, and creating a strong online presence. Topics covered include link building, content creation, social media engagement, keyword research, and more. With bonus offers and additional resources available online, this is a one-stop guide perfect for business owners, marketers, and entrepreneurs looking to grow their online presence.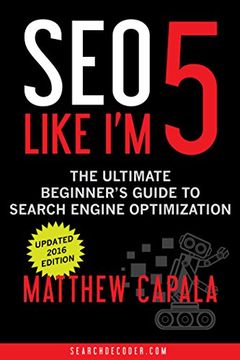 SEO Like I'm 5
The Ultimate Beginner's Guide to Search Engine Optimization (Like I'm 5 Book 1)
Learn everything you need to know about SEO with "SEO Like I'm 5" by Matthew Capala. This book offers an accessible and actionable overview of SEO essentials that's suitable for anyone, even those without a technical background. Discover the strategic process of building and optimizing your online presence, including building a search-friendly website, creating a content strategy, becoming a rockstar blogger, finding keyword opportunities, monetizing your site, and attracting backlinks. With the 2015-updated edition, you'll also get dozens of free tools, hacks, case studies, examples, and tips. Say goodbye to misguided information and hello to amazing content, social media presence, and blogger relationships that lead to online success!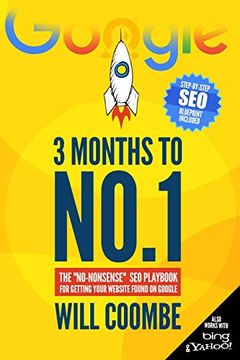 3 Months to No.1
The "No-Nonsense" SEO Playbook for Getting Your Website Found on Google
Learn essential SEO tactics from a top London SEO agency owner who quit his airline pilot career to build a successful digital marketing agency. In this guide, you'll gain the know-how to boost your website to the top of Google and filter profitable traffic to your site. With a refreshingly straightforward approach, you'll learn to do SEO yourself or with your in-house team and finally uncover SEO's greatest secret - it's not rocket science! With step-by-step tutorials, a SEO blueprint, and a curated guide for 2020 onwards, this book is perfect for entrepreneurs, business owners, and anyone in need of technical SEO knowledge.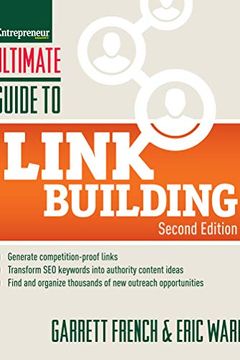 Learn how to master the art of link building with the Ultimate Guide to Link Building by marketing expert Garrett French. Cut through the noise of search engine optimization and online citations to attract quality links, boost traffic to your website, and earn more sales. Follow French's step-by-step instructions to employ a link-building campaign that will give your business a higher ranking on search engines and encourage a link-building mindset company-wide. Whether you're a novice or expert, this guide has everything you need to make every link work for you.
Master the art of safe and effective SEO with this book! Learn how to build 100% white-hat backlinks, avoid Google penalties, and rank high in search engine results. Written by a search engine veteran, this book covers all the important ranking factors and strategies for creating quality content, building authority, and getting high-quality backlinks. Stay up-to-date with Google's ever-changing algorithms and increase your domain authority with this battle-tested, white hat SEO guide.
Search Engine Optimization All-In-One for Dummies by Bruce Clay
Product-Led SEO by Eli Schwartz
SEO Made Simple 2020 by Michael H Fleischner
The Psychology of a Website by Matthew Capala
SEO for Small Business Part 1 by Joseph Stevenson
SEO - The Sassy Way of Ranking #1 in Google - when you have NO CLUE! by Gundi Gabrielle
Local SEO Secrets by Roger Bryan
Effective Seo and Content Marketing by Nicholas Papagiannis
Landing Page Optimization by Tim Ash, Maura Ginty, Rich Page
Everybody Writes by Ann Handley
The Comic Guide to Search Engine Optimization (SEO) by Amit Bhawnani
SEO Mastery by Graham Fisher
Content Machine by Dan Norris
Own Your Niche by Stephanie Chandler
My SEO Workbook by Akilah A Thompkins-Robinson
The SEO Way by Tarek Riman
Keywords for SEO by Itamar Blauer, Andy Woolley
The Best Damn Website & eCommerce Marketing Optimization Guide, Period! (The Best Damn Books) by Stoney deGeyter
The SEO Book by Levin Granitza, Ebner Tobias
Ecommerce SEO by Traian Neacsu
Entity SEO by Dixon Jones
Inbound Marketing and SEO by Rand Fishkin
Seo Step-By-Step by Caimin Jones
Faster, Smarter, Louder by Aaron Agius
Wordpress Search Engine Optimization by Michael David
Search Engine Optimization by Kristopher B. Jones
One Million Followers by Brendan Kane