Best Adult Coloring Books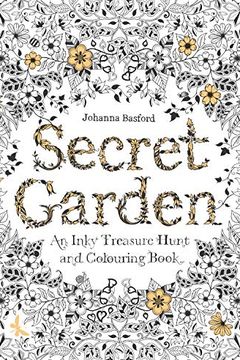 Secret Garden
An Inky Treasure Hunt and Coloring Book (For Adults, mindfulness coloring)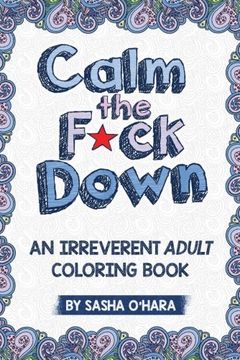 **WARNING: THIS BOOK CONTAINS MATURE LANGUAGE! IT IS NOT INTENDED FOR CHILDREN!**Calm the F*ck Down is the perfect way to unwind and relax for those with a subversive and irreverent sense of humor. Color the things you can't say.•Twenty-one single sided adult coloring pages•Two color test pages.•Illustrations range from moderate to complex detail.•...
Now you can color along with the master, Thomas Kinkade, Painter of Light. And what could be better than coloring these paintings with the timeless magic of classic Disney stories and their captivating characters?In this unique coloring book, sixty-three paintings from Thomas Kinkade's Disney Dreams Collection are presented in color across from the...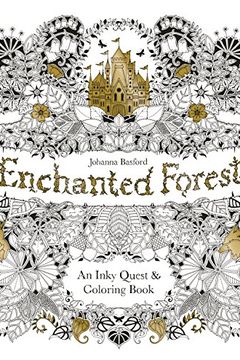 Enchanted Forest
An Inky Quest and Coloring book (Activity Books, Mindfulness and Meditation, Illustrated Floral Prints)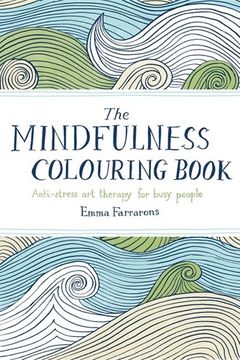 Lost Ocean
An Inky Adventure and Coloring Book for Adults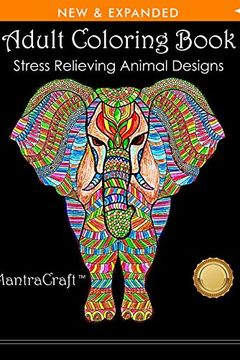 50 ANIMAL PATTERNS TO COLOR | From MantraCraft, creator of best-selling coloring books. This adult coloring book from MantraCraft has over 50 animal patterns and provides hours of stress relief through creative expression. It features small and big creatures from forests, oceans, deserts and grasslands. Designs range in complexity and detail from b...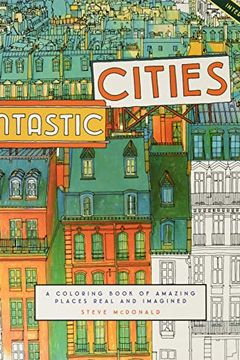 Fantastic Cities
A Coloring Book of Amazing Places Real and Imagined (Adult Coloring Books, City Coloring Books, Coloring Books for Adults)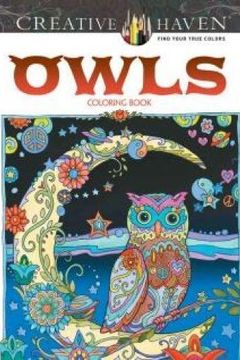 More than 30 fanciful full-page illustrations depict the wisest of birds in lush, tapestry-like settings. Covered with flowers, paisleys, and other fun-to-color patterns, these adorable owls are posed against vivid backgrounds brimming with intricate designs. Pages are perforated and printed on one side only for easy removal and display. Specially ...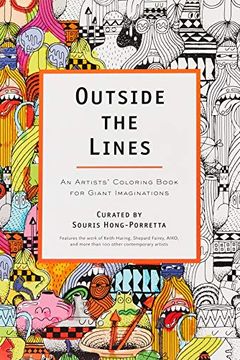 Splendid Cities by Rosie Goodwin
Drinking Animals Coloring Book by Caffeinestar Publishing
Dover Creative Haven Art Nouveau Animal Designs Coloring Book by Marty Noble
The Splat by Random House
Unicorns Are Jerks by Theo Nicole Lorenz
Color Me Calm by Lacy Mucklow
Vogue Colors A to Z by Valerie Steiker
Harry Potter Coloring Book by Scholastic
Coloring Books for Adults Relaxation by Coloring Books For Adults Relaxation
Adult Coloring Book by Cindy Elsharouni
Color Me Stress-Free by Lacy Mucklow
Adult Coloring Book by Blue Star Coloring
Adult Coloring Book by Blue Star Coloring
Animal Kingdom by Millie Marotta
The Official A Game of Thrones Coloring Book by George R. R. Martin
Boss Babes by Michelle Volansky
Wine Life by Papeterie Bleu
Posh Adult Coloring Book by Andrews McMeel Publishing
The 1990s Coloring Book by James Grange
100 Flowers by Jade Summer
Make Life Your Bitch by John T
Sloth coloring book for adults by Adult Coloring Book
Coloring Book for Adults by Happy Coloring
Animorphia by Kerby Rosanes
Good Vibes Coloring Book by Thaneeya McArdle
Art of Coloring by Disney Book Group
50 Mandalas for Stress-ReliefAdult Coloring Book by Zeny Creative
Adult Coloring Book by Two Hoots Coloring
Married Life by Papeterie Bleu
Secret Paris by Zoe de Las Cases
Classic Coloring by Abrams Noterie
Just Add Color by Jenn Ski
Good Days Start With Gratitude by Pretty Simple Press
The Anatomy Coloring Book by Wynn Kapit
An Inspirational Colouring Book For Everyone by Papeterie Bleu
World of Flowers by Johanna Basford
You Are Fucking Awesome by Charla Bond
Doodle Invasion by Zifflin
The Time Chamber by Daria Song
Art of Coloring Star Wars by Disney Book Group
Tattoo Coloring Book For Adults by Tattoo Coloring Press
Dinosaurs with Jobs by Theo Lorenz
Tattoo Coloring Book by Oliver Munden
Cheer the F*ck Up by Caitlin Peterson
Hidden Garden by Jade Summer
Color this Book by Abbi Jacobson
Creative Haven Wild Animal Portraits Coloring Book by Llyn Hunter
Colour Me Good Ryan Gosling by Mel Elliott
Alexander Girard Coloring Book by Alexander Girard
Magical Jungle by Johanna Basford
Hand Lettering for Relaxation by Amy Latta
50 Shades Of Bullsh*t by Alex Fleming
Fucking Adorable - Cute Critters with foul Mouths by Heather Land
Stoner Coloring Book for Adults by Edwina MC Namee
People of Walmart.com Adult Coloring Book by Andrew Kipple
Go F*ck Yourself, I'm Coloring by Alex Fleming
100 Amazing Patterns by Jade Summer
Creative Haven Creative Cats Coloring Book by Marjorie Sarnat
Pusheen Coloring Book by Claire Belton
Creative Coloring Inspirations by Valentina Harper
Adult Coloring Books by Coloring Books For Adults
Netter's Anatomy Coloring Book by John T. Hansen
Pop Manga Coloring Book by Camilla D'Errico
Millie Marotta's Tropical Wonderland by Millie Marotta
Swear Word Coloring Book by Rainbow Coloring
Creative Haven Entangled Coloring Book by Angela Porter
The Official Bob's Burgers Coloring Book by Loren Bouchard
The Official Outlander Coloring Book by Diana Gabaldon
The Beauty of Horror 1 by Alan Robert
Tropical World by Millie Marotta
The Time Garden by Daria Song
Creative Haven Art Deco Fashions Coloring Book by Ming-Ju Sun
The Dr. Seuss Coloring Book by Dr. Seuss
Bun B's Rapper Coloring and Activity Book by Shea Serrano
Color Me Happy by Lacy Mucklow
The Magical City by Lizzie Mary Cullen
Color Therapy by Cindy Wilde
Buffy the Vampire Slayer Adult Coloring Book by Joss Whedon
100 Animals by Jade Summer
Animals Coloring Book for Adults by Happy Coloring
Adult Coloring Book by Two Hoots Coloring
Paris Street Style by Zoe de Las Cases
Stress Less Coloring - Mandalas by Jim Gogarty
Adult Coloring Books by Adult Coloring Book World
Wild Savannah by Millie Marotta
Doodlers Anonymous Epic Coloring Book by Rony Tako
Creative Haven SeaScapes Coloring Book by Patricia J. Wynne
Secret Tokyo by Zoe de Las Cases