Alex Banayan Books
ALEX BANAYAN is the youngest bestselling business author in American history. The Third Door chronicles Banayan's seven-year quest to uncover the definitive mindset of exponential growth and success. The book is a #1 international bestseller, has been translated into more than a dozen languages, and has been acclaimed by The New York Post as "a joy to read."Named to Forbes' 30 Under 30 list and Business Insider's "Most Powerful People Under 30," Banayan is his generation's leading expert in high-performance and personal development, having been featured in Fortune, CNBC, Businessweek, The Washington Post, MSNBC, Fox News, and NBC News.An acclaimed keynote speaker, Banayan has presented the Third Door™ framework to corporate leadership teams around the world, including Apple, Google, Nike, IBM, Snapchat, Salesforce, Delta Airlines, Mastercard, and Disney.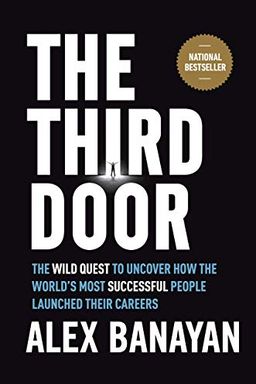 The Third Door
The Wild Quest to Uncover How the World's Most Successful People Launched Their Careers
Alex Banayan
-
2018-06-05
Discover the secret to success with The Third Door, an inspiring book that takes readers on a wild journey to meet some of the world's most successful people, from Bill Gates to Lady Gaga. Author Alex Banayan recounts his adventures of hacking Warren Buffett's shareholders meeting and chasing Larry King through a grocery store. Through one-on-one interviews with icons like Maya Angelou and Jessica Alba, Banayan uncovers a common thread: they all took the Third Door. Life is like a nightclub, with three ways in - the main entrance, the VIP entrance, and the Third Door. Get inspired to find your own way in with The Third Door.