Dr. Seuss Books
Theodor Seuss Geisel was born 2 March 1904 in Springfield, MA. He graduated Dartmouth College in 1925, and proceeded on to Oxford University with the intent of acquiring a doctorate in literature. At Oxford he met Helen Palmer, who he wed in 1927. He returned from Europe in 1927, and began working for a magazine called Judge, the leading humor magazine in America at the time, submitting both cartoons and humorous articles for them. Additionally, he was submitting cartoons to Life, Vanity Fair and Liberty. In some of his works, he'd made reference to an insecticide called Flit. These references gained notice, and led to a contract to draw comic ads for Flit. This association lasted 17 years, gained him national exposure, and coined the catchphrase "Quick, Henry, the Flit!" In 1936 on the way to a vaction in Europe, listening to the rhythm of the ship's engines, he came up with And to Think That I Saw It on Mulberry Street, which was then promptly rejected by the first 43 publishers he showed it to. Eventually in 1937 a friend published the book for him, and it went on to at least moderate success. During WW II, Geisel joined the army and was sent to Hollywood. Captain Geisel would write for Frank Capra's Signal Corps Unit (for which he won the Legion of Merit) and do documentaries (he won Oscar's for Hitler Lives and Design for Death). He also created a cartoon called Gerald McBoing-Boing which also won him an Oscar. In May of 1954, Life published a report concerning illiteracy among school children. The report said, among other things, that children were having trouble to read because their books were boring. This inspired Geisel's publisher, and prompted him to send Geisel a list of 400 words he felt were important, asked him to cut the list to 250 words (the publishers idea of how many words at one time a first grader could absorb), and write a book. Nine months later, Geisel, using 220 of the words given to him published The Cat in the Hat, which went on to instant success. In 1960 Bennett Cerf bet Geisel $50 that he couldn't write an entire book using only fifty words. The result was Green Eggs and Ham. Cerf never paid the $50 from the bet. Helen Palmer Geisel died in 1967. Theodor Geisel married Audrey Stone Diamond in 1968. Theodor Seuss Geisel died 24 September 1991. Also worked under the pen name:Theo Le Sieg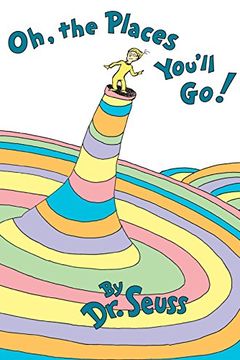 Discover a timeless graduation speech from Dr. Seuss in this classic book. With his signature humor and illustrations, Dr. Seuss tackles the ups and downs of life's "Great Balancing Act" while encouraging readers to tap into their own potential for success. Whether you're starting out in nursery school or completing a PhD, this book offers a wealth of wisdom. With just 56 pages, it's the perfect send-off for anyone entering the maze of life.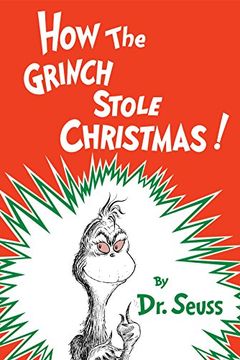 This beloved Christmas classic tells the heartwarming story of the Grinch, who lives just north of Who-ville and hates Christmas. But when the Christmas spirit touches him, he learns the true meaning of the holiday. This perfect read-along for all ages is a mainstay of the holidays, and the inspiration for an annual holiday tradition encouraging readers to do good deeds. Join the Grinch-mas cheer and grow your heart three sizes with this ultimate Dr. Seuss Christmas classic!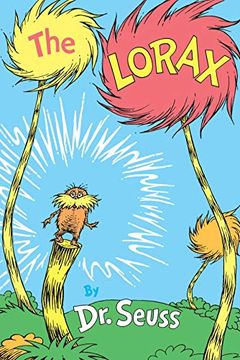 The Lorax
Dr. Seuss
-
1998-02-24

(first published in 1971)
A timeless cautionary tale about the dangers of mindless progress and the importance of preserving our natural beauty. With his character the Lorax, Dr. Seuss delivers an important message about caring for the earth that is as relevant today as it was when it was first published. This mini-edition is the perfect on-the-go read for those passionate about Arbor Day, Earth Day, and living a sustainable lifestyle.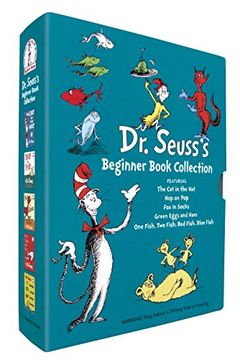 Experience the joy of Dr. Seuss's Beginner Book Collection, featuring "The Cat in the Hat," "One Fish Two Fish Red Fish Blue Fish," "Green Eggs and Ham," "Hop on Pop," and "Fox in Socks." This timeless gift is perfect for young children and adults alike, and makes a great addition to any library. Explore the whimsical world of Dr. Seuss and begin a lifetime of adventure through reading.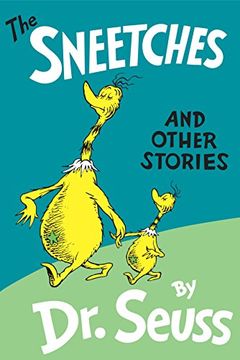 Discover the power of acceptance and empathy with Dr. Seuss and the Sneetches in this collection of four energetic stories. Perfect for children growing up in a multicultural world, these tales challenge the idea that we have to look or be the same to find common ground. With Seuss's signature rhymes and humor, this classic must-have is a great gift for all ages.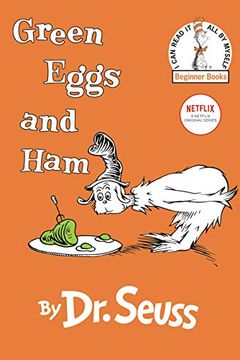 This beloved children's story by Dr. Seuss follows Sam-I-am as he persistently asks if you like green eggs and ham. The book features signature rhymes and characters, challenging readers to try the unusual snack in various locations and with different friends. A classic of children's literature, this book is perfect for beginner readers with its simple language and illustrations that help them understand the story.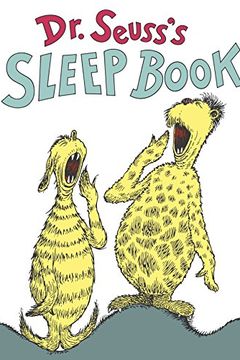 Get ready to catch a case of the yawns with this classic rhyming picture book. Dr. Seuss weaves a sleep-tastic tale about a small bug and a big yawn that spreads and spreads, while the Audio-Telly-o-Tally-o Count adds up every sleeping creature from the country of Keck to the Castle of Krupp. With hilarious illustrations, this book is perfect for bedtime reading and guaranteed to have even the most reluctant readers and sleepers laughing and snoring. Have you added it to your reading list?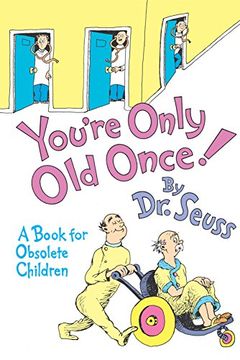 This humorous picture book by the beloved Dr. Seuss is a comical ode to aging. Follow along as the main character navigates their visit to the Golden Years Clinic for Spleen Readjustment and Muffler Repair, laughing along as they encounter the poking and prodding that comes with being labeled a senior citizen. While Dr. Seuss is known for his children's books, this one is perfect for Seuss fans of advanced age. A great gift for retirement, birthdays, or holidays.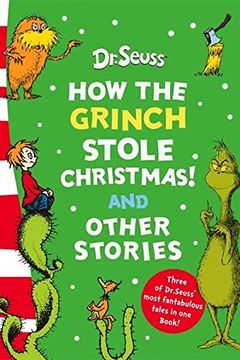 A festive collection of beloved stories by the renowned Dr. Seuss! Follow the Grinch as he tries to ruin Christmas and be swept away by the hilarious tales of Did I Ever Tell You How Lucky You Are? and The Lorax. With the perfect blend of comical stories, whimsical illustrations, and catchy rhymes, this book is a must-have for any Dr. Seuss fan, especially during the holiday season.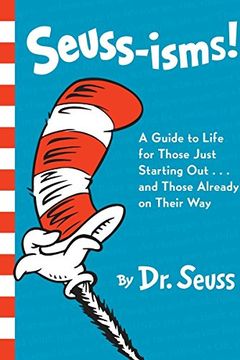 "Seuss-isms" is a collection of wise and witty quotes from the beloved children's author, Dr. Seuss. Covering topics from equality and justice to the art of eating, this book is a perfect gift for anyone who needs a reminder that life can be complicated, but Dr. Seuss has simple yet sage advice to offer. Share with generations and personalize with the "gift tag" included on the jacket flap.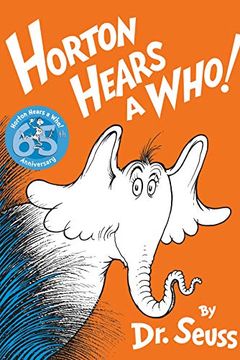 I Can Read With My Eyes Shut! by Dr. Seuss
My Many Colored Days by Dr. Seuss
Horton Hatches the Egg by
The Butter Battle Book by Dr. Seuss
The Cat in the Hat by Dr. Seuss
I Wish That I Had Duck Feet by Theo. LeSieg
One Fish Two Fish Red Fish Blue Fish by Dr. Seuss
The Big Green Book of Beginner Books by Dr. Seuss
Mr. Brown Can Moo! Can You? by Dr. Seuss
Yertle the Turtle and Other Stories by Dr. Seuss
Little blue box of brigth and early by Dr. Seuss
Did I Ever Tell You How Lucky You Are? by Dr. Seuss
Ten Apples Up On Top! by Theo. Lesieg
The Foot Book by Dr. Seuss
Fox in Socks by Dr. Seuss
What Pet Should I Get? by Dr. Seuss
Dr. Seuss's ABC by Dr. Seuss
Six by Seuss by Dr. Seuss
My Book About Me by Dr. Seuss
Bartholomew and the Oobleck by Dr. Seuss
What Was I Scared Of? by Dr. Seuss
I Had Trouble In Getting To Solla Sollew by Dr. Seuss
Oh Say Can You Say? by Theodor Seuss Geisel
Dr. Seuss's Book of Colors by Dr. Seuss
There's a Wocket in My Pocket! by Dr. Seuss
Hooray For Diffendoofer Day! by Dr Seuss, Jack Prelutsky, Lane Smith
The Secret Art of Dr. Seuss by Theodor Geisel
Great Day for Up by Dr. Seuss
McElligot's Pool by dr. seuss
I Am Not Going to Get up Today! by Dr. Seuss
Thidwick the Big-Hearted Moose by Dr. Seuss
The Bippolo Seed and Other Lost Stories by Dr. Seuss
The Shape of Me and Other Stuff by Dr. Seuss
Dr. Seuss's Second Beginner Book Collection by Dr. Seuss
A Classic Treasury by Dr. Seuss
My Big Book of Beginner Books About Me by Various
A Hatful of Seuss by Dr. Seuss
Oh, Baby! Go, Baby!by Seuss by Seuss
The 500 Hats of Bartholomew Cubbins by Dr. Seuss
The BIG Blue Book of Beginner Books by Dr. Seuss
Sneetches are Sneetches by Dr. Seuss
Dr. Seuss's Book of Animals by Dr. Seuss
The Best Of Dr. Seuss by Dr. Seuss
One Fish, Two Fish, Three, Four, Five Fish by Dr. Seuss
On Beyond Zebra! by Dr. Suess
The Cat in the Hat Songbook by Dr. Seuss
Horton and the Kwuggerbug and more Lost Stories by Dr. Seuss
Dr. Seuss's You Are Kind by Dr. Seuss
The Wonderful World of Dr. Seuss by Dr Seuss
If I Ran the Circus by Dr. Seuss
Dr. Seuss's Horse Museum by Dr. Seuss
Dr. Seuss's Beginner Book Classics/Dr. Seuess's Abc/Green Eggs and Ham/Cat in the Hat/One Fish Two Fish Red Fish Blue Fish/Fox in Socks (I Can Read It) by Dr. Seuss
Yertle the Turtle and Gertrude McFuzz ( Collins Colour Cubs Mini Format ) by Dr. Seuss
There's a Zamp in My Lamp! by Dr. Seuss
The Cat In The Hat's Great Big Flap Book by Dr. Seuss
Dr. Seuss's Sleep Softly Book by Dr. Seuss
Wet Pet, Dry Pet, Your Pet, My Pet by Dr. Seuss
All Aboard the Circus McGurkus by Dr. Seuss
The Cat in the Hat and other stories by Dr. Seuss
Dr. Seuss on the Loose by Dr. Seuss
Dr. Seuss Pops Up by Dr. Seuss
Dr. Seuss's Horton Collection Boxed set by Dr. Seuss
I Can Draw It Myself by Me, Myself (Coloring Book) by
I Am Not Going to Read Any Words Today! by Dr. Seuss
Dr. Seuss's Book Of Bedtime Stories by DR SEUSS
The Grinch Pops Up! by Dr. Seuss
Dr. Seuss's Fabulous Fables by Dr. Seuss
Reading Is Fun With Dr. Seuss (Dr Seuss) by Dr. Seuss
Dr. Seuss's Clever Creatures by Dr Seuss
Fox in Socks and Other Stories by Dr Seuss
Oh, The Things You Can Count From 1-10 by Dr Seuss
The Tough Coughs As He Ploughs the Dough by Dr. Seuss
And to Think That I Saw It on Mulberry Street by Dr. Seuss
Marvin K. Mooney Will You Please Go Now! by Dr. Seuss
The King's Stilts by Dr. Seuss
Daisy-Head Mayzie by Dr. Seuss
Gerald McBoing Boing by Dr. Seuss
I Can Lick 30 Tigers Today! and Other Stories by Dr. Seuss
Hunches in Bunches by Dr. Seuss
If I Ran the Zoo by Dr Seuss
Oh, the Thinks You Can Think! by Dr. Seuss
The Cat in the Hat Comes Back by Dr. Seuss
Scrambled Eggs Super! by Dr. Seuss
The Cat's Quizzer by Dr. Seuss
Wacky Weather by Dr Seuss
The Seven Lady Godivas by Dr. Seuss
Nutty Numbers by Dr. Seuss
Crazy Colours by Dr. Seuss
Amazing Animals by Dr. Seuss
Happy Birthday to You! by Dr. Seuss