Best Books on Keto Diet
The ketogenic diet is a high-fat, adequate-protein, low-carbohydrate diet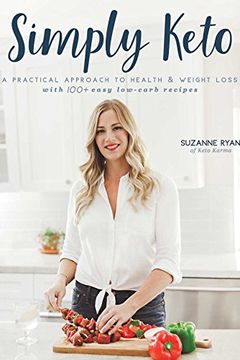 Simply Keto
A Practical Approach to Health & Weight Loss, with 100+ Easy Low-Carb Recipes (1)
Get ready to transform your life with Simply Keto. Author Suzanne Ryan shares her lifelong struggle with weight and how the ketogenic diet helped her lose over 100 pounds in just one year. With helpful advice, grocery shopping tips, FAQs, and over 100 easy recipes, this isn't just a cookbook - it's a portal into Suzanne's life and dieting success. Discover how to start and thrive with the ketogenic lifestyle in Simply Keto.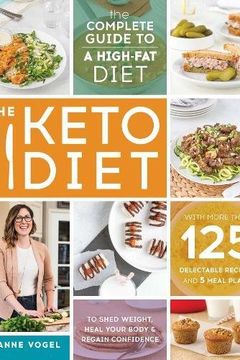 The Keto Diet
The Complete Guide to a High-Fat Diet, with More Than 125 Delectable Recipes and 5 Meal Plans to Shed Weight, Heal Your Body, and Regain Confidence
Gluten-free, grain-free, and dairy-free chocolate lovers rejoice! Discover 80 decadent and healthy dessert and breakfast recipes in "The Paleo Chocolate Lovers Cookbook" by Kelly Brozyna. Using coconut and nut flours, dates and stevia instead of sugar, indulge in recipes like Chocolate Crepe Cake with Coconut Cream and White Chocolate Truffles. Learn about the importance of organic and fair trade chocolate, plus FAQs and a side-by-side comparison of dark chocolate bars.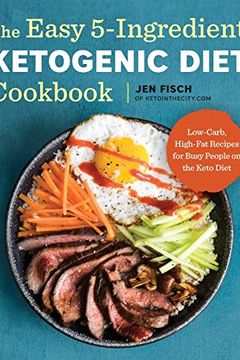 Discover stress-free and time-saving keto-friendly recipes in The Easy 5-Ingredient Ketogenic Diet Cookbook by Jen Fisch. With 125 recipes that require only 5 ingredients, one pot, and 30 minutes or less to make, you can easily stick to the ketogenic diet on even your busiest days. From breakfast to snacks, each recipe is designed to fit your lifestyle and schedule. Choose from dishes like Broccoli-Cheese Soup, Garlic Butter Shrimp, and Berry Cheesecake Fat Bomb. Keep keto easy with this essential cookbook.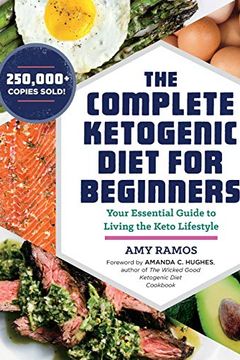 Learn how to lose weight and keep it off with The Complete Ketogenic Diet for Beginners. This guide is packed with simple recipes and straightforward guidance to help you start --- and stick to ---the ketogenic diet. This low-carb, high-fat diet is backed by the Mayo Clinic and proven to be an effective way to achieve weight loss. The book includes a complete two-week meal plan and 75 easy-to-make recipes, many with five main ingredients or less. With The Complete Ketogenic Diet for Beginners, you can enjoy favorites like Raspberry Cheesecake and Chicken-Bacon Burgers, while shedding unwanted pounds.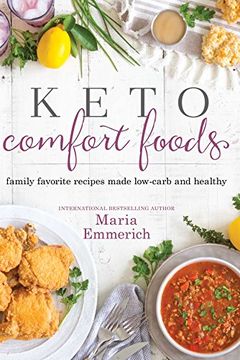 "Keto Comfort Foods" is a cookbook that helps those following the ketogenic diet indulge in their favorite comfort foods guilt-free. Maria Emmerich, an international bestselling author, proves that nourishing your body with wholesome foods doesn't mean sacrificing the joy of good food. With over 170 tantalizing recipes, readers can indulge in classic comfort dishes like cinnamon rolls and steak fries in a healthy, keto-friendly way. Maria uses clever substitutions for sugar and gluten-containing additives, making these comforting home-cooked meals safe and delicious for everyone in the family.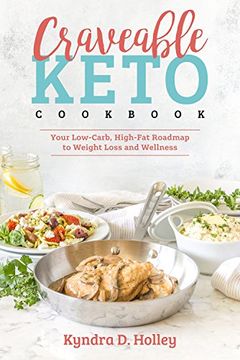 Craveable Keto
Your Low-Carb, High-Fat Roadmap to Weight Loss and Wellness (1)
Discover delicious low-carb, high-fat recipes that will make you feel fantastic in Craveable Keto. With over 130 whole-food recipes, meal plans, and shopping lists, Kyndra Holley's cookbook is the ultimate guide to healthy living. From Everything Bagel Dogs to Dill Pickle Brined Fish and Chips, each recipe calls for fresh, accessible ingredients, and Kyndra's distinct flavor for the flavorful. Learn how to stock your perfect low-carb/keto pantry and master low-carb baking secrets. Break free from food ruts and embrace your inner master chef with Craveable Keto.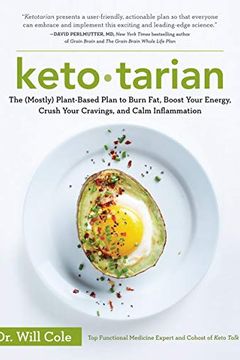 Ketotarian
The (Mostly) Plant-Based Plan to Burn Fat, Boost Your Energy, Crush Your Cravings, and Calm Inflammation
Ketotarian combines the fat-burning power of a ketogenic diet with the clean, green benefits of plant-centric eating. Dr. Will Cole offers a plant-based twist on the popular keto diet, with more than 75 recipes that are vegetarian, vegan, or pescatarian. This game-changing program aims to reduce inflammation, achieve weight loss, and improve brain function, without the antibiotics and hormones found in most keto diets. With expert tips and advice for going and staying Ketotarian, this book is perfect for anyone seeking peak physical and mental performance.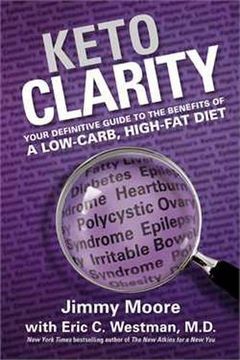 Keto Clarity
Your Definitive Guide to the Benefits of a Low-Carb, High-Fat Diet
This book explores the therapeutic benefits of a ketogenic diet, combining customized carbohydrate restriction, moderating protein intake, and real food-based fats to improve a wide range of diseases. The authors explain the emergence of this nutritional approach in scientific literature and provide expert interviews, step-by-step guides, real-life success stories, and emerging science on various chronic health problems such as ADHD, Parkinson's, migraines, and more. This book aims to shift paradigms on diet and health forever.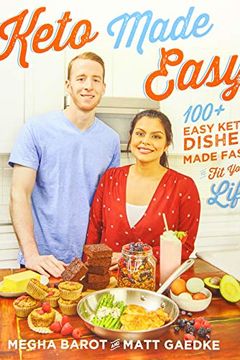 Transform your favorite dishes into keto-friendly meals with Keto Made Easy. Written by food bloggers Matt Gaedke and Megha Barot, this book provides easy, cost-effective, and delicious ways to re-create non-keto recipes. From Crab Mac 'n' Cheese to Yellow Curry, each recipe is simple and satisfying for the whole family. Say goodbye to missing out on classics and exotic new ingredients with Keto Made Easy!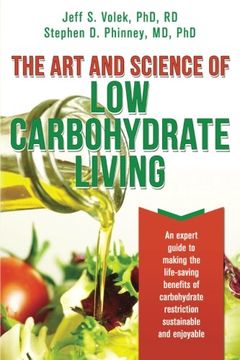 "Discover the science behind low carbohydrate diets with this expert guide, written by two New York Times bestselling authors with over 50 years of clinical experience. Learn about the life-saving benefits of carbohydrate restriction and how to make it sustainable and enjoyable. With over 200 research papers and chapters on the topic, this is the definitive resource for healthcare professionals and diet enthusiasts alike."
Southern Keto by Natasha Newton
Easy Dairy-Free Ketogenic Recipes by Maria Emmerich
The Keto Reset Diet by Mark Sisson
The Obesity Code by Jason Fung
The 30-Day Ketogenic Cleanse by Maria Emmerich
Keto Restaurant Favorites by Maria Emmerich
Keto Diet Cookbook For Beginners by Elizabeth Cunningham
Easy Keto Dinners by Carolyn Ketchum
The One Pot Ketogenic Diet Cookbook by Liz Williams
Big Book of Ketogenic Baking by Carolyn Ketchum
Easy Keto Desserts by Carolyn Ketchum
Keto Quick Start by Diane Sanfilippo
Sweet and Savory Fat Bombs by Martina Slajerova
Keto Snacks by Lindsay Boyers
The Keto Reset Diet Cookbook by Mark Sisson
Keto Cooking with Your Instant Pot by Karen S. Lee
The Diabetes Code by Jason Fung
Fat Chance by Robert H. Lustig
The Wholesome Yum Easy Keto Cookbook by Maya Krampf
Keto Cookbook For Beginners by Gerald Hubbell
Keto Answers by Anthony Gustin
The Everyday Ketogenic Kitchen by Carolyn Ketchum
The Art and Science of Low Carbohydrate Performance by Jeff S. Volek
Quick & Easy Ketogenic Cooking by Maria Emmerich
Keto Living Day by Day by Kristie Sullivan
Eat Rich, Live Long by Ivor Cummins
Keto Instant Pot by Maria Emmerich
The Keto Instant Pot Cookbook by Urvashi Pitre
The Keto Guido Cookbook by Vinny Guadagnino
Keto Fat Bombs, Sweets & Treats by Urvashi Pitre
Dr. Colbert's Keto Zone Diet by Don Colbert
DIRTY, LAZY, KETO by Stephanie Laska
Vegan Keto by Liz MacDowell
Keto Meal Prep by Liz Williams
The DIRTY, LAZY, KETO Cookbook by Stephanie Laska
21-Day Ketogenic Diet Weight Loss Challenge by Rachel Gregory Cns Atc Cscs
Rocco's Keto Comfort Food Diet by Rocco Dispirito
Keto Diet Cookbook by Josh Axe
Bacon & Butter by Celby Richoux
Keto Bread by Faith Gorsky
The Wicked Good Ketogenic Diet Cookbook by Amanda C. Hughes
The Hormone Fix by Anna Cabeca Do Obgyn
The Beginner's KetoDiet Cookbook by Martina Slajerova
The Ketogenic and Modified Atkins Diets, 6th Edition by Eric Kossoff
Easy Ketogenic Diet Slow Cooking by Amy Ramos
Keto Slow Cooker & One-Pot Meals by Martina Slajerova
New Atkins for a New You by Eric C. Westman
The Keto Crock Pot Cookbook by Loretta Wagner