Best Cocktail Books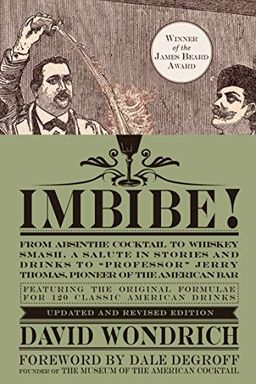 David Wondrich's Imbibe! is the ultimate guide to classic American cocktails. With over 100 never-before-published recipes for punches, cocktails, sours, and more, along with detailed historical and mixological notes, this engaging book pays tribute to Jerry Thomas, the father of the American bar. The newly updated edition includes the origins of the first American drink, the Mint Julep, and provides more detail about 19th-century spirits, making it an essential read for anyone who appreciates the timeless appeal of a well-made drink and the uniquely American history behind it.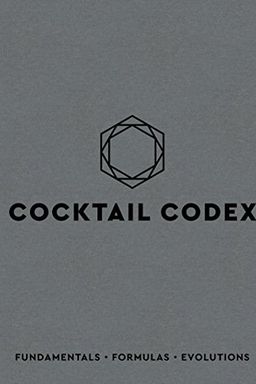 "Master the Art of Mixology with Cocktail Codex" - Written by the experts behind the legendary Death & Co cocktail bar, this book offers a unique approach to crafting perfect beverages. Learn the six "root recipes" that serve as the foundation for all classic cocktails and discover what makes each one unique. With the tools provided in this comprehensive guide, both novice and experienced bartenders alike will be able to execute classic drinks and create original ones with ease. Winner of multiple awards, including the James Beard and Tales of the Cocktail Spirited Award, Cocktail Codex is a must-read for any cocktail enthusiast.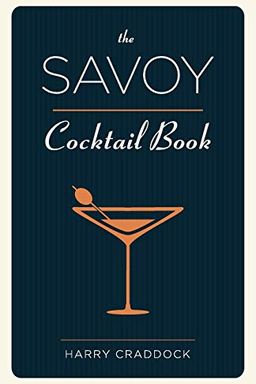 Indulge in the sophisticated world of London's high society in the 1930s with this iconic cocktail book. With over 750 classic cocktail recipes, this compendium covers everything about drinks, from creation to consumption. The updated edition even features new cocktails, including the Millennium Cocktail. Perfect for classy cocktail enthusiasts, this book captures the spirit of the times and is a must-have for recreating the tradition of sophisticated soirees at The Savoy time and time again.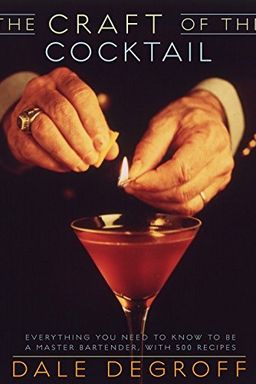 Discover the art of cocktails with this comprehensive and entertaining guide. From the history of spirits to setting up a bar and mastering key techniques, The Craft of the Cocktail covers it all with anecdotes, vintage recipes, fast facts, and 500 unique concoctions. Written by the world's premier mixologist, this bible of the bar is not just a recipe book, but a full-blown treatment on the subject. With stunning color photographs and a striking design, this is the only cocktail cookbook you'll ever need.
Revolutionize your expectations of what a drink can look and taste like with Liquid Intelligence. This book by Dave Arnold, the creative force behind New York City's high-tech bar, Booker & Dax, takes readers behind the counter and into the lab where Arnold and his collaborators investigate temperature, carbonation, sugar concentration, and acidity to enhance classic cocktails and invent new ones. Featuring over 120 recipes and practical tips for preparing drinks, Liquid Intelligence offers a problem-solving approach to cocktail making grounded in creativity and attentive observation. Don't miss out on this ultimate standard for bartenders and drink enthusiasts alike.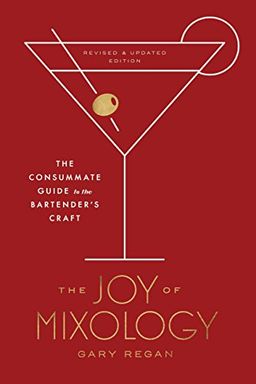 Discover the ultimate cocktail bible with The Joy of Mixology! This updated edition, revised by renowned cocktail expert Gary Regan, features countless new recipes and fascinating insights on the recent drink-making revival. With Regan's system for categorizing drinks and his special perspective on the cocktail revolution, this book is perfect for both novice and professional bartenders. The Joy of Mixology is the one reference you'll need to become a true mixology master.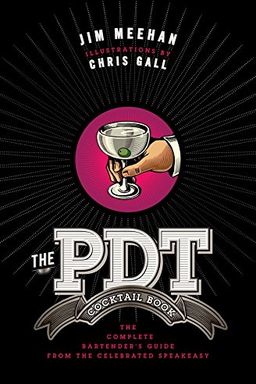 A beautifully illustrated and crafted bar book by NYC's most meticulous bartender, featuring 304 cocktail recipes and behind-the-scenes secrets from one of the city's hottest bars. Recalling the era of hidden Prohibition speakeasies, the book offers a glimpse into PDT's innovative design, tools, techniques, food, and spirits. Perfect for those looking to learn how to mix and serve sensational cocktails at home.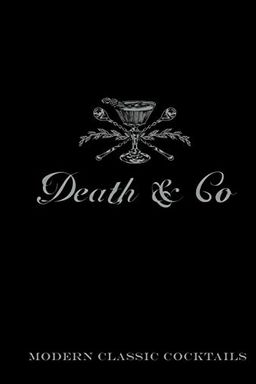 Discover the art of contemporary craft cocktails with this definitive guide from the world-renowned bar, Death & Co. This influential bar has won numerous industry awards and is a must-visit destination for serious drinkers and cocktail enthusiasts. The book features over 500 innovative and sought-after cocktail recipes, along with a complete guide to buying and using spirits and mastering key bartending techniques. Filled with beautiful photography, charts, and colorful essays, Death & Co sets the pace for mixologists around the world.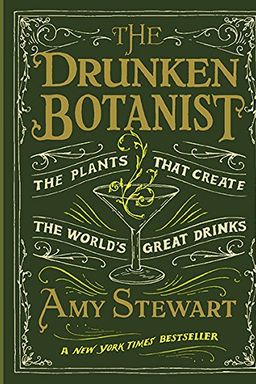 Discover the fascinating origins of your favorite drinks in "The Drunken Botanist." This book delves into the plant-based history and science behind over 150 plants, flowers, trees, and fruits that have been fermented and distilled to make some of the world's most unique drinks. Learn how molasses played a role in American independence and how rye, a common ingredient in spirits, contains a precursor to LSD. With vintage-style illustrations, growing tips, and over fifty drink recipes, this book is the perfect mix of education and fun for gardeners and cocktail lovers.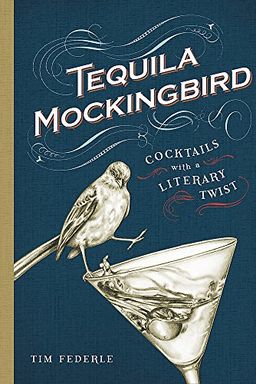 This cocktail book is the perfect treat for book lovers who love a good drink! With 65 delicious drink recipes inspired by some of the most beloved literary classics, you can sip on a Pitcher of Dorian Grey Goose, a Love in the Time of Kahlua, or even an Are You There, God? It's Me, Margarita. The book also includes bar bites, drinking games, and whimsical illustrations. Get ready to drink like an English major, whether you have a B.A. in English or not!
Meehan's Bartender Manual by Jim Meehan
Tiki by Shannon Mustipher
Jerry Thomas' Bartender's Guide by Jerry Thomas
The Joy of Mixology by Gary Regan
The Dead Rabbit Drinks Manual by Sean Muldoon
Bitters by Brad Thomas Parsons
Booze & Vinyl by André Darlington
The 12 Bottle Bar by David Solmonson
Spirits of Latin America by Ivy Mix
Drinking Like Ladies by Misty Kalkofen
The NoMad Cocktail Book by Leo Robitschek
The Ultimate Bar Book by Mittie Hellmich
3-Ingredient Cocktails by Robert Simonson
I'm Just Here for the Drinks by Sother Teague
The Dead Rabbit Mixology & Mayhem by Sean Muldoon
The New Craft of the Cocktail by Dale Degroff
Smuggler's Cove by Martin Cate
The Flavor Bible by Andrew Dornenburg
Beachbum Berry's Potions of the Caribbean by Jeff Berry
Amaro by Brad Thomas Parsons
Speakeasy by Jason Kosmas
The Fine Art of Mixing Drinks by David A. Embury
The Waldorf Astoria Bar Book by Frank Caiafa
Last Call by Brad Thomas Parsons
Batch Cocktails by Maggie Hoffman
Spirits, Sugar, Water, Bitters by Derek Brown
Boozehound by Jason Wilson
Fancy AF Cocktails by Ariana Madix
And a Bottle of Rum by Wayne Curtis
How to Cocktail by America'S Test Kitchen
Shrubs by Michael Dietsch
Good Drinks by Julia Bainbridge
The Essential Cocktail by Dale Degroff
The One-Bottle Cocktail by Maggie Hoffman
Cocktails Made Simple by Brian Weber
The Essential New York Times Book of Cocktails by Steve Reddicliffe
The Martini Cocktail by Robert Simonson
The Mini Bar by Editors of Punch
The Japanese Art of the Cocktail by Masahiro Urushido
Apéritif by Rebekah Peppler
Good Things to Drink with Mr Lyan and Friends by Ryan Chetiyawardana
Drinking Distilled by Jeffrey Morgenthaler
The Gentleman's Companion by Charles Henry Baker
The Craft Cocktail Party by Julie Reiner
The Cocktail Guy by Rich Woods
Session Cocktails by Drew Lazor
The Old Waldorf-Astoria Bar Book by Albert S Crockett
The New Cocktail Hour by André Darlington
Gone with the Gin by Tim Federle
The Vegetarian Flavor Bible by Karen Page
Regarding Cocktails by Sasha Petraske
Free the Tipple by Jennifer Croll
American Whiskey, Bourbon & Rye by Clay Risen
The Way of Whisky by Dave Broom
Hacking Whiskey by Aaron Goldfarb
The Old-Fashioned by Robert Simonson
To Have and Have Another Revised Edition by Philip Greene
Difford's Guide to Cocktails #12 by Simon Difford
Camp Cocktails by Emily Vikre
Drink What You Want by John Debary
A Drinkable Feast by Philip Greene
The Essential Bar Book by Jennifer Fiedler
Whiskey by Michael Dietsch
The Art of the Bar by Jeff Hollinger
Cocktails Across America by Diane Lapis
The Cocktail Chronicles by Paul Clarke
Gather Around Cocktails by Aaron Goldfarb
The Modern Cocktail by Mr. Matt Whiley
Cocktails with a Twist by Kara Newman
Great Northern Cocktails by Shawn Soole
Ted Saucier's Bottoms Up [With Illustrations by Twelve of America's Most Distinguished Artists] by Ted Saucier
Aperitif by Kate Hawkings
Barflies and Cocktails by Harry McElhone
Moonshine by John Schlimm