Best Drawing Books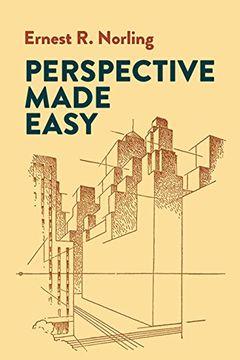 Learn the simple rules of perspective drawing with this essential guide. Using over 250 line drawings and clear discussions of horizon, vanishing point, and eye level, you'll master the skills necessary to create successful perspective drawings. This nontechnical, easy-to-follow book makes mastering perspective accessible to artists of all skill levels. An essential addition to any artist's bookshelf.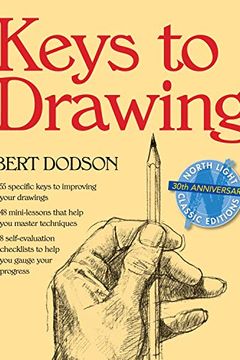 Learn to draw confidently and like an artist with the practical guidance of Bert Dodson's Keys to Drawing. This complete drawing system includes fifty-five "keys" and numerous practice exercises, perfect for beginners or anyone looking to improve their skills. With the ability to render any subject, you'll learn how to restore, focus, map, intensify, and free your hand motion. Additionally, the book covers conveying illusions of light, depth, and texture, as well as stimulating creativity through "creative play."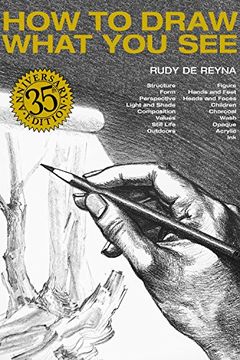 Learn how to draw realistically with How to Draw What You See. This classic how-to book has been helping artists for 35 years and is a must-have for anyone who wants to truly capture the world around them. Rudy de Reyna's methods teach you to recognize the basic shape of an object and draw it with accuracy, from cubes and cylinders to cones and spheres. Join the generations of artists who have mastered this technique and bring your drawings to life with How to Draw What You See.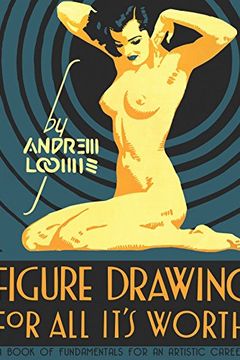 "Master the art of figure drawing and elevate your skills to new heights with a timeless classic recommended by renowned artists like Alex Ross. Andrew Loomis' Realist style and expertise in figure drawing make his instruction books a must-read for any serious artist. Titan brings back his classic titles with the first facsimile edition of 'Figure Drawing,' a true gem for art students and professionals alike."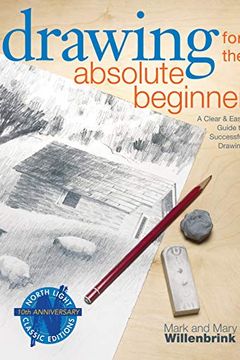 Learn how to draw in a realistic style with "Drawing for the Absolute Beginner". From choosing materials to tricky perspective, this book covers everything you need to know. 24 mini-demos lead up to 9 full step-by-step demos, helping you build your skills and confidence. Perfect your strokes with fun, hands-on exercises that start with simple subjects like coffee mugs and progress to more challenging matter like animals and portraits. Discover the pure joy of drawing - it's never too early or too late!
Learn to draw like a pro with this bestselling beginning drawing book. The revised 15th anniversary edition includes new sections on drawing in 3D and travel sketching, and updated materials with contemporary design. Based on the successful courses and workshops of author and art instructor Claire Watson Garcia, this book takes beginners through a series of progressive lessons in sketching and rendering. With step-by-step methodology and examples of student works, novices will learn to make competent and eloquent renderings of still lifes, portraits, and more. Discover new techniques for drawing-on-the-go and drawing in three dimensions with this reinvigorated classic.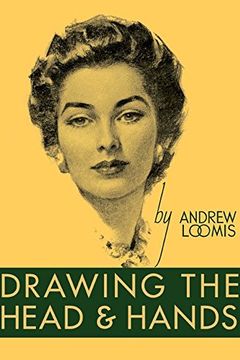 This book by the esteemed illustrator Andrew Loomis covers the topics of figure drawing and clean Realist style, making it a must-have for any artist seeking to improve their skills. Drawing the Head and Hands is part of a series of art instruction books that have never been outdone, and is now available in a facsimile edition after being out of print for decades. Loomis is widely respected by other artists, including painter Norman Rockwell and comics superstar Alex Ross.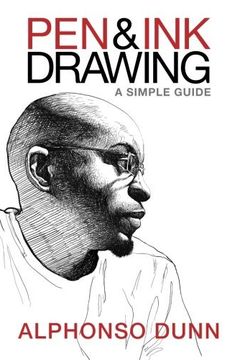 Discover the essential aspects of pen and ink drawing with this comprehensive guide! Explore fundamental techniques such as stroke properties, pen control, shading, and texture creation. Plus, uncover the secret Line of Balance in a dedicated chapter. Whether you're a beginner or an experienced artist, this book will intrigue and inspire your pen and ink creations.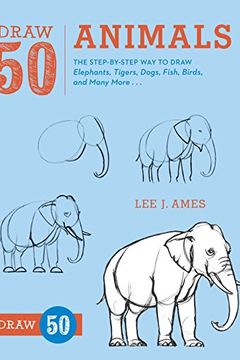 Draw 50 Animals
The Step-by-Step Way to Draw Elephants, Tigers, Dogs, Fish, Birds, and Many More...
Draw 50 Animals is an easy-to-follow drawing book for both children and adults to improve their technical skills and learn to draw a variety of animal subjects. With step-by-step instructions, Lee J. Ames teaches aspiring artists to bring 50 different animals to life, from lions and giraffes to penguins and sharks. His unique approach has inspired creativity in millions and proven successful for all levels of artists.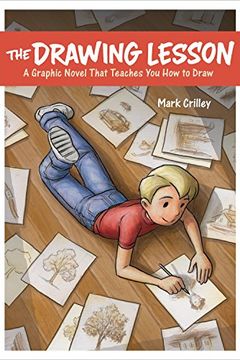 Learn the fundamentals of drawing through the entertaining and easy-to-follow story of an aspiring young artist and his reluctant mentor. This instructional art book takes the form of a narrative graphic novel and includes sidebars with drawing exercises for readers to try themselves. With over 10 million fans of his YouTube drawing instruction videos, Mark Crilley pairs his strengths as a graphic novelist and art instructor to create a one-of-a-kind art instruction experience.
Step-By-Step Drawing Book by Fiona Watt
The Natural Way to Draw by Kimon Nicolaides
How to Draw 101 Animals by Dan Green
Framed Ink by Marcos Mateu-Mestre
The Master Guide to Drawing Anime by Christopher Hart
Mastering Manga with Mark Crilley by Mark Crilley
The How to Draw Book for Kids by Jacy Corral, Modern Kid Press
Successful Drawing by Andrew Loomis
The Manga Fashion Bible by Christopher Hart
The Vilppu Drawing Manual by Glenn Vilppu
Light for Visual Artists Second Edition by Richard Yot
Beginner's Guide to Creating Manga Art by Steven Cummings
A Foundation Course in Drawing by Peter Stanyer
How to Draw by Scott Robertson
All the Things by Alli Koch
Anatomy for the Artist by Sarah Simblet
How to Draw People by Barbara Soloff Levy
Art for Kids by Kathryn Temple
The Practice and Science of Drawing by Harold Speed
Classic Human Anatomy by Valerie L. Winslow
My First I Can Draw by Thomas Nelson
Drawing People by Barbara Bradley
Doodle Adventures by Mike Lowery
How to Draw a Unicorn and Other Cute Animals with Simple Shapes in 5 Steps by Lulu Mayo
Traveling With Your Sketchbook by Joyce Ryan
How to Draw Cool Stuff by Catherine V Holmes
The Drawing Book for Kids by Woo! Jr. Kids Activities
I'm NOT just a Scribble... by Diane Alber
You Can Draw in 30 Days by Mark Kistler
How to Draw Deluxe Edition (Pokémon) by Maria S. Barbo, Tracey West
How to Draw Pokemon by Tracey West
Drawing Lessons from the Great Masters by Robert Beverly Hale
The Laws Guide to Nature Drawing and Journaling by John Muir Laws
The Artist's Complete Guide to Drawing the Head by William Maughan
Ed Emberley's Complete Funprint Drawing Book by Ed Emberley
WORKBOOK by Betty Edwards
Charles Bargue by Gerald Ackerman
The Skillful Huntsman by Khang le
Beginning Drawing Atelier by Juliette Aristides
Manga for the Beginner by Christopher Hart
Human Anatomy for Artists by Eliot Goldfinger
Secrets to Drawing Realistic Faces by Carrie Stuart Parks
Follow the Directions & Draw It All by Yourself! by Kristin Geller, Kristen Geller
Draw Manga Faces for Expressive Characters by Hosoi Aya
Figure Drawing Atelier by Juliette Aristides
You Will be Able to Draw Faces by the End of This Book by Jake Spicer
Drawing Manga Animals, Chibis, and Other Adorable Creatures by J. C. Amberlyn
Adventures in Lettering by Dawn Nicole Warnaar
Essential Techniques of Landscape Drawing by Suzanne Brooker
Tangle Art and Drawing Games for Kids by Jeanette Nyberg
Manga Crash Course by Mina Petrovic
Designing Creatures and Characters by Marc Taro Holmes
The Urban Sketching Handbook by Uma Kelkar
Animal Drawing by Charles Knight
Learn to Draw and Paint by Curtis Tappenden