Best Paranormal Romance Books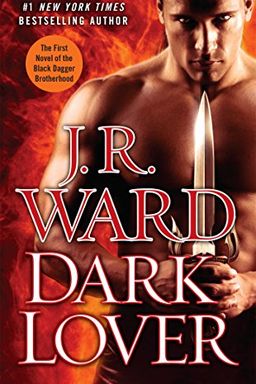 Dark Lover
The First Novel of the Black Dagger Brotherhood
This thrilling book follows the leader of the last purebred vampire clan as he seeks revenge against the slayers who killed his parents centuries ago. When his most trusted fighter is killed, he must protect the orphaned half-breed daughter who is unaware of her heritage. A woman named Beth is drawn into their world, her body restless and her curiosity piqued. She becomes entangled in their dangerous story, and her connection with the leader threatens to consume them both.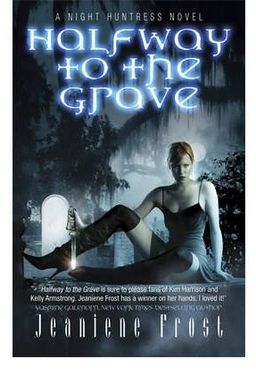 In Halfway to the Grave, a half-vampire named Catherine Crawfield hopes to find and kill her father, who ruined her mother's life. But when she's captured by a bounty hunter named Bones, she's forced into an unlikely partnership. Together, they navigate the underworld of the undead and strike a deal: Bones will help Cat find her father if she agrees to train with him. As they work together, Cat begins to question whether all vampires are as bad as she once thought. But when they're hunted by killers, Cat must choose a side, and Bones proves to be just as tempting as any other man.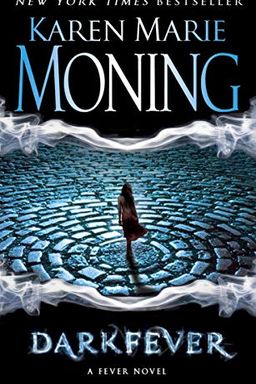 This thrilling book follows MacKayla, a sidhe-seer who sees the Fae, on her mission to discover the truth about her sister's murder. With dangerous powers she didn't know she possessed and a mysterious team shadowing her, she must navigate the perilous realm of the Fae and find a powerful book before it falls into the wrong hands. Will she be able to survive and save both worlds from destruction?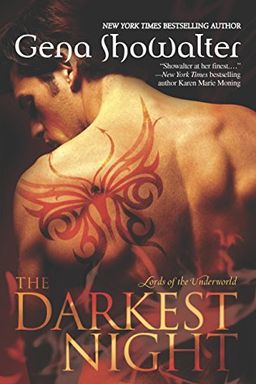 A woman seeks help from men with supernatural abilities and falls for their dangerous and seductive member, Maddox. As they give in to their passion, they edge closer to destruction and a soul-shattering test of love. Brace yourself for a thrilling ride with the irresistibly powerful Lords of the Underworld in this new paranormal series by Gena Showalter.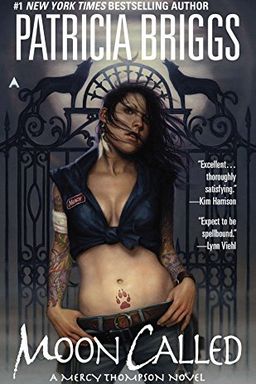 Follow Mercedes Thompson, a walker with the ability to shift into a coyote at will, as she navigates life in a world populated by werewolves, gremlins, and vampires. As a skilled Volkswagen mechanic, Mercy finds herself fixing a bus for a vampire, and her connections to the supernatural lead her into dangerous territory. Dive into a world that looks a lot like ours but is filled with creatures that go bump in the night in this thrilling read.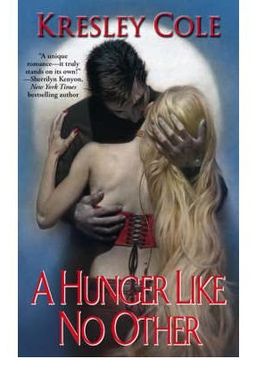 This sizzling supernatural series follows the unlikely soul mate pairing of a fierce werewolf and a bewitching vampire. After enduring years of torture from the vampire horde, the leader of the Lykae Clan is shocked to discover his predestined mate is a vampire. Meanwhile, the small and sheltered Emmaline Troy sets out to uncover the truth about her deceased parents, but finds herself claimed as a mate by a powerful Lykae. As their desire deepens, an ancient evil from her past threatens to test the boundaries of their passion, turning a gentle beauty into the warrior she was born to be.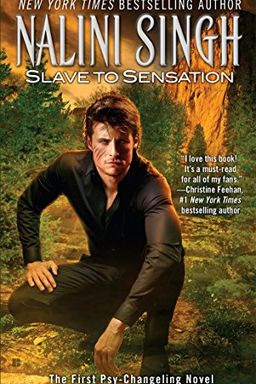 In a world that denies emotions, Sascha must conceal the feelings that brand her as flawed to avoid "rehabilitation". But changeling Lucas Hunter is fascinated by her and they soon find themselves caught between their conflicting worlds. Will they sacrifice everything for a taste of darkest temptation?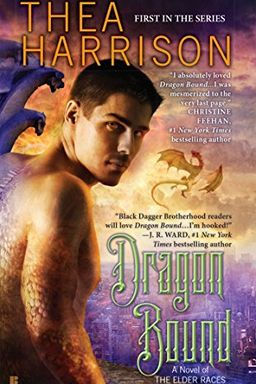 A half-human, half-Wyr woman finds herself entangled with a powerful dragon after being blackmailed into stealing from his hoard. As they explore their passionate desires, she struggles with the idea of becoming his slave. Will she be able to repay her debt without losing herself in the process?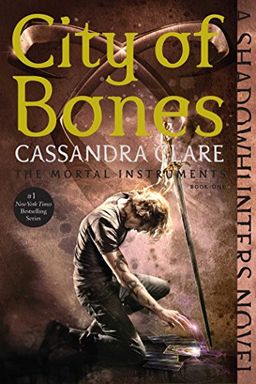 "City of Bones" follows a 15-year-old girl, Clary Fray, who witnesses a murder committed by three teenagers with strange tattoos and weapons that disappear into thin air. Clary is soon drawn into the world of Shadowhunters, warriors whose mission is to rid the earth of demons. Alongside the charismatic but prickly Jace, Clary must unravel the mystery of her sudden Sight and her mother's disappearance. This gripping urban fantasy novel is filled with action, romance, and supernatural secrets.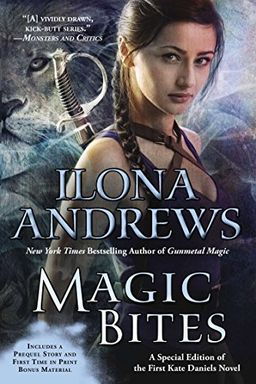 Magic Bites
A Special Edition of the First Kate Daniels Novel
Mercenary Kate Daniels lives in a world where magic ebbs and flows, giving rise to unpredictable paranormal problems. When her guardian is murdered, Kate becomes embroiled in a power struggle between rival factions in Atlanta's magical circles. With necromancers who can control vampires and a clan of shapechangers both vying for control, Kate must find the killer before she becomes a target herself. This special edition includes a wealth of background information on the world of Kate Daniels, including quizzes and character descriptions.
Dark Prince by Christine Feehan
A Shade Of Vampire by Bella Forrest
Burn Bright by Patricia Briggs
Fantasy Lover by Sherrilyn Kenyon
Cry Wolf by Patricia Briggs
Angels' Blood by Nalini Singh
Pleasure Unbound by Larissa Ione
Guilty Pleasures Anita Blake, Vampire Hunter by Laurell K. Hamilton
Fighting Destiny by Amelia Hutchins
Harley Merlin and the Secret Coven by Bella Forrest
Kiss of Midnight by Lara Adrian
Vampire Academy Box Set 1-6 by Richelle Mead
High Voltage by Karen Marie Moning
Natural Witch by K. F. Breene
Once Burned by Jeaniene Frost
Bound Spirit by H. A. Wills
Vampire Academy 10th Anniversary Edition by Richelle Mead
The Cruel Prince by Holly Black
Shattered Silence by Anna Carven
Tiger's Curse by Colleen Houck
Feral Sins by Suzanne Wright
Dead Witch Walking by Kim Harrison
Inception by Bianca Scardoni
You Slay Me by Katie MacAlister
Some Girls Bite by Chloe Neill
House of Darken by Jaymin Eve
Succubus Blues by Richelle Mead
Shunned by Steffanie Holmes
Kiss of Steel by Bec McMaster
Dark Stranger The Dream by I. T. Lucas
A Court of Mist and Fury by Sarah J. Maas
The Nightingale by Kristin Hannah
Caged Wolf by Caroline Peckham, Susanne Valenti
House of Earth and Blood by Sarah J. Maas
Harry Potter And The Sorcerer's Stone by J. K. Rowling
Ride Steady by Kristen Ashley
Iron and Magic by Ilona Andrews
Lola & the Millionaires by Kathryn Moon
The Black Jewels by Anne Bishop
Pack Darling Part One by Lola Rock
Wolf Rain by Nalini Singh
The Autumn Republic by Brian McClellan
The Rage of Dragons by Evan Winter
The Simple Wild by K. A. Tucker
The Vampire Chronicles by Anne Rice
Archer's Voice by Mia Sheridan
Coyote's Mate by Lora Leigh
Void by CoraLee June, Raven Kennedy
Gypsy Blood by Kristy Cunning
It Ends with Us by Colleen Hoover
Playing with Monsters by Amelia Hutchins
The Magic of Discovery by Britt Andrews
Shadow Wings by Raye Wagner
Mists of The Serengeti by Leylah Attar
Don't Rush Me by Jackie May
Styxx by Sherrilyn Kenyon
Acheron by Sherrilyn Kenyon
White Hot by Ilona Andrews
Lover Awakened by J. R. Ward
Demon from the Dark by Kresley Cole
Archangel's Heart by Nalini Singh
Shadowfever by Karen Marie Moning
The Darkest Surrender by Gena Showalter
Dreamfever by Karen Marie Moning
Pleasure of a Dark Prince by Kresley Cole
Dance with the Devil by Sherrilyn Kenyon
Wicked Abyss by Kresley Cole
Lover Avenged by J. R. Ward