Sort by
Latest Recommendations First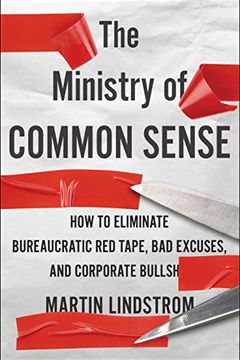 "Empower yourself and your company to cut through red tape and bureaucratic bottlenecks with this humorous and practical guide. Writer Martin Lindstrom shares a five-step plan for restoring logic and sanity to the workplace with real-life examples and ingenious solutions. A must-read for executives, managers, and office workers, The Ministry of Common Sense will leave you entertained and empowered."
@badkitty747 @MartinLindstrom Awesome. You'll definitely enjoy Martin's book - he's got some great (and amusing) examples of how he boosted customer empathy among exec teams.     
–
source
Uncover the secrets of why we buy in this groundbreaking book. Neuromarketing expert Martin Lindstrom shares the findings of his three-year, seven-million-dollar study that delves into the subconscious minds of 2,000 volunteers from around the world. His shocking results reveal that gruesome health warnings on cigarette packages actually make smokers want to light up, subliminal advertising still surrounds us, and "cool" brands like iPods trigger our mating instincts. Filled with entertaining stories about well-known brands, this book is a fascinating and captivating journey into the mind of today's consumer.
Read one of the first truly #bestselling neuromarketing books to discover the truth and lies behind what we buy. Buyology by @MartinLindstrom is a must from The Ultimate Reading List     
–
source