Sort by
Latest Recommendations First
Explore the philosophical themes in the hit show Better Call Saul, a prequel to Breaking Bad with Better Call Saul and Philosophy: I Think Therefore I Scam. This collection of 23 essays delves deeper into the story and characters, offering thought-provoking insights on topics like good and evil, personal identity, and the ethics of the war on drugs. Follow the journey of the central character, Jimmy McGill, a natural con artist turned lawyer for a drug cartel, and his strange relationship with his brother, Charles McGill. Whether you're a fan of the show or interested in exploring philosophical concepts, this volume is a must-read.
@JoshHeter @DiscussingFilm I've said this- I read it and enjoyed but couldn't understand why it had to be written before the series was completed. That said, I've already given the book to friends of mine with a strong recommendation. Some really great stuff in there. Excited for more     
–
source
"Alive at the End of the World" by an award-winning author tackles everyday apocalypses with haunted poems that glint with laughter. With verve, wit, and elegant craft, it explores the public and private betrayals of life as we know it and strips away American artifice to reveal the intimate and collective grief bearing down on us all. Jones confronts the everyday perils of white supremacy, identifying routine moments that open chasms of hurt. Through cultural icons and personal experiences, he ushers readers toward the realization that the end of the world is already here.
Wow- just finished my copy of ALIVE AT THE END OF THE WORLD by @theferocity and "stunned" doesn't even begin to describe the feeling. You will never read a book that so beautifully describes, in only twelve chapters, "The Snyder Cut"- a cinematic phenomenon from 2021… (1/14)     
–
source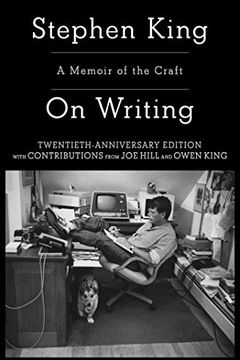 Learn from one of the bestselling authors of all time in this revealing and practical master class. Part memoir, part guide, On Writing shares Stephen King's experiences, habits, and convictions that shaped his work. With advice grounded in vivid memories from childhood to near-fatal accident, this book is perfect for any aspiring writer or fan of a great story.
@LaddEveritt On Writing. My second favorite book of all time, next to The Toy Collector by @JamesGunn, the guy who made me want to become a writer in the first place.     
–
source