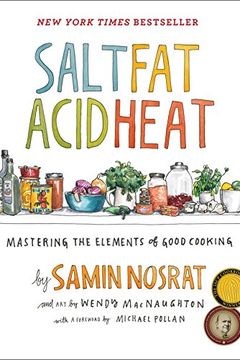 Discover a revolutionary approach to cooking with Salt, Fat, Acid, Heat. Chef and writer Samin Nosrat teaches readers how to master just four elements of cooking – salt, fat, acid, and heat – in order to create delicious meals with any ingredients, anywhere, at any time. With charming narratives, illustrated walkthroughs, and 100 essential recipes, this book demystifies the world of flavor and teaches a new generation of cooks how to confidently make better decisions in the kitchen. With a foreword by Michael Pollan, Salt, Fat, Acid, Heat is destined to be a classic – and just might be the last cookbook you'll ever need.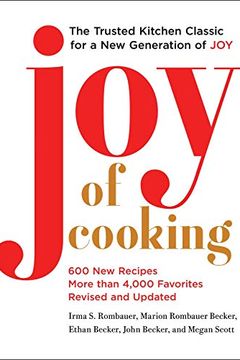 Discover the ultimate kitchen bible with over 20 million copies in print! This thoroughly revised and expanded edition of Joy of Cooking, developed by Irma Rombauer's great-grandson and his wife, features more than 600 new recipes, updated ingredients and techniques, and comprehensive information on cooking with modern tools. Find old favorites like banana bread and chocolate chip cookies, alongside new dishes like chana masala and caramelized tamarind tempeh. With a diverse array of ingredients and techniques, this cookbook is perfect for both experienced and novice cooks.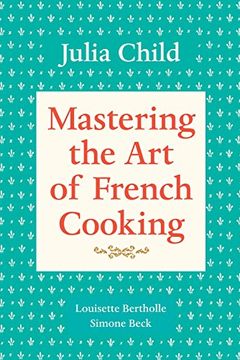 French cuisine enthusiasts will love this definitive cookbook, featuring over 500 delicious recipes that range from historic Gallic masterpieces to seemingly artless dishes. Home cooks of all levels will appreciate the accessible and logical sequence of themes and variations that breakdown the classic foods of France. With over 100 illustrations and a focus on key recipes that form the backbone of French cookery, this cookbook is essential for any kitchen looking to broaden its culinary repertoire.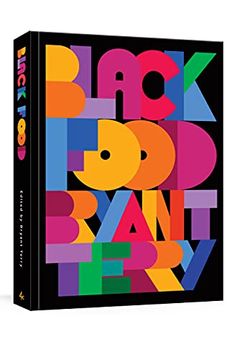 Black Food
Stories, Art, and Recipes from Across the African Diaspora [A Cookbook]
Explore the rich and diverse world of Black foodways with this groundbreaking book curated by food activist Bryant Terry. With contributions from over 100 cultural luminaries, including moving essays and original poetry, Black Food is a joyful celebration of Black culture that interweaves food, experience, and community. Get ready to discover sentimental favorites and fresh takes on classic dishes from around the globe, paired with visually stunning artwork and a curated musical playlist. This is more than just a cookbook; it's a spiritual and visual feast for the soul.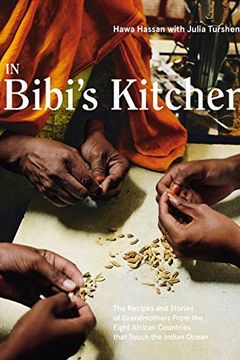 In Bibi's Kitchen
The Recipes and Stories of Grandmothers from the Eight African Countries that Touch the Indian Ocean [A Cookbook]
Transport yourself to eastern Africa as renowned food writer Julia Turshen and Somali chef Hawa Hassan take you on a culinary journey, gathering 75 flavorful recipes and stories from grandmothers ("bibis") in eight African nations. From Ma Shara's Ajemi Bread to Ma Vicky's Stewed Plantains with Beans and Beef, these dishes represent family, love, and tradition. With stunning on-location photography by Khadija Farah and food photography by Jennifer May, In Bibi's Kitchen offers a glimpse into the fascinating lives and legacies of these women.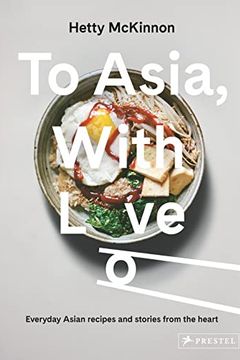 Explore the delicious and personal world of Asian cooking with a sumptuous collection of creative vegetarian recipes from a bestselling cookbook author. Discover traditional dishes prepared in non-traditional ways, and learn how to make your own kimchi, chilli oil, noodles, and dumplings using supermarket ingredients. Stock your modern Asian pantry, and celebrate the exciting and delicious possibilities of modern Asian cooking with powerful flavours created from simple, fresh ingredients.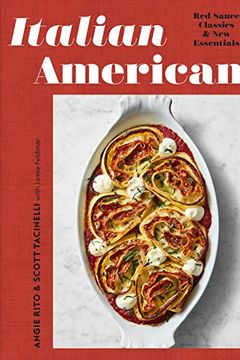 Experience the heart and soul of Italian-American cuisine with over 125 mouthwatering recipes from the renowned chefs of Michelin-starred Don Angie restaurant in NYC. Mixing traditional family favorites with innovative twists and influences from both cultures, Italian American takes you on a flavorful journey through warm and comforting dishes like pinwheel lasagna, saucy shrimp parm meatballs, and a cheesy gratin of broccoli rabe and sharp provolone. Whether you're looking to recreate a nostalgic family recipe or explore the modern flavors of Italian-American cooking, this cookbook is a must-have for any food lover.
Indulge in the mouth-watering comfort food of Bombay with Dishoom's cookbook. Discover the secrets behind their famous Bacon Naan Roll, Black Daal, Okra Fries, and more, as well as the perfect Masala Chai and cocktails. Alongside these delicious recipes are stories of south Bombay, taking you on a day-long tour of the city's most cherished spots. With stunning photography, this cookbook is a total delight and is sure to leave you longing for a taste of Bombay.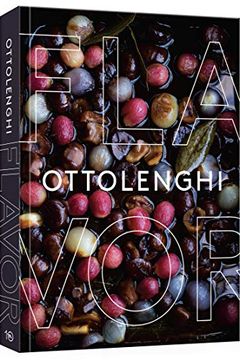 This plant-based cookbook by a New York Times bestselling author and an Ottolenghi Test Kitchen chef reveals how to create and amplify flavor through over 100 innovative recipes. The authors break down cooking into three key elements: process, pairing, and produce, showing how easy techniques like charring and infusing can change the way you cook. Their recipes include main courses, sides, desserts, and homemade condiments, with surefire hits like Stuffed Eggplant in Curry and Romano Pepper Schnitzels. Ideal for any night of the week, this book unlocks new depths of flavor for vegetable-forward cooking.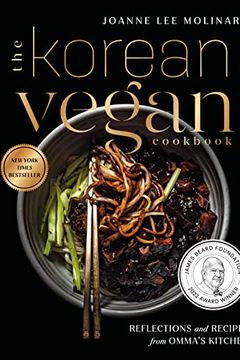 A delightful cookbook by Joanne Lee Molinaro, the online sensation @thekoreanvegan. Her debut cookbook features a compelling storytelling of her family's history and favorite Korean dishes, both traditional and reimagined. Despite the misconception that Korean cooking revolves around fish sauce and barbecue, she proves it to be fully plant-based, exceptionally flavorful, and totally Korean. It's a beautiful portrait of the immigrant experience with lessons that are universal. The Korean Vegan Cookbook celebrates how deeply food and our loved ones shape our identity.
Pasta by Missy Robbins, Talia Baiocchi
Life Is What You Bake It by Vallery Lomas
Mooncakes and Milk Bread by Kristina Cho
Baking with Dorie by Dorie Greenspan
Maida Heatter's Book of Great Desserts by Maida Heatter
Wild Sweetness by Thalia Ho
New Native Kitchen by Freddie Bitsoie, James O. Fraioli
Getaway by Renee Erickson
Mother Grains by Roxana Jullapat
I Dream Of Dinner (So You Don't Have To) by Ali Slagle
Flour Water Salt Yeast by Ken Forkish
The Food Lab by J. Kenji López-Alt
Food Network Magazine The Big, Fun Kids Cookbook by
Dessert Person by Claire Saffitz
The King Arthur Flour Baker's Companion by Abbie Gellman RD MS CDN
Six Seasons by Joshua McFadden
Baking by Dorie Greenspan
Cook, Eat, Repeat by Nigella Lawson
Cook This Book by Molly Baz
The Taste of Country Cooking by Edna Lewis
Sweet Potato Soul by Jenne Claiborne
How to Eat by Nigella Lawson
The Fannie Farmer Cookbook by Marion Cunningham
Cravings by Chrissy Teigen, Adeena Sussman
Dining In by Alison Roman
That Sounds So Good by Carla Lalli Music
The Rise by Marcus Samuelsson
The Violet Bakery Cookbook by Claire Ptak
Cooking at Home by David Chang, Priya Krishna
Good Housekeeping Kids Cook! by Good Housekeeping, Susan Westmoreland, Good Housekeeping
Pati Jinich Treasures of the Mexican Table by Pati Jinich
Dorie's Cookies by Dorie Greenspan
Cook Real Hawai'i by Sheldon Simeon, Garrett Snyder
Kid Chef Junior by Anjali Shah
James Beard's American Cookery by James Beard
Betty Crocker's Cookbook for boys & girls by montree
A Greener Way to Cook by Anna Jones
Vegetable Kingdom by Bryant Terry
Korean American by Eric Kim
Mi Cocina by Rick Martínez
Where Cooking Begins by Carla Lalli Music
Everyone's Table by Gregory Gourdet, JJ Goode EdD.
Cheryl Day's Treasury of Southern Baking by Cheryl Day
The Weekday Vegetarians by Jenny Rosenstrach
How to Eat a Peach by Diana Henry
Gullah Geechee Home Cooking by Emily Meggett
Bress 'n' Nyam by Matthew Raiford
The Modern Cook's Year by Anna Jones
Super Foods for Super Kids Cookbook by Noelle Martin MScFN RD
The Zuni Cafe Cookbook by Judy Rodgers
Colombiana by Mariana Velásquez
Eventide by Arlin Smith, Andrew Taylor, Mike Wiley, Sam Hiersteiner
My Mexico City Kitchen by Gabriela Camara
Chi Spacca by Nancy Silverton, Ryan DeNicola, Carolynn Carreno
Horn Barbecue by Matt Horn
The Cook You Want to Be by Andy Baraghani
A Good Day to Bake by Benjamina Ebuehi
My America by Kwame Onwuachi, Joshua David Stein
River Cafe London by Ruth Rogers, Sian Wyn Owen, Joseph Trivelli, Rose Gray
Food From Across Africa by Duval Timothy, Jacob Fodio Todd, Folayemi Brown
Turkey and the Wolf by Mason Hereford
La Grotta by Kitty Travers
How to Cook Everything by Mark Bittman
The Silver Palate Cookbook by Sheila Lukins
A Table by Rebekah Peppler
Simply Julia by Julia Turshen