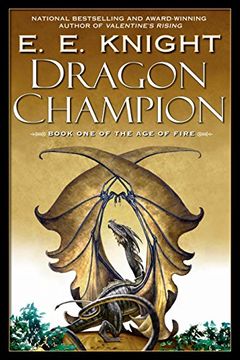 In Dragon Champion, readers follow the adventures of a rare scaleless gray dragon named Auron, who is the last hope for his kind. Auron faces danger at every turn, hunted by dwarves, elves, and humans. Knight weaves together themes of friendship, survival, and the search for identity in this highly entertaining fantasy novel. Fans of dragon-centric stories like Pern and Dragon Jousters will love this all-ages tale, but those expecting similar themes to Knight's Vampire Earth saga will be surprised by this dramatic departure.
In Scorched, Trinity Foxx and Connor Jacks must save the world from a fiery dragon war, but they're not the only ones after the dragon's egg. Caleb, Connor's twin brother, believes dragons are the key to saving mankind. Trinity must choose who to trust as the fate of the world hangs in the balance. This action-packed book is perfect for fans of dragons and time travel.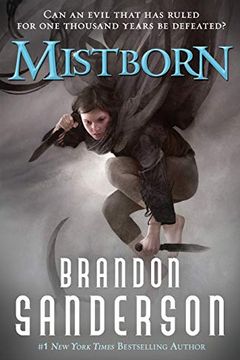 In a world where darkness reigns, criminal mastermind Kelsier teaches a young urchin the magic of metals. Their mission: to take down the tyrant Lord Ruler and restore life to their ash-filled land. But as their plan takes shape, the unlikely heroine is faced with a new distraction - a wealthy young man named Elend. Will their thieving crew succeed, or will evil continue to cloak the land?
Explore a mystical world through the eyes of an orphan named Pug, who studies under master magician Kulgan. Pug's unconventional magic may just be the key to saving two worlds from the clutches of dark beings. With elements of courage, love, and a battle between Order and Chaos, this novel will keep you on the edge of your seat.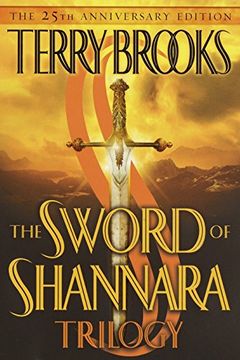 In a world torn apart by war, a half-human, half-elfin Shea Ohmsford had found peace - until Allanon appears to reveal that the long-dead Warlock Lord lives again. The Elves and the Races of Man face ancient evil with the dying Ellcrys tree of long-lost Elven magic threatening to unleash hordes of Demons on Earth. Only the Elfstones of Shannara could save them. As the Ildatch, immemorial book of evil spells, stirs to life, Allanon seeks the help of a descendant of Jerle Shannara to stop the evil from stalking the Four Lands once again.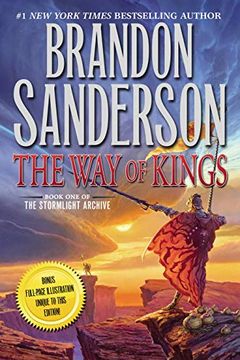 This epic fantasy tale transports readers to a world torn apart by war and storms. Once living in Heaven, mankind was forced to take root on Roshar after the Voidbringers captured their previous home. The Almighty gifted humans with powerful Shardblades to defend themselves against the Voidbringers, and led by ten orders of knights known as Radiants, they appear to have won the war. But centuries later, the world is still at war with itself, each king vying for more Shardblades to unite all of mankind under one throne. Join a young spearman in his journey to fight a war against an unknown enemy and uncover the forgotten secrets of this mysterious world.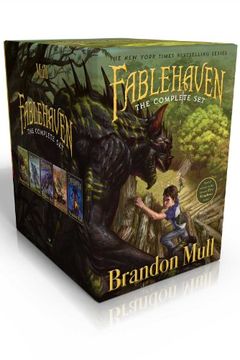 Fablehaven Complete Set
Fablehaven; Rise of the Evening Star; Grip of the Shadow Plague; Secrets of the Dragon Sanctuary; Keys to the Demon Prison
Step into the mystical world of Fablehaven with this complete set featuring 5 thrilling paperbacks. Join siblings Kendra and Seth as they navigate the secrets of a magical refuge for mythical creatures, battle against nefarious creatures, and unlock the mysteries of the Dragon Sanctuary. With action-packed adventures and captivating characters, this series is a must-read for fans of fantasy and enchanted worlds.
In this third installment of a bestselling series, George R.R. Martin delivers a modern fantasy masterpiece filled with magic, intrigue, romance, and adventure. The power struggle among the five contenders continues, but a supernatural army of the living dead threatens them all. As alliances are made and broken, the fate of the Seven Kingdoms hangs in the balance. Can they survive a veritable storm of swords?
Follow Kvothe's journey from a young boy in a traveling troupe to one of the most renowned magicians in his world. This captivating first-person narrative takes readers through the highs and lows of Kvothe's life, including his time as a near-feral orphan and his daring entrance into a legendary school of magic. Immerse yourself in the mind and body of a wizard in this thrilling novel.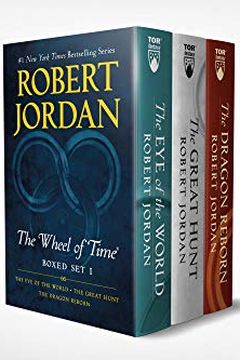 Wheel of Time
Books 1-3 (The Eye of the World, The Great Hunt, The Dragon Reborn)
Step into a world broken by power and shadow with this epic fantasy series box set. Follow our hero, Rand al'Thor, on his journey to retrieve the lost Horn of Valere in The Great Hunt, and watch as his destiny unfolds in The Dragon Reborn. Robert Jordan's Wheel of Time series has garnered a following rivaling that of Tolkien's Lord of the Rings - begin your journey today with this captivating box set.
A world of magic, mystery, intrigue, romance, and adventure awaits in this modern fantasy masterpiece. The first volume of an epic series, this tale of lords, ladies, soldiers, and sorcerers features the harsh Starks of Winterfell at its center, surrounded by supernatural forces massing beyond the protective Wall. As winter looms and conflict brews, characters traverse a land of extremes and undertake dangerous journeys, all for the ultimate prize: the game of thrones.
Men at Arms by Terry Pratchett
The Shepherd's Crown by Terry Pratchett
Going Postal by Terry Pratchett
The Autumn Republic by Brian McClellan
I Shall Wear Midnight by Terry Pratchett
A Dance with Dragons by George R. R. Martin
Guards! Guards! by Terry Pratchett
Small Gods by Terry Pratchett
A Hat Full of Sky by Terry Pratchett
Feet Of Clay by Terry Pratchett
The Harper Hall Trilogy by Anne McCaffrey
The Belgariad, Vol. 1 by David Eddings
The Hobbit by J. R. R. Tolkien
Reaper Man by Terry Pratchett
The Wee Free Men by Terry Pratchett
Thief of Time by Terry Pratchett
The Dragonriders of Pern by Anne McCaffrey
The Truth by Neil Strauss
Hogfather by Terry Pratchett
Witches Abroad by Terry Pratchett
Dragonsong by Anne McCaffrey
Monstrous Regiment by Stephen Briggs
The Blade Itself by Joe Abercrombie
White Dragon by Anne McCaffrey
Discworld Witches Collect Lords & Ladies by Terry Pratchett
The Eye of the World by Robert Jordan
Blood of Dragons by Robin Hobb
The Last Hero by Terry Pratchett
Pawn of Prophecy by David Eddings
Carpe Jugulum by Terry Pratchett
Wyrd Sisters by Terry Pratchett
A Feast for Crows by George R. R. Martin
The Skull Throne by Peter V. Brett
Dragon Haven by Robin Hobb
Maskerade by Terry Pratchett
Dragonsbane by Barbara Hambly
Earthsea Cycle Set by Ursula K le Guin
DRAGONS OF AUTUMN TWILIGHT [Dragons of Autumn Twilight ] BY Weis, MargaretMass Market Paperbound 01-Feb-2000 by Margaret Weis
Dragonquest by Anne McCaffrey
Dragonflight by Anne McCaffrey
The Amazing Maurice and His Educated Rodents by Terry Pratchett
Victory of Eagles by Naomi Novik
His Majesty's Dragon by Naomi Novik
Day Watch by Sergei Lukyanenko
Equal Rites by Terry Pratchett
Soul Music by Terry Pratchett
Dragon Avenger by E. E. Knight
Dragon Outcast by E. E. Knight
The Chronicles of Dragon Collection by Craig Halloran
Raising Steam by Terry Pratchett
Thud Ridge by Jack Broughton
Crucible of Gold [ CRUCIBLE OF GOLD) BY Novik, NaomiMar-06-2012 by Aa
Dragon Venom by Lawrence Watt-Evans
The Sapphire Eruption by I. M. Redwright
Dragon Weather by Lawrence Watt-Evans
The Color of Magic by Terry Pratchett
Dragonstar by Fantasy Flight Games
Unseen Academicals by Terry Pratchett
The Last Continent by Terry Pratchett
The Light Fantastic by Terry Pratchett
The Dragon Society by Lawrence Watt-Evans
Empire of Ivory by Naomi Novik
Night Watch by Sergei Lukyanenko
Moving Pictures by Terry Pratchett
Interesting Times, Vol. 1 by Matthew Storm
Dragon Keeper by Robin Hobb
Tooth and Claw by Jo Walton
Pyramids by Terry Pratchett
Gardens of the Moon by Steven Erikson
Sourcery by Terry Pratchett
Black Powder War by Naomi Novik
The Throne of Jade by Naomi Novik
The Sword of Shannara by Terry Brooks
Tongues of Serpents by Naomi Novik
The Iron Dragon's Daughter by Michael Swanwick
Dragonshadow by Barbara Hambly
The Axe and the Throne by M. D. Ireman
Sanctuary by William Faulkner
Knight of the Demon Queen by Barbara Hambly
The Marechal Chronicles by Aimélie Aames