Best Running Books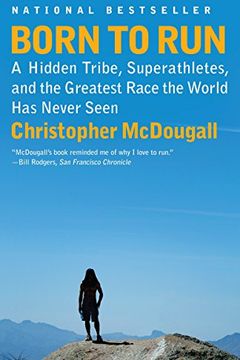 Born to Run
A Hidden Tribe, Superathletes, and the Greatest Race the World Has Never Seen
Discover the secrets of endurance running in this riveting adventure that takes readers from science labs at Harvard to the sun-baked valleys and freezing peaks of North America. Join award-winning journalist Christopher McDougall as he dives into the world of ultra-runners and the incredible abilities of Mexico's Tarahumara Indians – who can run hundreds of miles without rest or injury. This book will not only engage your mind but inspire your body to realize that we are all born to run.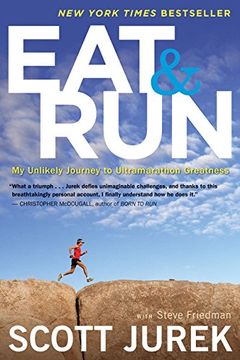 Eat and Run
My Unlikely Journey to Ultramarathon Greatness
This book details the life and career of ultrarunner Scott Jurek, who held the American 24-hour record for nearly two decades. One of the elite runners profiled in the bestseller Born to Run, Jurek shares his journey to becoming a champion athlete with a plant-based diet. From his childhood in the Midwest to practical advice and his own recipes, Eat and Run provides readers with inspiration and insight into the power of determination and breaking stereotypes surrounding athlete nutrition.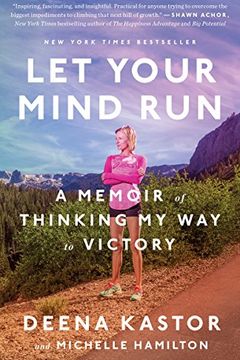 "Let Your Mind Run" is a powerful memoir that chronicles how shaping your mindset can lead to unprecedented achievements. Deena Kastor, a former youth running star, almost gave up on her passion after college. However, a move to Colorado and the guidance of legendary coach Joe Vigil helped her realize that a positive mindset results in faster, more efficient running. Kastor's journey is a testament to the power of resilience, discipline, and self-awareness. This book is an inspiring read for anyone looking to cultivate a more positive outlook on life.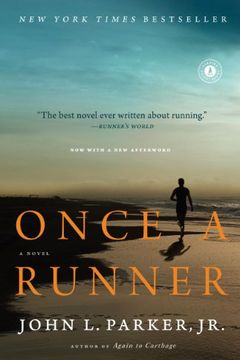 Discover the world of competitive running and athletic competition through this beloved sports novel originally self-published in 1978. Inspired by the author's experience as a collegiate champion, the story follows Quenton Cassidy, a runner at Southeastern University whose lifelong dream is to run a four-minute mile. With the Vietnam War era causing turmoil within the athletic department, Cassidy is suspended from the track team after becoming involved in an athletes' protest. Join Cassidy on his journey as he gives up his scholarship, girlfriend, and future to train for the race of his life against the greatest miler in history. Once a Runner offers a rare glimpse into the intensely competitive lives of elite distance runners and is an inspiring and humorous tale of one man's quest for championship glory.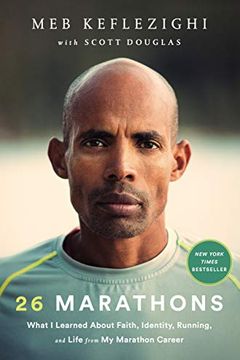 26 Marathons
What I Learned About Faith, Identity, Running, and Life from My Marathon Career
Follow the journey of legendary distance-runner Meb Keflezighi as he shares his experiences from each of the 26 marathons he's run throughout his career. From the Boston and New York City marathons to an Olympic medal, Meb's story is full of challenges, rewards, and outcomes that will inspire runners of all levels. In 26 Marathons, Meb shares his wisdom about life, family, identity, and faith, as well as tips about running, training, and nutrition. This book offers an inside look at the life and success of one of the greatest runners living today, and shows readers how they can apply Meb's lessons to their own lives.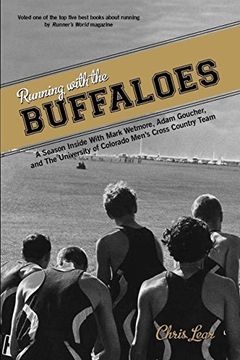 Running with the Buffaloes
A Season Inside With Mark Wetmore, Adam Goucher, And The University Of Colorado Men's Cross Country Team
Follow the University of Colorado cross-country team on their unforgettable journey to the NCAA championship in Running with the Buffaloes. With unparalleled access to the team and coach Mark Wetmore, writer Chris Lear provides a riveting and emotional look inside the triumphs and heartaches of a perennial national contender. As the Buffaloes face injury, tragedy, and blind misfortune, they are tested like never before. But what they manage to achieve in the face of adversity is the stuff of legend and glory, capturing the lives and motivations of these young men and their great coach. A glowing celebration of sport and an inspiration to beat the odds and follow a dream.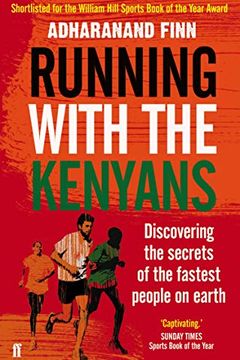 Explore the world of elite long-distance running with this captivating memoir. Author Adharanand Finn travels to Kenya to uncover the secrets of the world's fastest runners and fulfill a lifelong dream to run with his heroes. His journey takes him through chaotic towns, training schools, and even barefoot schoolchildren. Along the way, he learns valuable lessons about both running and life. With practical advice and unforgettable characters, this book is perfect for runners of all levels.
Follow ultrarunner Scott Jurek on his inspiring and grueling 46-day journey to break the speed record for the Appalachian Trail. Running almost 50 miles a day, every day, Jurek pushed himself to the limit both physically and emotionally. With the support of his wife, friends, and strangers, Jurek's journey is a stunning example of perseverance and personal transformation. Read North for a thrilling and inspiring story that will motivate both runners and non-runners alike to reach their personal best.
Explore the intense world of ultra running in this captivating book. With a thriving global industry and hundreds of thousands of competitors each year, ultra running has become more than just a sport. Author Adharanand Finn delves into the reasons behind its rise and examines whether it's an antidote to modern life or a symptom of modern illness. Through his first-hand experiences running ultras around the world, Finn encounters extreme and colorful characters, providing a fascinating account of the boundaries of human endeavor.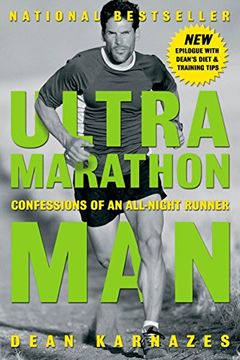 Follow renowned ultrarunner Dean Karnazes as he attempts to run 50 marathons, in 50 states, in 50 days to raise awareness of youth obesity. Along the way, he inspires and challenges Americans of all fitness levels to push beyond their limits. In Ultramarathon Man, Karnazes shares his insight, candor, and humor, answering the questions he's continually asked: Why do you do it? How do you do it? Are you insane? With the new paperback edition, Karnazes also shares what he eats and how he trains to maintain top shape.
Daniels' Running Formula by Jack Tupper Daniels
Finding Ultra by Rich Roll
How Bad Do You Want It? by Matt Fitzgerald
Run Fast. Cook Fast. Eat Slow. by Shalane Flanagan
ChiRunning by Danny Dreyer
Run the Mile You're In by Ryan Hall
Running With Sherman by Christopher McDougall
80/20 Running by Matt Fitzgerald
Run Faster from the 5K to the Marathon by Brad Hudson
Anatomy for Runners by Jay Dicharry
Running Like a Girl by Alexandra Heminsley
The Terrible and Wonderful Reasons Why I Run Long Distances by The Oatmeal
Lore of Running, 4th Edition by Timothy Noakes
Mighty Moe by Rachel Swaby
Can't Nothing Bring Me Down by Ida Keeling
My Life on the Run by Bart Yasso
The Perfect Mile by Neal Bascomb
Advanced Marathoning by Pete Pfitzinger
Running Rewired by Jay Dicharry
Good to Go by Christie Aschwanden
Relentless Forward Progress by Bryon Powell
Brain Training for Runners by Matt Fitzgerald
The Way of the Runner by Adharanand Finn
Running Is My Therapy by Scott Douglas
A Beautiful Work In Progress by Mirna Valerio
Running & Being by George Sheehan
What Made Maddy Run by Kate Fagan
Feet In The Clouds by Richard Askwith
Running Home by Katie Arnold
Run the World by Becky Wade
Natural Born Heroes by Christopher Mcdougall
Running on Empty by Marshall Ulrich
Run Fast. Eat Slow. by Shalane Flanagan
Build Your Running Body by Pete Magill
The Science of Running by Steve Magness
Marathon Man by Bill Rodgers
Running Your First Marathon by Andrew Kastor
Hal Koerner's Field Guide to Ultrarunning by Hal Koerner
Running the Rift by Naomi Benaron
Runner's World How to Make Yourself Poop by Meghan Kita
Why We Run by Bernd Heinrich
A Life Without Limits by Chrissie Wellington
Marathon Woman by Kathrine Switzer
Hansons Marathon Method by Luke Humphrey
Nowhere Near First by Cory Reese
Hansons Marathon Method by Luke Humphrey
Running Up That Hill by Vassos Alexander
Training Essentials for Ultrarunning by Jason Koop
Run to the Finish by Amanda Brooks
The Art of Running Faster by Julian Goater
Running Man by Charlie Engle
Epic Runs of the World by Lonely Planet
A Race Like No Other by Liz Robbins
Summits of My Life by Kilian Jornet
Mile Markers by Kristin Armstrong
Running with the Mind of Meditation by Sakyong Mipham
Unbreakable Runner by T. J. Murphy
The Loneliness of the Long-Distance Runner by Alan Sillitoe
Kara Goucher's Running for Women by Kara Goucher
The Running Dream by Wendelin van Draanen
The Pants Of Perspective by Anna McNuff
Ready to Run by Kelly Starrett
Bowerman and the Men of Oregon by Kenny Moore
The Long Run by Matt Long
My Year of Running Dangerously by Tom Foreman
The Happy Runner by David Roche
Duel in the Sun by John Brant
Running Your First Ultra by Krissy Moehl
Don't Stop Me Now by Vassos Alexander
The Big Book of Endurance Training and Racing by Philip Maffetone
There Is No Map In Hell by Steve Birkinshaw
No Meat Athlete by Matt Frazier
Mud, Sweat and Tears by Moire O'Sullivan
Galloway's Book on Running by Jeff Galloway
Kicksology by Brian Metzler
Beyond Training by Ben Greenfield
Shut Up and Run by Robin Arzon
Meb For Mortals by Meb Keflezighi
The Beginning Runner's Handbook by Ian MacNeill
Hal Higdon's Half Marathon Training by Hal Higdon
Tread Lightly by Bill Katovsky
The Cool Impossible by Eric Orton
Depression Hates a Moving Target by Nita Sweeney