Sort by
Latest Recommendations First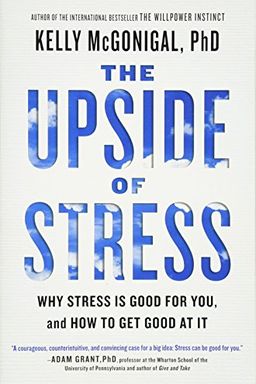 Learn how to embrace stress and turn it into a positive force with The Upside of Stress, a groundbreaking book by psychologist and award-winning teacher Kelly McGonigal. Based on extensive research, this surprising and life-changing guide proves that stress isn't always a bad thing. Discover how to capitalize on its benefits, increase your focus and energy, and even strengthen personal relationships. With practical advice and a fresh perspective, this is a must-read for anyone looking to improve their mindset and get better at handling stress.
3/ The Upside of Stress (Kelly McGonigal) This book taught me to embrace stress as an opportunity. Key takeaway: Your stress is helpful. You just need to be better at it. When you view it as good for you, it can make you more resilient, courageous, and even healthier.     
–
source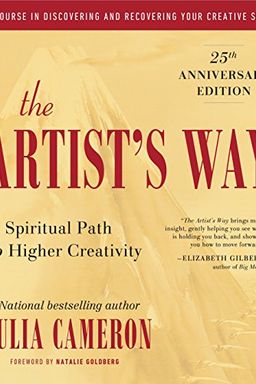 Unlock your creative potential with this powerful and inspiring book. First published 25 years ago, this international bestseller is more important than ever in today's cultural climate. In The Artist's Way, Julia Cameron takes readers on a 12-week journey to discover the link between their spiritual and creative selves. This groundbreaking program includes hundreds of highly effective exercises and activities, as well as introductions to two vital tools for creative recovery. Join a "Creative Cluster" of fellow artists and unleash your artistic renewal with this life-changing book.
2/ The Artist's Way (Julia Cameron) This book taught me to embrace my inner creativity. Key takeaway: Creativity is in your control. Put your work into the world every day and, eventually, you'll be great. Quantity > Quality.     
–
source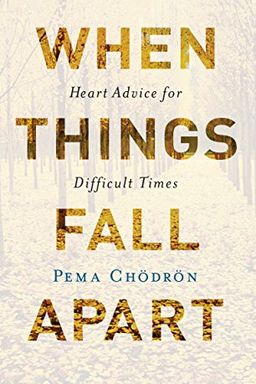 This spiritual classic offers life-changing tools for transforming suffering and negative patterns into ease and joy. Drawing from traditional Buddhist wisdom, the author shows that moving towards painful situations and becoming intimate with them can open up our hearts in unexpected ways. A must-read for those seeking personal growth and resilience.
1/ When Things Fall Apart (Pema Chödrön) This book taught me to use pain as fuel for courage. Key takeaway: When life is falling apart, it's really just falling into place. The rough patches in life shape us. When we come out of them, we can emerge stronger than ever.     
–
source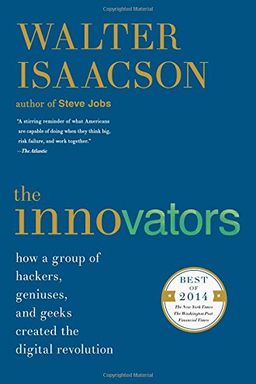 The Innovators
How a Group of Hackers, Geniuses, and Geeks Created the Digital Revolution
Discover the hidden pioneers behind the computer and internet in this captivating non-fiction book. Learn about the genius inventors and entrepreneurs that worked collaboratively to shape the digital age. Dive into their fascinating stories and innovative minds to uncover what made them so creative, and how their teamwork enhanced their groundbreaking achievements.
So… the book? It's called The Innovators by Walter Isaacson. It's lesser known, but it's packed FULL of wisdom. And if you have read it, what were your takeaways? Let me know in the replies!     
–
source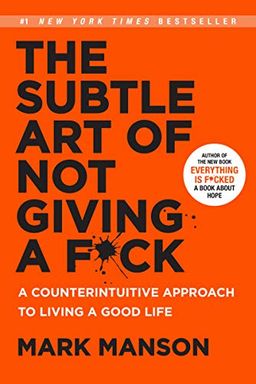 This self-help guide takes a realistic and raw approach to improving our lives. Forget positivity, acceptance is key, according to the author, who argues that we should confront painful truths and embrace our limitations. The book encourages readers to focus on what truly matters and find wealth in experiences rather than material possessions. The no-holds-barred writing style, filled with humor and real-life anecdotes, provides a refreshing perspective on how to lead a contented and grounded life.
@Bitcoinning Good book     
–
source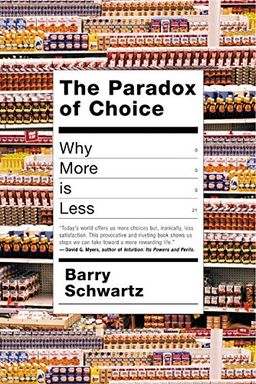 This book explores the overwhelming abundance of choice we face in everyday decisions, from choosing a coffee shop to picking a career path, and how this can lead to decision-making paralysis, anxiety, and even depression. By synthesizing current research in social sciences, the author challenges the assumption that more choice is always better and offers practical steps on how to limit choices to a manageable number and derive greater satisfaction from the choices you do make.
@donaldmiller @ricardosemler @StephenRCovey @tonyschwartz @BentleyGTCSpeed 9/ The Paradox of Choice (Barry Schwartz) This book taught me how to make decisions quickly and move on. Key takeaway: When you have too many choices, the act of choosing becomes a chore. Don't overwhelm yourself. Choose the thing that's good enough and move on.     
–
source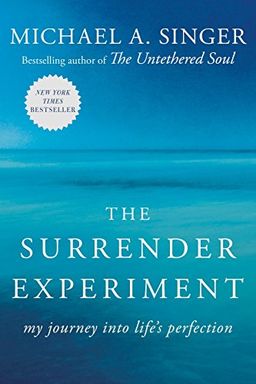 Explore the magic that happens when you surrender control in this inspiring memoir from the author of a bestselling spiritual guide. Using his own life journey as an example, he shares lessons on how to let go of conflicting beliefs, worries, and misdirected desires to find perpetual happiness. Discover a new way of living that transcends the noise of spirituality and leads to harmony and peace.
@donaldmiller @ricardosemler @StephenRCovey @tonyschwartz 6/ The Surrender Experiment (Michael Singer) This book taught me how to quiet the noises in my head. Key takeaway: Go with the flow and don't effort your way through life. Life shouldn't be forced. It should be experienced.     
–
source
Discover the fascinating story of a business revolution in Maverick. Author Ricardo Semler shares how he transformed his family's struggling company into a thriving, cutting-edge enterprise. By breaking down hierarchical structures and empowering employees, Semler created a workplace that defied traditional business expectations and achieved remarkable success. Explore the innovative strategies and practical advice that can help businesses adapt and thrive in challenging times.
@donaldmiller 2/ Maverick (@RicardoSemler) This book taught me the power of letting go. Key takeaway: A leader can't do everything, so learn to trust your team. Give them a goal, a budget, and some boundaries. Then let them loose. Your job is the "why." Their job is the "how."     
–
source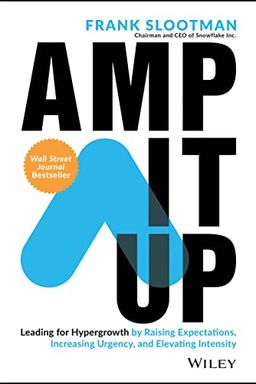 Unlocking Hypergrowth
Leading for Hypergrowth by Raising Expectations, Increasing Urgency, and Elevating Intensity
This book guides leaders, managers, and entrepreneurs on how to optimize their organization for hyper growth and scale. With advice from the only CEO to take three companies public, readers will learn essential mindsets and tactics that challenge the status quo, avoid incrementalism, and focus resources for true potential. Though difficult and uncomfortable, embracing these principles will lead to great rewards.
One of the meatiest and most inspiring business book I've read in years.     
–
source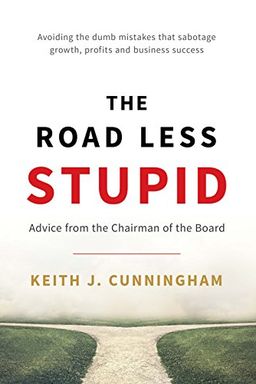 Discover how to avoid making stupid financial decisions and build long-lasting wealth with this insightful book. Through real-life examples and actionable advice, the author explains the importance of clear thinking, focusing on goals, and understanding risk. Operator or owner? The key is in using Thinking Time to plan and strategize. Don't miss out on the opportunity to improve your financial well-being with this must-read book.
My favorite 8 Business Books you probably haven't heard of: ⤑Million Dollar Consulting by Alan Weiss ⤑Ultimate Sales Machine by Chet Holmes ⤑Seven Day Weekend by Ricardo Semler ⤑Work Rules by Laszlo Bock ⤑The Score Takes Care of Itself by Bill Walsh     
–
source
Everybody, Always by Bob Goff
Rocket Men by Robert Kurson
Tiger Woods by Jeff Benedict
Endure by Alex Hutchinson
"Surely You're Joking, Mr. Feynman!" by Richard P. Feynman
Coach Wooden and Me by Kareem Abdul-Jabbar
Being Nixon by Evan Thomas
Losing the Signal by Jacquie McNish
Work Rules! by Laszlo Bock
The Sales Acceleration Formula by Mark Roberge
Recession Proof Graduate by Charlie Hoehn
Essentialism by Greg McKeown
The Outsiders by William N. Thorndike
The Secret Race by Tyler Hamilton
Ready Player One by Ernest Cline
Sex at Dawn by Christopher Ryan
Nice Girls Don't Get the Corner Office by Lois P. Frankel
Your Brain at Work by David Rock
A Million Miles in a Thousand Years by Donald Miller
The Score Takes Care of Itself by Bill Walsh
The Big Leap by Gay Hendricks
Hunting Eichmann by Neal Bascomb
Beat the Reaper by Josh Bazell
The Ultimate Sales Machine by Chet Holmes
Small Giants by Bo Burlingham
Influence by Robert B. Cialdini
Mindless Eating by Brian Wansink
Setting the Table by Danny Meyer
The Power of Full Engagement by Jim Loehr
The 7 Habits of Highly Effective People by Stephen R. Covey
The Way of the Superior Man by David Deida
The Seven-Day Weekend by Ricardo Semler
On Killing by Dave Grossman
Million Dollar Consulting, Sixth Edition by Alan Weiss
Million Dollar Consulting by Alan Weiss
Mastering the Rockefeller Habits by Verne Harnish
Permission Marketing by Seth Godin
The Fountainhead by Ayn Rand
The Celestine Prophecy by James Redfield
Women Who Love Too Much by Robin Norwood
SPIN® -Selling by Neil Rackham
Ogilvy on Advertising by David Ogilvy
The Boron Letters by Gary C. Halbert