Cory Doctorow
Recommended Books
Cory Efram Doctorow is a Canadian-British blogger, journalist, and science fiction author who served as co-editor of the blog Boing Boing. He is an activist in favour of liberalising copyright laws and a proponent of the Creative Commons organization, using some of their licences for his books.
Sort by
Latest Recommendations First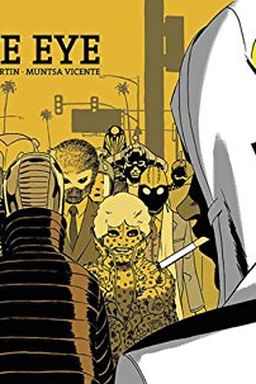 A sci-fi mystery exploring the nature of privacy in an inevitable future where everyone has a secret identity. This online sensation is finally available in print, presented in its original widescreen format. Follow an unlicensed P.I. on the most important case of his life. Collects issues #1-10.
@wtfTq_pT @bencooper @badmonotreme A very good book.     
–
source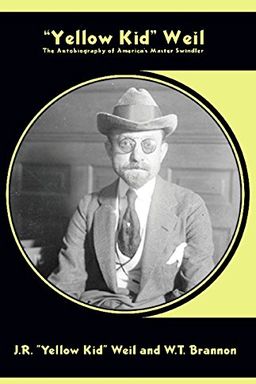 Enter the mesmerizing world of confidence men and their elaborate schemes. Follow the adventures of The Yellow Kid and his associates as they bilk bankers, grift gamblers, and swindle spinsters, raking in an estimated $8,000,000. From fixed horse races to a money-making machine, no scam was too audacious. The inspiration for The Sting (1973), this book tells the real story behind the Hollywood hit. Get ready to marvel at their ingenuity and empathize with the marks who lost it all.
@janeinak A classic. Love con artist books - Yellow Kid Weil's memoir is amazing.     
–
source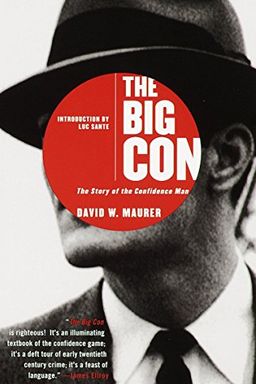 This criminology classic delves deep into the dark and complex world of con men and their elaborate schemes. Written by a linguistics professor who gained the trust of hundreds of swindlers, the book offers a fascinating insight into the language and tactics of confidence tricksters. It is a treasure trove of unique American lingo and unforgettable characters, and served as the inspiration for the Oscar-winning film The Sting. A must-read for anyone intrigued by the art of manipulation and deception.
@eruditeknight You should read THE BIG CON, the best book written on this - it's a nonfiction anthropological study of gilded age con artists that was later adapted to become The Sting.     
–
source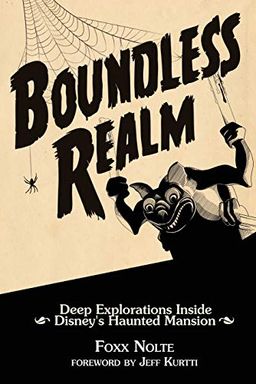 Boundless Realm
Deep Explorations Inside Disney's Haunted Mansion (Theme Park Design Book)
Exploring the history, culture, and design of one of Disney World's most famous attractions, Boundless Realm takes readers on a tour of The Haunted Mansion. From its influence on the haunted house genre to its devoted fanbase, this critical appreciation delves into the many reasons behind the ride's enduring popularity. With a connoisseur's eye for detail, the book offers a fresh perspective on The Haunted Mansion as a quintessential haunted house experience, making it a must-read for Disney fans and enthusiasts of horror alike.
X. BOUNDLESS REALM by @Passport2Dreams: There has never been a better book about the Haunted Mansion (indeed, this is one of the best books ever written about environmental design in general). Nolte goes WAY beyond trite wisdom about "storytelling." 20/     
–
source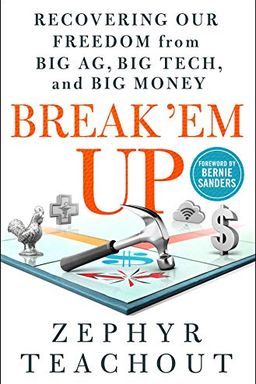 Break 'Em Up
Recovering Our Freedom from Big Ag, Big Tech, and Big Money
Break 'Em Up is a crucial guide for those looking to organize and mobilize against the growing influence and power of monopoly companies in America. With a powerful foreword from Bernie Sanders, author Zephyr Teachout explores how these giant monopolies are negatively impacting every aspect of American life, from the economy to politics, the environment, and beyond. Through her expert analysis, Teachout offers a blueprint for breaking up monopolies and safeguarding against their damaging effects, a necessary step for reclaiming American democracy.
IX. BREAK 'EM UP by @ZephyrTeachout: The most lucid, readable, infuriating, energizing book on the rise of monopolies. Teachout never loses sight of the systemic nature of the problem, even as she uses individual stories to tell the tale. 19/     
–
source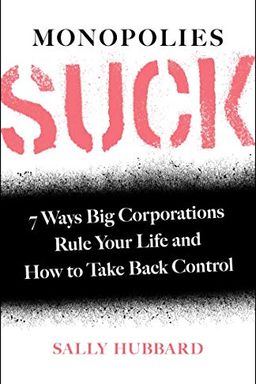 Monopolies Suck
7 Ways Big Corporations Rule Your Life and How to Take Back Control
"Monopolies Suck" by Sally Hubbard is an urgent manifesto exposing how monopoly power is robbing everyday Americans of innovation, choice, and the American Dream. Antitrust expert Sally Hubbard reveals how big corporations rule our lives in seven ways and offers practical ways we can fight back to stop them. With an easy-to-understand overview of the history of monopolies and antitrust law, Hubbard empowers readers to use their voices, votes, and wallets to protest monopoly power and dismantle corporate power before it undermines our economy and democracy for generations to come.
VIII. MONOPOLIES SUCK by @Sally_Hubbard: There are plenty of GREAT books about monopolies and the resurgence in antitrust, but Hubbard's is the most practical, providing the reader with excellent advice for actually DOING SOMETHING about monopolism. 18/     
–
source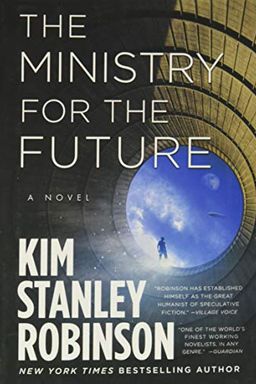 This near-future novel explores the impacts of climate change, technology, politics, and human behavior. The Ministry for the Future was established to advocate for future generations and protect all living creatures. Through fictional eyewitness accounts, Kim Stanley Robinson weaves a visionary and powerful story of a future that is almost upon us. This impactful and original book presents both hope and despair in equal measure, making it one of the most powerful novels on climate change ever written.
It's an uncomfortable read. It's a brilliant book. If it indeed turns out to be Stan's last novel (oh please don't let it be Stan's last novel), it will be a fitting capstone. But the subtext of this book is that we are past the point of no return. 36/     
–
source
In 2312 by Kim Stanley Robinson, humanity has spread throughout the solar system to live on new habitats. However, when a death occurs on the city of Terminator on Mercury, a chain of events unfolds that could put everything in jeopardy. Follow protagonist Swan Er Hong as she becomes embroiled in a plot to destroy the very worlds she once designed.
And while PACIFIC EDGE is my favorite KSR novel, my favorite KSR series is the string of books that starts with 2012's 2312 - a string of books that really leans hard into imagining the actual end of capitalism. 8/     
–
source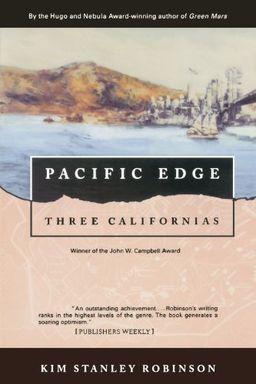 Discover a world that has rediscovered harmony with nature in this novel. Follow the story of Kevin Claiborne, a young builder caught up in the struggle to preserve his community's idyllic way of life from the resurgent forces of greed and exploitation. Will El Modena, California, a green haven, be able to withstand the test of time? Find out in this timely and thought-provoking read.
And while PACIFIC EDGE is my favorite KSR novel, my favorite KSR series is the string of books that starts with 2012's 2312 - a string of books that really leans hard into imagining the actual end of capitalism. 8/     
–
source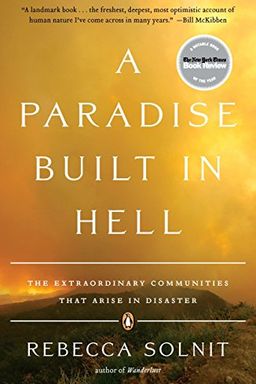 "A Paradise Built in Hell" by Rebecca Solnit explores the surprising joy and sense of community that emerges during disasters. With a hopeful and optimistic outlook, Solnit investigates the moments of altruism, resourcefulness, and generosity that arise during times of grief and disruption, and considers their implications for everyday life. This book challenges conventional beliefs about human nature and offers a vision of a less authoritarian and fearful society that is more collaborative and local.
The perfect book for this moment is Rebecca Solnit's "A Paradise Built in Hell," a meticulously researched history of disasters that uses primary sources to prove that in times of crisis, people help one another - rather than looting and pillaging. 1/     
–
source
The Mark Inside by Amy Reading
The Reactionary Mind by Corey Robin
Blueberry Girl by Neil Gaiman
That's Disgusting! by Bernadette Gervais