David Rothschild
Recommended Books
David Rothschild is an economist at Microsoft Research. He has a Ph.D. in applied economics from the Wharton School of Business at the University of Pennsylvania. He has written extensively, in both the academic and popular press. His work pushes the boundaries on varying data and methods: polling, prediction markets, social media and online data, and large behavioral and administrative data. His work focuses on solving practical and interesting questions including: mapping and updating public opinion, the market for news, effect of advertising, finance, and an economist take on public policy.
Sort by
Latest Recommendations First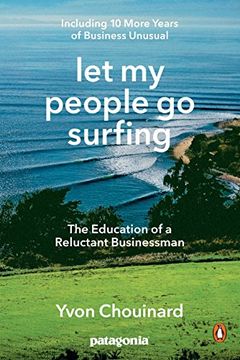 Entrepreneur and environmentalist Yvon Chouinard shares the inspiring story of how he built one of the most respected and environmentally responsible companies on earth. Let My People Go Surfing follows his journey from a young boy in a French Canadian blacksmith family to a celebrated climber and founder of Patagonia, Inc. Discover how Chouinard blended his passion for adventure with his dedication to doing good, and how his approach can impact entrepreneurs and outdoor enthusiasts alike.
"Let My People Go Surfing: The Education of a Reluctant Businessman" Yvon Chouinard's book about business philosophy & Patagonia is one of the most inspirational books I have ever read: dude lives up to inch of his philosophy (and Patagonia products are built to work & last).     
–
source
This influential text from the 20th century delves into a dark and dystopian world unlike any other. Written in 1949 by political satirist George Orwell, the novel portrays a totalitarian society that is both bureaucratic and terrifying. The author's foresight in predicting the future of modern life is remarkable, with themes that are still relevant today. Taking readers through a journey of surveillance, propaganda, and isolation, it is no wonder why 1984 is among the most terrifying novels ever written. A must-read for those seeking a thought-provoking exploration of individuality and the true extent of government control.
And, 1984 now the #1 Best Seller @Amazon. I hope people are not just buying, but reading it. Link if you do not own     
–
source