Funniest Books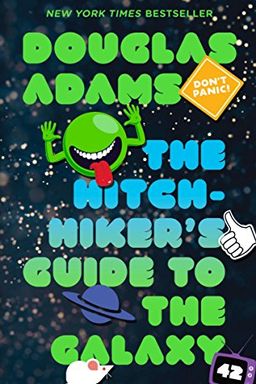 This hilarious sci-fi adventure follows Arthur Dent, a man saved from Earth's destruction by his friend Ford Prefect, a researcher for The Hitchhiker's Guide to the Galaxy. Using advice from the guide ("A towel is about the most massively useful thing an interstellar hitchhiker can have"), they traverse space with eccentric characters like Zaphod Beeblebrox and the depressed robot Marvin. Get ready for a galaxy full of laughs and absurdity.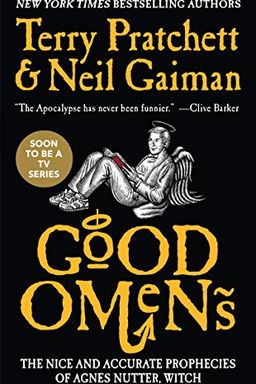 Good Omens
The Nice and Accurate Prophecies of Agnes Nutter, Witch (Cover may vary)
Get ready for the end of the world in this witty tale of Armageddon. When the apocalypse is predicted to arrive next Saturday, an angel and a demon must team up to prevent it, all while searching for the misplaced Antichrist. With a blend of humor and satire, this book will keep you entertained until the very end.
In We Are Never Meeting in Real Life, a collection of serio-comic essays, blogger and comedian Samantha Irby shines a light on difficult topics through hilarious anecdotes. From her struggles with adulthood to awkward sexual encounters and navigating friendships, she captures powerful emotional truths. Laugh through the pain and join Irby's journey to self-discovery.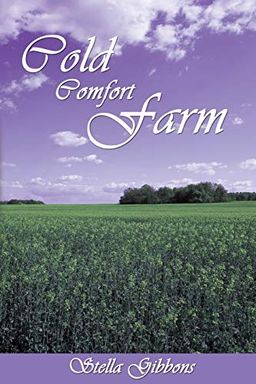 This classic tale follows a confident and clever young woman who brings order to the gloomy and overwrought world of a Hardy or Bronte novel. Orphaned Flora Poste decides to live with her relatives at Cold Comfort Farm in Sussex where she manages an alarming cast of eccentric characters. The novel offers a wicked sendup of romantic cliches and is a recommended read for both literary and popular collections.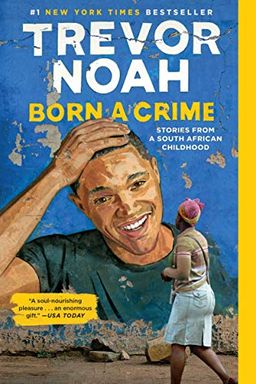 This powerful memoir tells the story of a young boy growing up during apartheid South Africa. Born to a white Swiss father and a black Xhosa mother, Trevor Noah's very existence was a criminal act. His mother took extreme measures to protect him, but finally liberated by the end of white rule, they set forth on a grand adventure to embrace a newfound freedom. Noah's hilarious, dramatic, and deeply affecting stories form a moving and searingly funny portrait that weaves together a boy's journey in a damaged world in a dangerous time, armed only with a keen sense of humor and a mother's unconventional, unconditional love.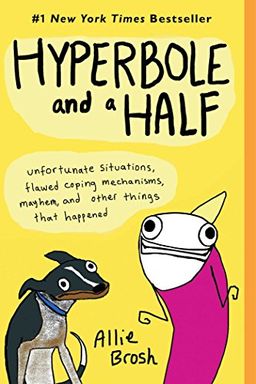 Hyperbole and a Half
Unfortunate Situations, Flawed Coping Mechanisms, Mayhem, and Other Things That Happened
A hilarious collection of stories, pictures, and words that will have you laughing out loud. From relatable experiences to outrageous tales, this book covers everything from dogs to eternal happiness (but don't fall for the lies). Get ready for a good time with this witty and candid read.
Experience the hilarious misadventures of Jim Dixon, a struggling medieval history lecturer at a provincial university who must navigate a world filled with dull and detestable English academics who he must simultaneously endure and impress to maintain his job and win the heart of the woman he loves. This artful and enduring work of English comic writing is an attack on boredom in all its forms and a ruthless satire of postwar manners, making it a must-read for fans of traditional comic novels like those of Wodehouse and Waugh.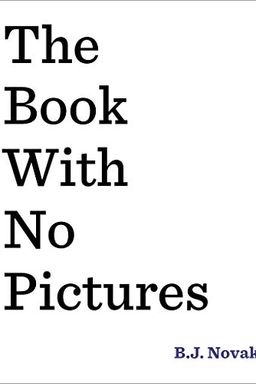 This charmingly witty read will have you in stitches, despite its lack of pictures. The Book With No Pictures encourages readers to let their imagination run wild, creating their own silly sounds and ridiculous voices along the way. With its ingeniously imaginative approach, this book teaches young children that storytelling is more than just pictures, introducing them to the idea that the written word can be an endless source of mischief and delight. Get ready for some serious laughter!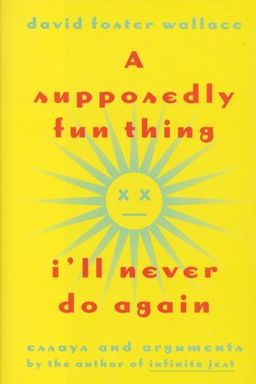 This collection of essays explores a diverse range of topics, from television and tennis to postmodern literary theory and the experience of cruising. With his signature humor and linguistic prowess, acclaimed author David Foster Wallace paints a vivid picture of modern life, offering readers a fresh and captivating perspective on the world around them.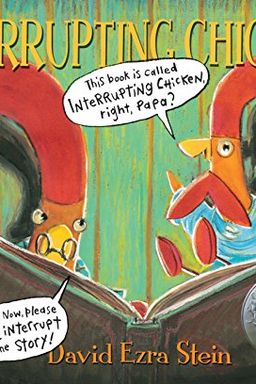 Get ready for a bedtime story with a twist! In this award-winning picture book, a little chicken can't resist interrupting her bedtime stories to save the characters from danger or silliness. But when it's her turn to tell a story, can she make it to the end without getting distracted? With vibrant illustrations and a humorous storyline, this book is perfect for energetic kids who love a good adventure.
The Innocents Abroad by Mark Twain
The Misadventures of Awkward Black Girl by Issa Rae
The Monster at the End of this Book by Jon Stone
The Code of the Woosters by P. G. Wodehouse
Click, Clack, Moo Cows That Type by Doreen Cronin
Eleanor Oliphant Is Completely Fine by Gail Honeyman
Lamb by Christopher Moore
Fear and Loathing in Las Vegas by Hunter S. Thompson
Falling for Rapunzel by Leah Wilcox
Based on a True Story by Norm MacDonald
You Can't Touch My Hair by Phoebe Robinson
Duck! Rabbit! by Amy Krouse Rosenthal
The Terrible Two by Mac Barnett
Cat's Cradle by Kurt Vonnegut
Diary of a Wimpey Kid by Jeff Kinney
Parenting by Amber Dusick
Wedgie & Gizmo by Suzanne Selfors
Just the Funny Parts by Nell Scovell
Cruel Shoes by Steve Martin
How I Became a Famous Novelist by Steve Hely
The Day the Crayons Quit by Drew Daywalt
The Pigeon Needs a Bath! by Mo Willems
A Man Called Ove by Fredrik Backman
Go the F**k to Sleep by Adam Mansbach
Tacky the Penguin by Helen Lester
Fried Green Tomatoes at the Whistle Stop Cafe by Fannie Flagg
King Bidgood's in the Bathtub by Audrey Wood
Smile by Raina Telgemeier
Carry On, Jeeves by P. G. Wodehouse
Dragons Love Tacos by Adam Rubin
The Inimitable Jeeves by P. G. Wodehouse
That Is Not a Good Idea! by Mo Willems
Carry On by Rainbow Rowell
No, David! by David Shannon
Sideways Stories from Wayside School by Louis Sachar
Mrs. Piggle-Wiggle by Betty MacDonald
The Hiccupotamus by Aaron Zenz
Our Dumb Century by The Onion
To Say Nothing of the Dog by Connie Willis
Tales of a Fourth Grade Nothing by Judy Blume
Escargot by Dashka Slater
Something Fresh by P. G. Wodehouse
Dory Fantasmagory by Abby Hanlon
Ramona the Pest by Beverly Cleary
Wolf The Duck & The Mouse by
Count The Monkeys by Mac Barnett, Kevin Cornell
I'm Bored by Michael Ian Black
The Hero's Guide to Saving Your Kingdom by Christopher Healy
Lady Pancake & Sir French Toast by Josh Funk
Mercy Watson Boxed Set by Kate Dicamillo
The 13-Story Treehouse by Andy Griffiths
Hamster Princess by Ursula Vernon
When Mischief Came to Town by Katrina Nannestad
Interrupting Chicken and the Elephant of Surprise by David Ezra Stein
Miss Pettigrew Lives for a Day by Winifred Watson
Youth in Revolt by C. D. Payne
The Tapper Twins Go to War by Geoff Rodkey
A Birthday for Cow! by Jan Thomas
The Bolds by Julian Clary
Straight Man by Richard Russo
This is a Moose by Tom Richard T. , Lichtenheld Morris
Don't Blink! by Amy Krouse Rosenthal
The Awkward Thoughts of W. Kamau Bell by W. Kamau Bell
Polar Bear's Underwear by Tupera Tupera
Gooney Bird Greene by Lois Lowry
Julius Zebra by Gary Northfield
Westward Ha! by Sidney J. Perelman
The Case of the Weird Blue Chicken by Doreen Cronin
Shark vs. Train by Chris Barton
Dragonbreath #1 by Ursula Vernon
Lulu's Mysterious Mission by Judith Viorst
Ketchup Is a Vegetable by Robin O'Bryant
Timmy Failure by Stephan Pastis
Thank You for Smoking by Christopher Buckley
Buckle and Squash by Sarah Courtauld
The Great Railway Bazaar by Paul Theroux
Excellent Women by Barbara Pym
Unreliable Memoirs by Clive James
I Can't Date Jesus by Michael Arceneaux
I Just Want to Pee Alone by Jen of People I Want To Punch In the Throat
Will Not Attend by Adam Resnick
The Fran Lebowitz Reader by Fran Lebowitz