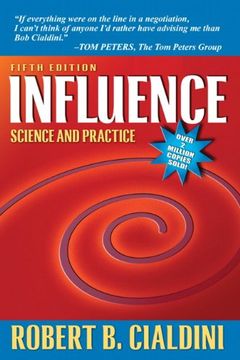 Discover the science of compliance in this captivating book that uncovers the factors that influence people to say "yes" to a request. Scholarly research is combined with real-life techniques and strategies gathered from sales, fundraising, advertising, and other positions that commonly use compliance tactics. The author has organized the tactics into six categories based on psychological principles: reciprocation, consistency, social proof, liking, authority, and scarcity. Widely used in both classes and the business world, this book is a must-read for anyone interested in the power of persuasion.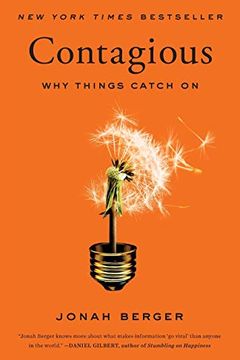 Uncover the science behind social transmission and why certain products and ideas become popular. Marketing professor Jonah Berger shares his insights from a decade of research, revealing the six basic principles that drive contagiousness in everything from consumer products to workplace rumors. With specific techniques for designing messages and content that people will share, Contagious is a must-read for anyone looking to make their product or idea catch on.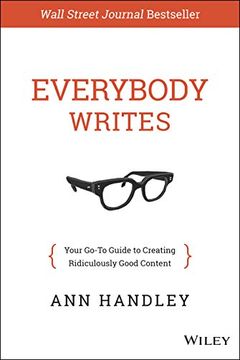 Learn how to create compelling online content that will attract and retain customers with Everybody Writes. Written by an experienced marketer, this go-to guide offers actionable advice on content creation, production, and publishing. You'll learn how to write better, use grammar effectively, tell your true story, and create trustworthy content, all while incorporating empathy and humanity. Whether you're a big brand or a small, solo business, this book provides guidance on creating all kinds of online content, from blog posts to social media updates. It's a must-read for anyone who wants to thrive in the content-driven world of digital marketing.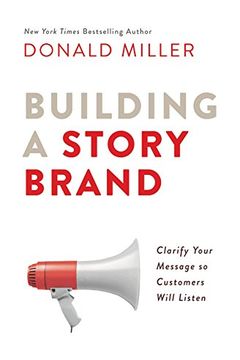 Learn how to dramatically improve your business by using the seven universal elements of powerful stories. In Building a StoryBrand, New York Times bestselling author Donald Miller provides a proven solution to the struggle business leaders face when talking about their businesses. This revolutionary method for connecting with customers reveals the secret to creating effective messaging for websites, brochures, and social media. Whether you're a marketing director, a small business owner, a politician, or a musician, this book will transform the way you communicate with your customers and highlight the unique value your business offers.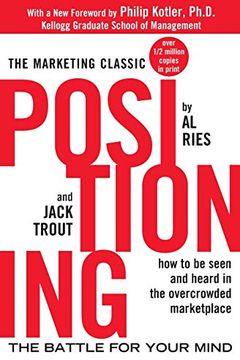 Learn how to create a unique position in the minds of your prospective customers using this groundbreaking approach outlined in the book. With insightful case studies and witty writing, advertising gurus Ries and Trout explain how to make and position an industry leader or follower, analyze recent trends, and use your current position to your advantage. This revised edition includes significant developments since the original publication. A must-read for anyone in business today.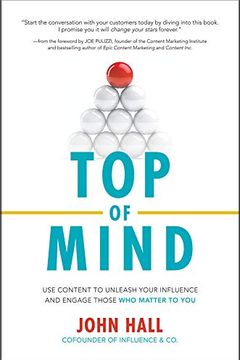 Top of Mind
Use Content to Unleash Your Influence and Engage Those Who Matter To You
Learn how to stay top of mind with your audience and become the go-to brand in your market. In this informative book from the Inc.com #1 content marketing company, you'll uncover powerful strategies for building meaningful relationships with customers, delivering consistent value, and establishing trust. Whether you're a marketer, sales executive, or HR director, you'll benefit from the expert advice inside. Discover how to communicate your message clearly, create brand processes, and occupy a prominent place in your audience's minds. With this valuable resource, you'll be prepared to win over customers and secure your position as the top choice in your industry.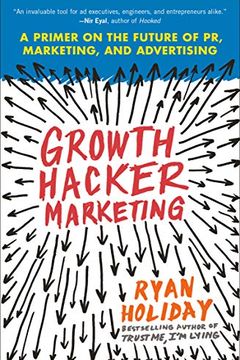 "Revolutionary Marketing Strategies Used by Megabrands Like Airbnb and Twitter: Growth Hacker Marketing" by Ryan Holiday. Learn about the new generation of successful companies relying on growth hacking to reach wider audiences without traditional marketing techniques. Bestselling author Ryan Holiday explains the new rules and provides valuable examples and case studies for aspiring growth hackers. Discover tools that are testable, trackable, and scalable to modify products and businesses until they're primed to generate explosive reactions. A must-read for anyone responsible for building awareness and buzz for a product or service, from tiny start-ups to Fortune 500 giants.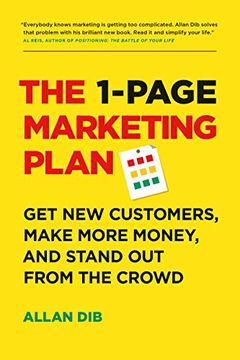 This book is a game-changer for anyone looking to grow their business. The 1-Page Marketing Plan unveils a new approach to marketing that is both easy and fast. It helps small and medium-sized businesses create a reliable marketing plan that will lead to successful business growth. Within its pages, you'll discover how to attract new customers, increase profits, close sales effectively, and more. The best part? It's all laid out on a single page, divided into nine squares. Whether you're a seasoned entrepreneur or a beginner, this book offers a step-by-step guide to a personalized marketing plan that will take your business to the next level.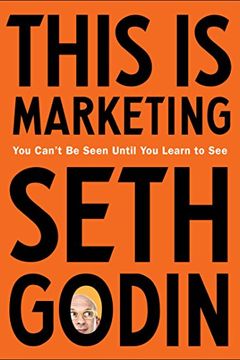 Learn from Seth Godin, the inventor of countless marketing ideas and phrases, about how real marketing is about connection, empathy, and making a difference. In his book, THIS IS MARKETING, he shares his core marketing wisdom, emphasizing that great marketers don't use consumers to solve their company's problem; they use marketing to solve other people's problems. Discover how to build trust, speak to your audience's narratives, create and release tension, and give people the tools to achieve their goals. It's time to stop confusing social media metrics with true connections and start making the world a better place through powerful marketing grounded in empathy, generosity, and emotional labor.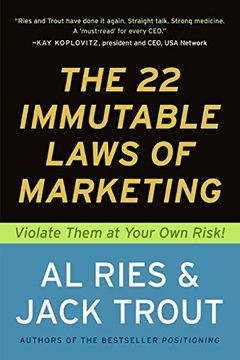 Discover the 22 laws of marketing in this essential read by world-renowned marketing consultants. In this book, you'll learn why there are laws of nature and how they parallel the laws of marketing. From the Law of Leadership to The Law of the Mind, these 22 rules are innovative, valuable, and stand the test of time. Ensure your success in the international marketplace by following these laws and avoid the risk of violating them.
Ogilvy on Advertising by David Ogilvy
Permission Marketing by Seth Godin
Jab, Jab, Jab, Right Hook by Gary Vaynerchuk
The New Rules of Marketing and PR by David Meerman Scott
Epic Content Marketing by Joe Pulizzi
Crushing It! by Gary Vaynerchuk
They Ask, You Answer by Marcus Sheridan
All Marketers are Liars by Seth Godin
Pre-Suasion by Robert Cialdini
Hacking Growth by Sean Ellis
Don't Make Me Think by Steve Krug
Crossing the Chasm by Geoffrey A. Moore
The Ultimate Sales Machine by Chet Holmes
Content Inc. by Joe Pulizzi
Designing Brand Identity by Alina Wheeler
Buyology by Martin Lindstrom
Digital Marketing For Dummies by Ryan Deiss
Marketing by Bernadette Jiwa
Killing Marketing by Joe Pulizzi
What Customers Crave by Nicholas Webb
The Art of Social Media by Guy Kawasaki
Confessions of an Advertising Man by David Ogilvy
80/20 Sales and Marketing by Perry Marshall
Extraordinary Popular Delusions by Charles MacKay
10x Marketing Formula by Garrett Moon
Guerilla Marketing by Jay Conrad Levinson
Selling the Invisible by Harry Beckwith
One Million Followers by Brendan Kane
The Innovator's Dilemma by Clayton M. Christensen
Traction by Gabriel Weinberg
Getting Everything You Can Out of All You've Got by Jay Abraham
Hey, Whipple, Squeeze This by Luke Sullivan
Marketing Rebellion by Mark W. Schaefer
The Conversion Code by Chris Smith
Hug Your Haters by Jay Baer
Performance Partnerships by Robert Glazer
Trust Me, I'm Lying by Ryan Holiday
Content Chemistry by Andy Crestodina
The Lead Machine by Rich Brooks
The 22 Immutable Laws of Branding by Al Ries
The End of Marketing by Carlos Gil
Content - The Atomic Particle of Marketing by Rebecca Lieb
Play Bigger by Al Ramadan
Traffic Secrets by Russell Brunson
Lean Analytics by Alistair Croll
The Adweek Copywriting Handbook by Joseph Sugarman
The Ultimate Sales Letter by Dan S Kennedy
Email Marketing Rules by Chad S. White
Talk Triggers by Jay Baer
The Road to Recognition by Seth Price
Content Strategy for the Web by Kristina Halvorson
UnMarketing by Scott Stratten
Ultimate Guide to Link Building by Garrett French
The Content Code by Mark W. Schaefer
Inbound Content by Justin Champion
Unleash Possible by Samantha Stone
Blue Ocean Shift by W. Chan Kim
The Content Formula by Michael Brenner
Conversational Marketing by David Cancel
Inbound Marketing by Brian Halligan
Influencer by Brittany Hennessy
Give and Take by Adam Grant
Misbehaving by Richard H. Thaler
Wired for Story by Lisa Cron
Hit Makers by Derek Thompson
Stories That Stick by Kindra Hall
Pitch Anything by Oren Klaff
Draplin Design Co. by Aaron James Draplin
Scientific Advertising by Claude C. Hopkins
The Choice Factory by Richard Shotton
How to Write Copy That Sells by Ray Edwards
Web Analytics 2.0 by Avinash Kaushik
Words that Sell by Richard Bayan
Magnetic Marketing by Dan S. Kennedy
Social Media Marketing Workbook by Jason McDonald
Overdeliver by Brian Kurtz
No B.S. Direct Marketing by Dan S. Kennedy
Content Machine by Dan Norris
Master Content Marketing by Pamela Wilson
#GetSocialSmart by Katie Lance
SEO for Growth by John Jantsch
Crisis Ready by Melissa Agnes
Email Marketing Demystified by Matthew Paulson
The Best Damn Web Marketing Checklist, Period! 2.0 by Stoney Degeyter
Content That Converts by Laura Hanly
Brand Identity Breakthrough by Gregory V. Diehl